Running Was A Completely Different Experience 15 Years Ago
After spending most of the last two decades running, one writer describes the many ways in which running has changed in the last 15 years.
Heading out the door? Read this article on the new Outside+ app available now on iOS devices for members! Download the app.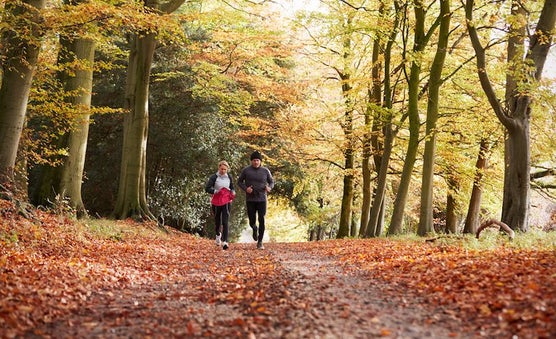 I have been running for almost 18 years now and so much has remained the same–but a lot has changed. For example, I still have a GPS watch, but it's so much smaller and does so much more than my early watches did. I'm still registering for races, but now race registration happens almost exclusively online. I recently qualified to run the Boston Marathon, but I had to run 10 minutes faster than the qualifying time, which was not the case when I first ran it in 2007.
Runners today have it so easy.
Shoes And Gear
In the year 2000, there were not nearly as many shoe choices for runners and Zappos.com was in its infancy, so you had to actually go to a shoe store to buy your running shoes.
The year 2000: My shoes of choice were Brooks Adrenaline because everyone was obsessed with over-pronation and no one had heard of barefoot running. My gear consisted of a jar of vaseline for chafing, an extra pair of cotton socks and whatever laces came with my shoes. There were no shoe inserts, no quick lock laces and no smart wool socks–and somehow I managed to stick with it.
Today: You can order shoes just about anywhere, and if you do go into a specialty running shoe store, employees can pinpoint your form (and what's lacking) with a quick run test to offer you a variety of brands and styles to fit your specific gait. Gear is also in abundance and far more technical than it once was, with sweat-wicking fibers available in every size and color imaginable. Almost anything can be ordered from your smartphone, and it usually arrives on your doorstep within 24 hours. There are also probably 10 varieties of anti-chafing creams, so runners can take their pick.
GPS Watches
This is probably where the biggest changes have taken place: the almighty watch! I purchased one of the first Garmin running watches made (the Forerunner 205) and was asked if I could launch the space shuttle with it. It was massive, it chafed my wrist, it needed to be charged after almost every run and gave me what these days amounts to the most basic data (pace, distance and time), but I loved it. At the time, it was considered "cutting edge" technology.
The year 2000: After deciding I needed to upgrade my Timex Ironman digital watch, I saved all my money to purchase a state of the art Garmin Forerunner 205 in 2003. It took a very, very, very long time to connect, would drop the signal regularly and the resulting data (which you could only get by immediately connecting the watch via cable to your desktop computer) was almost unreadable.
Today: Take your pick! Technology has come so far that you can now play music and receive emails, phone calls, text messages and social media alerts directly on your watch. Those capabilities are in addition to the wide-ranging activity tracking it can do for sports as varied as running, swimming, cycling, hiking, climbing, skiing, rowing, SUP-ing, golfing and more.
Music
Listening to anything besides your own breathing on a run used to be a luxury. One of the first available portable music systems had very little capacity for music and a metal housing. You can imagine how that felt on your arm!
The year 2000: My husband (who was my boyfriend at the time) gave me the Rio Cali Sport for my birthday one year and I thought it was the best gift ever. It certainly was an upgrade from actually carrying around a walkman or discman (the latter of which skipped incessantly), but was uncomfortable and unreliable.
Today: Headphones are wireless and you have a veritable library of music, podcasts and more to choose from. All of this entertainment can be put in a small zip pocket (which is pretty standard on almost any piece of running gear) or on your wrist. With no cables needed, you can simply use the cloud to transfer your choices, connect your headphones to the device and off you go.
Race Registration
If you can't remember ever owning a checkbook, what follows will probably make zero sense.
The year 2000: I remember registering for a lot of races via mail and paying by check. You used to have to print a registration form, fill it out with an actual pen and then mail it with your registration fee weeks before the race date. The only highlight was the price: though most registration fees were around $20, there was no food, water, t-shirts or bling included.
Today: You can register for a race from just about anywhere if you have access to the internet. You can plan races all over the world with mere clicks on a screen. More people are running more races (and different kinds of races) than ever before, but it does come with a hefty price tag–and some of the more popular races sell out in seconds.
The Boston Marathon
The holy grail for some runners is to qualify for and run the Boston Marathon. Besides the qualifying time, it used to be a lot easier to get in.
The year 2000: It was actually 2006 when I ran a local marathon and qualified to run Boston for the first time. My qualifying race was in September (which would be considered late these days), and I had zero trouble getting into the April 2007 marathon. It was almost a given that I'd run; I didn't think twice about it.
Today: A runner's best chance of racing the Boston Marathon is not simply a question of finishing time but having a strategic plan, for which your finishing time is only one aspect. Runners today use spring marathons–almost a year in advance of the Boston Marathon goal race–in an attempt to qualify as early as possible. An early qualifying time coupled with a finishing time five to 10 minutes faster than the actual qualifying time is a runner's best chance at gaining a coveted entry.
The next time you go out for a run, think about how easy it was to gather your gear, how much information and entertainment you can get right from your wrist and know that you too may someday be writing about this time as your hard-earned days in your favorite sport.
What has changed for you since you started running? Tweet us @WomensRunning #runningthenandnow.
Related:
The Crazy Evolution Of Your Running Shoe
The Biggest Running Trends Of The Current Decade