Why We Need Aspirational Figures Like Roger Bannister
In the wake of Roger Bannister's death, we explain why aspirational figures are so important for runner success.
Heading out the door? Read this article on the new Outside+ app available now on iOS devices for members! Download the app.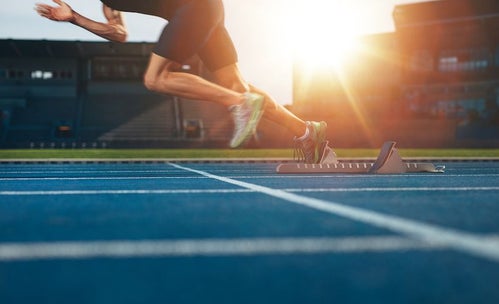 Remembering Roger Bannister
The running world holds records in high esteem–and for good reason. Record-breaking performances are empowering, not only for the individual, but for the masses. When one person bursts through a barrier, they open the floodgates for the rest of us. In one blinding moment, one stride across the finish line, we all find reason to celebrate. Why? Because if someone raises the ceiling on human achievement, that's our ceiling too, isn't it?
Perhaps that's why the life of the late Roger Bannister is so inspiring. On May 6, 1954, Bannister did what no man had ever done before: he ran the mile in under four minutes. Prior to that day, there were many who doubted such a feat was even possible. They argued that the human body could not run that fast for that long. Today, many elite runners go sub-four in the mile; some high schoolers even claim that accomplishment. But Sir Roger Bannister was the first.
The prior world record, a 4:01.4, stood for nearly 10 years before Bannister came along. His gutsy 3:59.4 equally shocked and inspired the world—so much so that he was later knighted for his work as a runner and world-class doctor.
Once Bannister broke the four-minute barrier, the dry spell was over, and limits were cast aside. Bannister's record was lowered four more times in the next 10 years. By the late 1970s, runners were going sub-3:50.
Is this all due to the British phenom Roger Bannister? Probably not. We can also thank the advances in technology, better training and the growing popularity of running. Yet none of those things spoke to the heart of a runner like the plucky 3:59 mile of a young man who refused to comply with the skeptics. In doing so, he lit a flame under the running community. He sent a very clear, three-minute and fifty-nine-second message: "Yes! It's possible!"
So where does that leave you and me? For starters, the message of Roger Bannister should catapult us to a place of giddy expectation. Bannister's message of potential greatness is not only applicable to the elite. It is relevant for all of us. We all have self-imposed limits, times and distances we never think we'll reach.
But the career of Roger Bannister suggests that such a mediocre endeavor is not worth pursuing, and I can't help but agree. So what if we go for it and fail? That's part of running. It's inevitable. But what if we succeed? What if we, like Roger Bannister, crash through the finish line and crush our barriers? What if we surpass our expectations? I'd say we owe it to Roger Bannister—and ourselves—to strive for great things in our running.
Related:
This Running Legend Was The First Sub-5 Minute Miler
Remember When That Guy Broke The World Record For Planking?