The All-Too-Familiar Story Behind Nonprofit 'Stop Street Harassment'
Women's Running speaks with Holly Kearl, the founder of 501(c)(3) nonprofit Stop Street Harassment and one of our 2017 Game Changers.
Heading out the door? Read this article on the new Outside+ app available now on iOS devices for members! Download the app.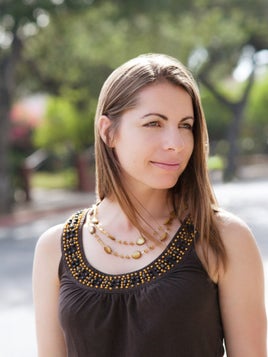 Holly's story can be found in our October issue as one of the 21 women changing the sport of running in 2017. 
All Women Deal With Street Harassment
I'm a female runner, and I have been harassed. Several times. It's happened in broad daylight and at night, while I've been running and while I've walked along the street. I never "ask for it," and even if I were wearing a sports bra without a top or a short skirt with heels, I still wouldn't be asking for this to happen. Any woman who's experienced sexual harassment (and this is to say almost all of us) will agree that we never leave our homes with the intention of incurring this kind of attention. When we're moving through a public space at a walk or a run, that casual, everyday performance alone should not incite whistling, catcalls or honking from male passersby. And, you know what? It is mostly men who do these things, and it is mostly women who experience this. It's uncomfortable. It's frustrating. It steals some of our confidence and independence. It makes us feel vulnerable and preyed upon. But it happens so often that, nowadays, I barely look up when something like this happens. Giving these perpetrators a reaction is exactly what they want…but ignoring them is letting them get away with their poor behavior. Why is it that street harassment feels like it's getting worse? In what universe is it okay for grown men to crow at teenaged girls? What can we do to make this problem go away?
Related: 8 Important Self-Defense Moves For Runners
There are women—and men—all over the world that are working to raise awareness for this issue. Some teach instructional courses at universities, others lead demonstrations with like-minded protesters and still others are working to implement changes at the legislative level. One woman who's confronting street harassment from all three angles is Holly Kearl, the founder of the 501(c)(3) nonprofit Stop Street Harassment. Holly stumbled upon the term "street harassment" in 2007 while in graduate school and wrote a thesis on the topic that reporters began citing in 2008. At the time, the topic was so under-researched that her graduate-level paper was one of the only concrete pieces of evidence that journalists could find. In the years since, Holly has become an advocate for street harassment awareness on an international level, working with countries all over the world to put on the Anti-Street Harassment Week every April and establishing programs on local and national levels—including a coordinated PSA campaign with the Washington Metropolitan Area Transit Authority in Washington, D.C. and the National Street Harassment Hotline—to help those affected by street harassment.
Holly is one of 20 women we selected for our October issue's "2017 Game Changers" cover story. For years, she's worked to bring street harassment into the national conversation from her base in Washington, D.C. and plans to continue strengthening the programs she has in place in 2018. We recently spoke with Holly to discuss the nonprofit, her own experiences and the advice she has for women that face street harassment–that is, every woman everywhere.

Related: Alarming Statistics About Runner Safety And How To Stay Safer
What's your personal experience with street harassment?
The first time I remember being harassed was when I was running. I have been a runner for most of my life. I did my first 5K when I was 8 years old, with my dad and my sister. The summer between middle school and high school, I ran a full marathon. I never was harassed with my team or when I ran with my dad when I was younger, but by the time I started training for the marathon, I was mostly running alone. That's when I started facing harassment from men, mostly the whistling and honking from their cars. It wasn't until later in high school that I started to have experiences beyond when I was running, like walking to school or while I was out with friends.
It was during college that I had the worst experiences of my life. Just about every time I left campus, men were harassing me. I went to college at Santa Clara University, and our campus was right next to El Camino Real, this very busy road. Men were constantly yelling stuff, honking, whistling. The first time I was followed was when I was 14. I was training in a park when I was 22 and I was grabbed by a man on the street; he grabbed my crotch. I've had a range of experiences, but many have happened while running.
At 14, there's almost this feeling among girls that it's bragging if you say anything, like, "Oh, this guy thinks I'm hot." It feels like it's creepy, but it's a lot harder to articulate at that age, and there's a lot of shame and judging among young girls. So much of the harassment at that age comes from adult men, too, which adds to that complication because you're like, "Am I supposed to respect this guy? What's supposed to be happening? What's going on?"
Related: Do My Fuel Belt And Sports Bra Compromise My Safety?
What inspired you to start Stop Street Harassment?
I started it as a website and a blog. That came about because I did a master's thesis while at school at George Washington University on street harassment. When I was researching topics for my thesis, I came across the term "street harassment." I didn't have the language to talk about all these experiences I'd had, and I found it ironic, because one of my undergraduate degrees was in women and gender studies. I was an advocate against rape on campus, I'd been volunteering in domestic violence shelters, but this very related issue was not talked about. I came across this website called The Street Harassment Project. I saw this term, and they had all these stories that were like mine. I ended up writing my thesis talking about how women were using websites in lieu of social recognition of the problem, and how they were sharing tips and advice and trying to offer support to each other.
There was this little survey for my thesis that I put online, and reporters started finding it. At that time, there was so little information about street harassment. The biggest interview I did was with CNN in 2008. I revisited the issue because I started getting all these other media interview requests. People were emailing me, sharing their stories. I looked back at the websites I had studied: there was one in the UK that I thought was great but was completely gone. The Street Harassment Project had not been updated. Hollaback! was around, but they had like six chapters, that was it. That's what prompted me to start Stop Street Harassment: to be a resource in place of the resources I had appreciated which were gone or inactive. The goal at that time was to have a place for anyone in the world to share their stories and find resources and advice.
Related: 14 Safety Reminders For Runners

What are your goals for Stop Street Harassment looking ahead to 2018?
One of our newer programs that launched about a year ago is a national hotline on street harassment; it's the first of its kind in any country. We partner with the Rape, Abuse, and Incest National Network (RAINN) to run it. Anyone in the country can receive help 24/7 for free in Spanish or English. We have a phone option as well as a chat option. It allows people to talk through what happened, get advice, get emotional support, find out what the laws are in their area if they choose to report anything. That's one of our core programs that'll continue.
Another one is International Anti-Street Harassment Week, which we put on every April. It's an opportunity for groups of people all over the world to do some sort of activism about street harassment in their communities. People do workshops, rallies, marches, tweet chats; art is a big thing that happens: wheat pasting or sidewalk chalk messaging. We work with groups in up to 40 countries every year, and we work with a lot of government entities, too.
The hotline is national, Anti-Street Harassment Week is international and then locally, in the Washington, D.C. area, one of our core programs is working with the transit authority. They have a PSA campaign that's had three different waves of ads: last year, they did the first survey on sexual harassment on the transit system. We train their frontline employees, they have a specific reporting method and we do outreach days a couple times each year: flyer-ing the metro stations, letting people know how they can report harassment.
Related: This Runner Chooses To Unapologetically Just Keep Running

If someone wants to report a street harassment occurrence, what's the best way for them to do so?
It's really tough, especially for the guys in cars. So often they're already gone before you can even respond. I think a lot of it has to come down to education. I do a lot of campus talks, and the number one thing I tell women is to talk to the men in their lives about it. Too often, men who are harassers, or who maybe don't consider themselves to be harassers, don't recognize what the behavior is, or how often it's happening, or that it upsets people. There are a lot of stereotypes that suggests it's a certain kind of woman [who's harassed]: a sexy woman in a short skirt, and she's asking for it. Which, yes, those types of women are harassed, and no, they're not asking for it. Every woman is facing harassment, and many men are, as well–especially LGBTQ men. It's important for us as individuals to say, "I have been harassed. This is the impact on me." Then the people in our circles, especially men, are more aware of it. It's important that they talk to other men about it, because so much of harassment is men showing off for other men. If men start to say, "No, this doesn't impress me. I don't like this," I hope that it'll start to improve.
Some street harassment takes the form of gender policing, too. Yelling at women with short hair, calling them lesbians, or harassing men that go outside of their gender norms, as well. A lot of that is continuing, and in some ways it's getting even worse under the current administration. For example, in the D.C. area, there's been a lot more harassment of transgender people. Our transit campaign included a photo of a transgender person, specifically to say, " Don't harass." Maybe the next generation won't be as bad offline, but they're so used to being online, and of course online harassment is such a huge and related issue. I want to be hopeful and say, "Maybe the next generation will be better!" But when there are such bad examples, including that of our president, it's a little hard to have hope.
Related: 5 Safety Rules That Every Runner Should Follow

For women, there are certain habits we adopt to protect ourselves that men don't, like avoiding running at night or wearing certain things. What habits do you see women falling into to protect themselves?
It's very common for people who have been or are being harassed to change their lives in some way. Before we're old enough to be harassed regularly, girls in particular are told things like, "Don't go out by yourself," or, "Have a buddy." There's a study that came out in Australia that said that even just hearing about a woman being sexually assaulted in your area can make you feel less safe and can make you feel distressed or anxious.
When I was 12 or 13 years old, I went to my first cross country camp, with boys and girls. Girls and boys did everything together; except there was one session where we were separated. The head coach's wife gave the girls a safety lecture and told us exactly the kinds of things that we've discussed. The one that always stuck with me is to not become predictable in your route and the times you run. She shared a personal story of running the same route every day, at the same time, and how a man figured out her schedule, waited for her and then attacked her. All these years later, I remember that story. I go running by myself mostly, so I don't really listen to that, and sometimes I run at dusk…but I always change my schedule, I always change my route. It was very telling that the boys didn't have to be there; the boys got to do something fun. It was very clear that this was a girl problem.
Related: A Few Reasons To Turn Your Music Off On Your Next Run
To what extent should women limit themselves (like by not running alone or at night) due to these self-preservation tactics?
That's exactly why I say street harassment is a form of gender inequality and a human rights violation. We don't have the same rights and abilities and comfort levels of most men in public spaces. I hate that we feel like we have to do these things. It makes me mad that women feel like they have to [take these precautions] in the first place. I want women to be able to run at night or to run in a sports bra, to do whatever we want.
What do you think is the best response for women when they face street harassment?
I wish there was a magic answer. Every situation is different, your comfort level is different, your personal history. If it's a big group of men, I'm probably less likely to say something than if it's one man. Or if it's dark versus if it's light. There are a lot of situational differences that may make me feel more comfortable saying something versus not. Ultimately, I want to tell women that whatever they decide to do is the right response. That said, I think that if responding helps you in that moment, then respond. So often women wish they could have said something, they wish they could have stuck up for themselves. I think that's something that can be useful, and some phrases that you can say quickly are, "Back off, that's harassment," or "Don't harass me."
I know people are worried about escalation, but the truth is, you can ignore a harasser and he can still get upset. Or you could yell back and he could get upset. You don't know how he's going to respond. I do find that, whatever you do to surprise the harasser makes it the least likely that he'll do something, because he's too surprised. Often having some sort of response (not cursing, not getting really angry, not flipping them off–which are things that men tend to trigger back on), like saying, "Don't harass me" or "Back off, I'm not interested" can be surprising because they won't expect a response. In my experience, when I've said those kinds of things, guys will go completely silent, or I've even gotten apologies before. It definitely makes me feel better than the times when I've been quiet because I can't think fast enough. My advice would be, first: however you decide to respond is fine. Second, figure out what makes you comfortable, because you ultimately don't know what'll work to get the guy to stop. But if you can get through the moment safely and in an empowered way, I would say that's the goal.
Related: 5 Reminders To Staying Safe On The Run

What can we all–men and women–do to make this better?
Street harassment is a symptom of inequality in our society. Anything that each of us can do on a daily basis to chip away at this overall inequality is ultimately going to help reduce street harassment long-term. Day-to-day, try to live your life the way you want to. Always get the support you need if street harassment happens to you and you're upset: call someone, call our hotline, whatever you need to do to get through the moment. But I really hate that street harassment limits people, and I think that you should try not to limit yourself and live your full life.
For some women, it can be isolating. Some blame themselves. Sharing stories can be important in helping other women feel like they're not alone. Sharing stories with men can help them better understand this issue and hopefully look out for, recognize and stand up against it. Thinking back to my summer camp, I wish they hadn't divided the girls and boys. I wish they'd kept us together, and if they were going to do a safety talk, I wish they'd let the boys hear so they knew what girls were facing and talk about how they can be allies, how they can speak out against men they see harassing women and girls.
Ultimately, no country has achieved gender equality, and no country ever will until women and girls are able to safely use public spaces: including going running whenever and wherever they want.
Related:
My Body, My Run, My Safety–So Stop Telling Me To Shut Up About It