How Self-Defense Classes Protect A Community Of Runners
One community is arming their female runners with education and safety tips.
Heading out the door? Read this article on the new Outside+ app available now on iOS devices for members! Download the app.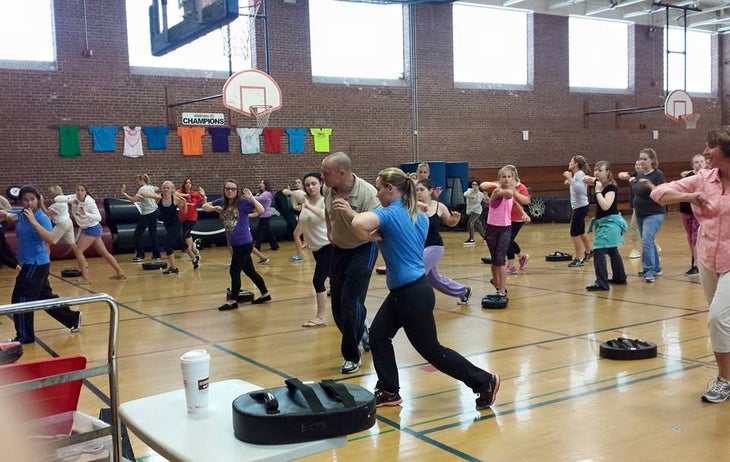 Vanessa Barneschi was on her usual morning run through West Hartford, Conn., on a foggy, rainy morning before the sunrise. After all, she had to get her run in before she headed to her job as a high school teacher. Unfortunately the conditions that day made her running route what she refers to as a 'dream crime scene.' A man hidden along some hedges grabbed her and dragged her behind some bushes, where he attacked and raped her.
He was found out of state, three weeks later. She never knew him. Though she was wearing headphones while running that day, he was standing there, well hidden; there was nothing to hear in regards to someone approaching.
Years alter, Barneschi is an outreach member for Jane Doe No More, founded by rape survivor Donna Palomba. Palomba was not attacked while running—hers came during a home invasion and her story was shared on Dateline—but she "quickly realized we live in an uncertain world and anything can happen at any time."
One of Jane Doe No More's core programs involves offering free self defense classes to women 12 and older, which they call Escape Alive. In this class, they not only offer hands-on, practical self defense skills but also an educational component, where women like Barneschi come and share their stories.
They offer two classes per month in the Connecticut area. Recently they did a class in West Hartford that became their largest to date, with about 200 students and 20 trainers.
As a charity partner of the Hartford Marathon, Palomba does reach out to runners to help give tips to keep them safe on the roads. "I definitely recommend that women run in groups when possible," she shares. "Additionally, try to alter your route often so you can't be easily tracked each day and try not to run wearing headphones (though one ear bud is better than two, if you do need music)." She also often shares how technology has made us more vulnerable targets, as we can often become unaware of surroundings when texting or on a phone call.
The mission of Jane Doe No More is to educate the public, as 1 in 4 women will become victims. "We want to help them to realize that they aren't alone and there is help," she stresses. "Society needs to understand these crimes—so many victims, even when they do come forward are just Jane Doe, and you can't relate to them." She was Jane Doe in newspaper and medical reports for years until she came forward.
If you want more information on Jane Doe No More, send them an e-mail at info@janedoenomore.org.