Eat Pray Run DC: What It Means To Be A Runner
No matter your mileage or what you race, you are still a runner.
Heading out the door? Read this article on the new Outside+ app available now on iOS devices for members! Download the app.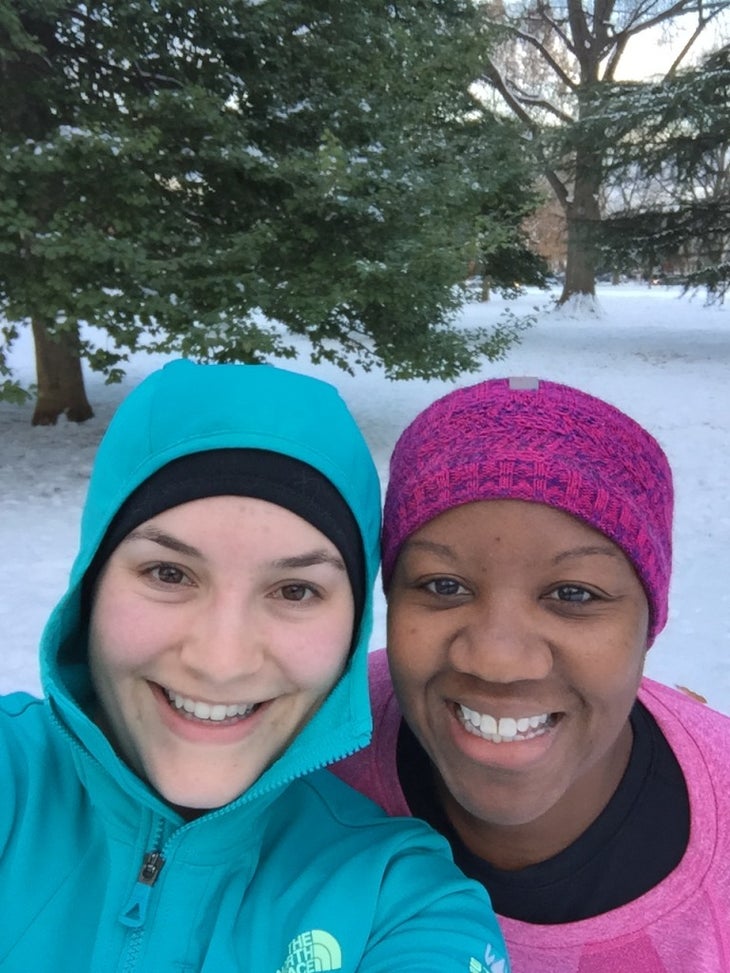 A couple of weeks ago, I ran a 10 mile race on a trail that was covered in snow and ice. Literally, covered. In an attempt not to fall, I changed my stride to account for the ice. By the end of the race, my ankle was killing me. I decided that it was a great time to make that physical therapist appointment I'd been putting off. especially since I wasn't seriously training for anything. The PT evaluation was scheduled for almost a week after the 10 mile race and in the interim, I decided to rest my ankle (not a hard choice since it hurt to bear weight on it) and just do barre classes. As the week went on, I started feeling sad and thought about how I'd feel if I was told to not run.
The truth is running is a huge part of my identity. When I need to process my thoughts, I run. When I'm angry, I run. When I'm happy, I run. When I'm sad, I run. I've run to help get over old relationships, I've run to process all the details about new ones and everything in between. I've had a lot going on lately between work, home and just life. Not being able to run this past week or so (and yes, I know that is not that long of a time period in the grand scheme of things) has made me question so many things. If being a runner is who I am, then who am I if I'm not running?
That thought led me to think, what does it actually mean to "be a runner?" I feel like this question is thrown out there so often in the fitness and running community. I've heard countless people tell me things like "Well, I'm running a half marathon this weekend but I'm not REALLY a runner – I'm really slow" or "I only run 2 times a week, I'm not REALLY a runner." I always respond the same way: "Who says you are not REALLY a runner?" And what does that even mean? When elite runners get injured and have to stop running for two months, they are still elite runners. When triathletes stop doing their intense training during their off season, they are still triathletes. If you run, you are a runner. If you connect and love interacting with the running community, dream about races and force yourself out of bed in the cold to run one mile, you are a runner. If you ran a half marathon or a 5k or an ultra race, you are a runner. If you identify as a runner, you are a runner. It's sort of like your education. A lot of things can happen after you graduate from college. You can choose to not use your degree in the way you initially imagined and you can choose to do something completely different from what you studied. But you will always be a college graduate and NO ONE and NOTHING can take that away from you. If you are a runner – if you WANT to be a runner – no one can take that away from you either.
So who am I if I'm not running? I'm a runner. Period. No explanation needed. Running is my happy space and I'm blessed to know that I'll be back out there very very soon. But in the interim, I'm still a runner and if running is who you are, then you are too.
What does it mean to you to be a runner? Tweet @eatprayrundc and @womensrunning to share your thoughts.