Are You A Distance Running Snob? We Asked Some Runners.
Dripping with sarcasm but also some truth.
Heading out the door? Read this article on the new Outside+ app available now on iOS devices for members! Download the app.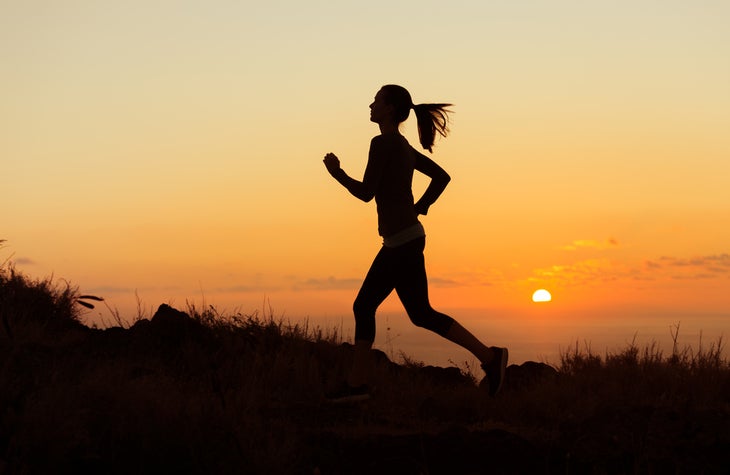 After I wrote about Rest Day Brags  a reader commented that she thought "just" running 5Ks did not warrant a rest-day brag and felt the running community may think her not worthy of bragging about her rest day. I immediately replied that was ridiculous since training for and running 5Ks can be very demanding (ask Lauren Fleshman) but her comment piqued my interest.
I took to social media to poll runners about their thoughts (and to give examples) on distance and how much judgement there is based on how far you typically run or race.
Although I believe the clear answer to "Is there snobbery based on distance in running?" was a resounding "YES!" it was interesting how quickly the comments turned to other sensitive topics like bling and pace:
The question: Are you a running distance snob? Do you feel like there is a dividing line between marathon runners and those who run shorter distances? Give examples for your answer.
The very first comment: Well although I think running a 5K is an accomplishment, I'm not sure about the whole medal giving for that distance. This is coming from a person who said she'd never run a half marathon. My first race was a 10k and then YEARS later I started doing half's. I ran 15 and a full, I think those distances and beyond are medal worthy because of the amount of time, energy and commitment it takes to run/walk endurance races. When I ran 5Ks all I expected was a T-shirt and that was fine by me. —Renee R.
See what I mean?
The unexpected: I've always felt that those doing less than me in race distance just haven't gotten there yet. When someone tells me they'll "never run a marathon," I just smile at them. Things hold us back—family, job, time—but if the passion is there the desire to do more is also. I try to encourage those who are starting out to be open and keep doing what they can. Running is more than how far we're going.  —Pam L.
I say the above comment was "unexpected" since she says she believes people are not running longer distances because "they haven't gotten there yet" when I know plenty of very fast, strong, capable runners who prefer the shorter distances and think a half or full marathon is just not how they want to race, like this comment, who chose to remain anonymous:
The anonymous All-American runner in the mile distance: I ran 26.2 in 2002. I did not race it. I cranked out 8:24 after 8:24 after 8:24 since that's what I needed to qualify for Boston. That was my goal. I ran Boston in 2003 injured, and I have never raced more than a 10K again. I don't enjoy it. I like to race pedal to the metal. I do not enjoy pacing myself.
The funny because it's true: There is some truth to the joke: how do you find out if someone is training for a marathon? Don't worry, they will tell you! —Kelly B.
Quite a few commenters cited long-term or chronic injury for not being able to handle longer distances, although they would like to. They certainly don't want to be judged for "only" running half marathons or less, unfortunately they often feel they have to explain their injuries to other runners:
The injured runner: I just don't know if I could handle a longer distance than a half. I've had both my ACLs reconstructed, I just don't know if it makes sense to run a full marathon. Although, I will say, there are times when I'm out running and start having crazy thoughts about running a full marathon…but then I remember how I feel when I finish a half marathon. I think to myself, at that moment I don't even want to walk to the beer tent never mind run another half marathon. I don't know if it's in the cards for me…but there are those faint urges to see if I can. —Barb B.
The justifier: So, this is a bit tricky to answer. I truly don't care what others have run. I know that a some people run marathons with less commitment and effort than other people running 5K or 10Ks and that isn't even pace but how hard their work towards their goal race. That being said, I have run three marathons and trained for five, but I haven't run one in about 7 years—before my son. Now the longest I 'race' is a half. I have no issue running shorter distances and recently trained to break my 10K PR but I always feel the need to qualify my running with 'but I have run multiple marathons.' —Cortney S.
So, commitment and effort seem to play a role as well. This was another theme:
The coach's perspective: As a coach, I encounter many runners who downplay their abilities just because they haven't run a marathon or haven't run a "fast" marathon. Whether it's real or perceived, I think that division does exist – and it goes both ways. Some runners ONLY run marathons and think that everything else is not worth training for, which is not a healthy attitude for many reasons. Other runners see the marathon as a litmus test for what it means to be a runner. My theory: running is hard, and different distances are hard in their own ways—and individual preferences come into play. I'd rather run a marathon than a 5K, but that's because I'm built more for endurance (both mentally and physically). That doesn't make me better than someone -there's certainly 5K runners who are stronger and more dedicated runners than I! Why bother dividing and labeling ourselves—why not support other runners whether they prefer 5Ks or the marathon? —Laura N.
The 'just be happy' with you: I think anyone that pushes themselves to run any distance at any pace should be proud of themselves! For some a 5K is like running a marathon to others. Be happy with yourself and your accomplishments! —Nancy S.
I have to wholeheartedly agree with that last sentence. If you run, you are a runner. You are entitled to brag about your rest day, no matter what that means to you. Maybe if we continue having open and honest discussions, the division will decrease and we can all get back to simply doing what we enjoy most—running!