One Comment During Olympic Marathon Pissed Everyone Off
After fumbling over some facts regarding Meb Keflezighi, one commentator made a correction that didn't appease anyone.
Heading out the door? Read this article on the new Outside+ app available now on iOS devices for members! Download the app.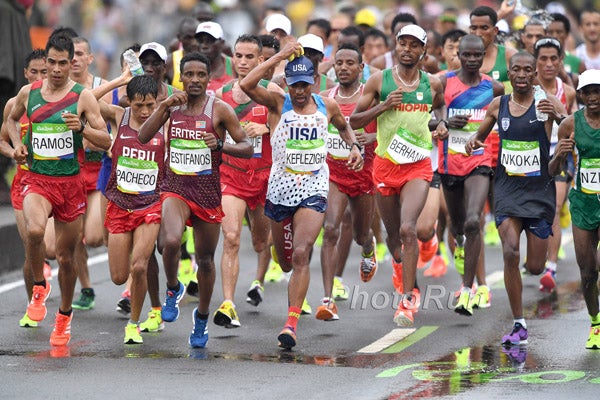 If you want fans' opinions surrounding the Olympic Games, hop on Twitter, where everyone has something to say about everything. Sunday was no different, as people had mixed feelings about the streaming commentary during the men's Olympic marathon. Some viewers shook fingers at repeat remarks about runners being "out of medal contention" when there was still a ton of ground to cover, or runners "falling off the back" when they merely slowed to take a swig from their bottle.
One of the comments that created a bit more of a stir was the "correction" made during the second half of the race, after it was said more than once that Galen Rupp would be the "first American" to medal in the men's Olympic marathon in 40 years, should he land on the podium (and he did). The comment was incorrect, and many people tweeted the network, pointing out that Meb Keflezighi, America's favorite marathoner, had claimed silver in 2004. Someone must have relayed the message, and the announcers "corrected" themselves, changing their comments to say "first American-born" runner when referring to Rupp's ultimate bronze medal.
Wait, what did they say?
The ignorance of that statement didn't fall on deaf ears; the fans who have cheered Meb on through 24 marathons—including his silver Olympic medal in 2004, a New York City Marathon victory in 2009 and, perhaps most notably, a tremendous win at the 2014 Boston Marathon—came to his defense on social media. The announcers weren't wrong in their facts this time (well, kind of—Frank Shorter, the last American man to do it 40 years ago was technically born in Germany); Meb wasn't born in the United States. He was born in Eritrea, a small country in Africa, during a time of war. His family came to the United States in 1987, and Meb became a naturalized U.S. citizen in 1998, the year he graduated from UC Los Angeles as a top collegiate runner and exceptional student. He has repeatedly shown the United States—and the world—what it means to work hard for your dreams and work harder when those dreams become reality. A timeless and incredibly humble athlete that always, always shows gratitude toward his faith, family and this country, Meb has run his way into the hearts of every single American over the course of his career.
Related: What The Heck Happened At The Olympic Trials Marathon?
Meb is America. Read his book, Run to Overcome, and you'll see that his family's path into this country and his journey to greatness as a professional runner is the American Dream. After every race, he waits to congratulate not only his teammates wearing USA, but also those who wear the colors of other countries. He celebrates every finish as if it's his greatest victory. He gives every single fan hope for a bright and happy future, while pursuing whatever dreams they have. His very slogan is "run to win," but for Meb, winning means getting the best out of yourself every single time (even if you're throwing up seven times during the race and fighting just to get to that finish line). That's the American Dream we learned about in school, and that attitude is what made us all cry our eyes out when they played our National Anthem at the Boston Marathon finish line two years ago. An American had won it during a time where his country needed it the most.
Related: Two Runners Collide Hard And Help Each Other Advance To The Final
The comment could be called an error in judgment. It was probably intended to make Galen Rupp's tremendous day that much more historical for Team USA. It was probably meant to provide educational entertainment and more context to what streamers were watching on their television screens. It was probably meant to correct their fact checking. And for a large majority of people, the words probably went mostly unnoticed, especially for Meb, who has been underestimated and overlooked by announcers in the past. Still, when it's said about the runner who exemplifies national pride, whether draped in the American flag or ending his Olympic career with a slip, three pushups and 33rd place, it strikes a nerve, and people take it personal. There should be no separation between an American citizen who was born here and an American citizen who was not, especially on a stage like the Olympic Games. We are all Americans, and I know there isn't a single runner friend of mine that doesn't want to be a bit more like Meb in their day-to-day lives. Why else would everyone be requesting "Meb for President"?
"It's been an honor to represent the USA and have girls as witnesses." —Meb Keflezighi after placing 33rd at the 2016 Olympic marathon, his fourth and final Olympics