Mind Your Racing Manners! The Best And Worst In The Pack
Most race participants behave beautifully–but there are unfortunately a few in the pack that are less considerate of their fellow runners.
Heading out the door? Read this article on the new Outside+ app available now on iOS devices for members! Download the app.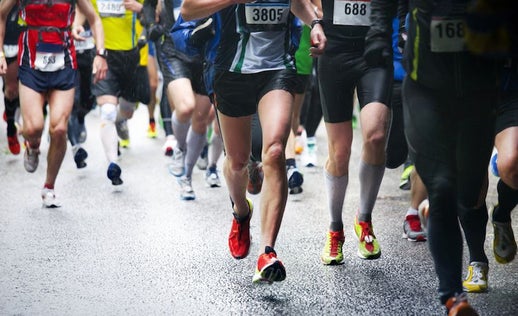 Let's discuss the nasty and wonderful habits of fellow racers and how they impact other runners. From blaring music out of devices for all to hear to stopping mid-race to make sure another runner is okay, how we treat one another says a lot about our sport.
In an informal Facebook poll, I asked followers to describe what they think is the best and worst conduct before, during and after races. Let's see if you agree:
Pre-Race
Best
Good luck wishes

Having friendly (albeit nervous) conversation in the starting corrals (Example: 

"Giving compliments to other runners like, 'Cute running shorts,' or 'Love your socks.'" –Stephanie S.)
Worst
Lining up in the wrong corral or closer to the front than you should be (

this was overwhelmingly the biggest complaint)

Relieving yourself on the side of the road or in the corral (

"I ran the Paris Marathon and they do more than just pee on the road there." –Sue T.)
During The Race
Best
Silly costumes

Strangers cheering for you and shouting words of encouragement

Thanking police or volunteers on the course

Getting high fives from the crowd

People dancing in the crowd and having fun
Worst
When running groups of friends or pace groups make a veritable wall so you cannot run past

Making a mess of aid stations and throwing cups underfoot

Stopping right in front of other runners to take selfies

Stopping short to drink at aid stations

Basically stopping right in front of other runners for

any

reason. Please move to the side!

Spitting or shooting any other bodily fluids out behind you without looking (

"I had someone spit in my face during a race. He never bothered to look and just turned and let it go. I was the unfortunate recipient. I honestly don't remember if he apologized." –Melanie D.)

Men who won't let faster women pass (

"The worst is men who are my pace, but think they are fast. They slow down, crowd my space, elbow me and do other unfriendly acts when I try to draft or pass. Also, they smell bad. The best is when you find a runner who will take turns pacing." –Linda Y.)

Playing blaring music out of your headphones or other devices (

"I've been guiding disabled athletes the past year. When I guide wheelchair athletes, they go fast on downhills. They will announce themselves and I will also warn people they are passing. People wearing headphones will rarely hear us. I need to tap them on the shoulder to get their attention. It's dangerous for both parties to wear headphones. I've had some near collisions." –John C. 

In response to John's post, another runner mentioned she runs with music but with only one earbud in so she is sure to hear everything going on around her.)
Post-Race
Best
Faster runners going back to cheer on those still crossing the finish line

Meeting up with family and friends

Beer

Burgers

Congratulatory handshakes or high fives (

"When you cross the finish line and a total stranger says, 'It was fun running with you,' even if you didn't say a thing to each other. Camaraderie makes this sport special!" –Gia A.)
Worst
Faster folks not leaving enough food for the back of the pack

Cutting other runners off at the finish

Having a non-registered runner run you in (banditing) and stay with you through the finisher's chute
Related:
7 Race-Day Mistakes, 1 Good Samaritan And Biggest Lesson Learned
The Worst Race Ever–And How To Avoid Another One