I Went To A Running Camp In Death Valley And Learned Quite A Few Things
Alison Désir was one of 34 athletes chosen to attend a running camp with Under Armour in Death Valley.
Heading out the door? Read this article on the new Outside+ app available now on iOS devices for members! Download the app.
*Pictures courtesy of UARunning
Over the past four years, my world has expanded. I have conquered mileage once unbearable to me and seen parts of the world I never imagined I'd explore. Running has been my passport and my guide to learn more, do more, experience more, feel more. Recently, I attended UA Run Camp: The Desert with 34 other athletes from around the world selected by Under Armour to endure some of the toughest conditions on Earth in Death Valley.
Here are the 7 key lessons I learned while out there:
There is strength in numbers
Running is an individual sport but there is power in having a running buddy or crew to run with. In Titus Canyon, Death Valley, this came in particularly handy when I started to hallucinate seeing a body of water and my crew handed me some water to hydrate and gave me the gentle reminder that we were in the desert (DUH). But beyond that, having support with you reminds you "you got this!"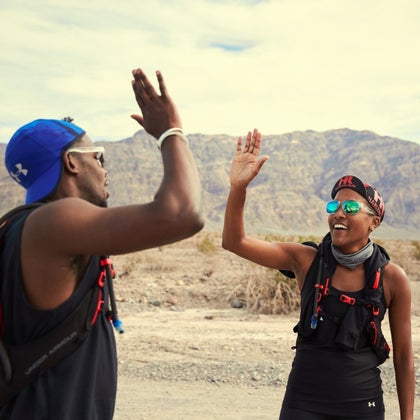 Push your edge
You can't find out what your capable of until you push past what's comfortable. The first 10 miles of our run on the second day, my legs were like lead weights. In fact, I wonder whether I could've even kept going if I had been alone. I started the negative self-talk, accusing myself of being too weak, ill-prepared and incapable of completing the full 16 miles in 95 degree heat. But I kept going. I refueled and reassessed my attitude, thanks to my crew, and I know now that I am capable of so much more than I ever thought. The discomfort was temporary and knowing how powerful I am will last a lifetime.
Mental toughness is key
"Whether you think you can, or you think you can't—you're right." 'Nuff said.
Respect the elements
Push yourself but do not be foolish!  Out in Death Valley, I drank more water over the course of 2 days than I ever have in my life. Take chances and push yourself but never when it comes to race conditions or the elements. Respect the heat, cold, rain, elevation, etc. and prepare for them.
Have a plan but be adaptable and expect the unexpected
After an 11 mile run through Titus Canyon on day 1, we expected we would be transferred to cozy lodging somewhere nearby. To our shock and surprise, we were dropped off in the middle of Death Valley to a campsite where tents and dehydrated food was waiting for us. It certainly was not what I would have chosen, but it was a blessing in disguise. Setting up camp and making it through the night with poisonous insects and mammals nearby, no bathroom or plumbing in sight, and nothing to entertain but each other taught us to enjoy the beauty of the outdoors and bond as a squad.
The world is vast
Running through Death Valley with these incredible natural formations reminded me just how limited my life experiences have been so far! Even with all of my travel and adventures, there is still so much to be done. Let that inspire you to continue to seek out the unknown and appreciate the fact that there is so much that is yet for you to learn and see.
Take time to recover and recharge
After you're done pushing your limits, take the time you need to recover and recharge. After day 1 in Death Valley, we had the opportunity to do yoga at sunrise overlooking one of the most beautiful portions of Death Valley. Were it not for this much needed stretch, I would've felt like a pretzel for day 2. Being a smart athlete and human being means knowing when to push but also when to pull back.
I'm already planning for my next adventure—a 50 mile ultra in the Mohonk Preserve. How about you?