Elementary School Kids Taught Me 4 Important Things About Running
While helping at her sons' elementary school 'Mileage Club,' one runner learned a lot of lessons watching the kids run laps.
Heading out the door? Read this article on the new Outside+ app available now on iOS devices for members! Download the app.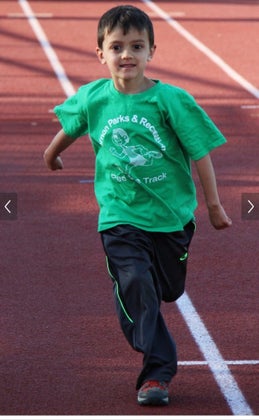 As it is done at my sons' elementary school, Mileage Club is on a opt-in basis. Each student, three times per week, can either have recess or participate in Mileage Club. For each mile they complete, they are awarded with a necklace and a small plastic foot charm. For each additional mile, they get another charm and can collect as many charms as miles they run.
I have learned so much from watching and interacting with these kids! Of course my twin second grade boys couldn't have cared less and "participated" in Mileage Club exactly once, each.
Nevertheless, this is what I gleaned from the other, more interested kids:
The Younger, The More Enthusiastic
The kindergarten and first grade classes come running out of the school door and onto the playground practically begging for their scorecards. Almost all of them participate, help each other out, all while smiling and laughing with each passing loop.
The second and third graders are already showing signs of being jaded. About half of them participate, the whining is a lot more pronounced and their dropout rate is substantial.
By the time the fifth grade comes out, we know it's over. The first week we may have had a few outliers but they are long gone. Most all of the kids engage in what seems to be a dangerous game of moving dodgeball or extremely aggressive soccer. If only they knew that running is not only safer but would help sharpen their skills in both dodgeball and soccer. Sigh.
Lesson learned: It's basically a microcosm of adults. I was raring to go in my 20s, found my fast in my 30s and now, at 40, I need to work harder to maintain the paces I was hitting in my 30s. As desperately as I try to be enthusiastic, I can totally get why a lot of kids (mine included) would rather just have fun on the sidelines, or whip balls at each other's faces.
They Take Breaks When They Need To
In the area where the kids run, four laps equals one mile. As we all once did as novice runners, these kids sprint around the school yard for their first lap and come in gasping for air. Some can keep the quickened pace for two laps but we all know how that ends.
Around the time of that third lap, something magical happens—they walk. They realize they are tired and just take a break. Imagine? No one cares what the their peers think, in fact, they usually invite them to slow down or walk with them and (gasp!) they do!
Lesson learned: These kids have it figured out. Run hard, then take walk breaks when needed, as needed. One more lap to finish a mile? Nah, my body says I'm done for the day. Recess time is almost up and I'm close to getting another charm? Whatever, I'm too tired and continuing now for bling would be dumb so I'll just walk it in. Genius!
Proper Footwear Is Optional
I have seen kids come out in cowboy boots, sparkling Mary Janes, Crocs and sandals but I have never once heard an excuse not to run because of their footwear. That's right. They think absolutely nothing of running in whatever they happened to match their outfit to that day and guess what? Nothing happens. They are fine, their feet are fine and everybody wins.
Lesson learned: Obviously there is injury risk involved when you're running more than a mile in shoes that are not appropriate for the activity but, you really can make more of an excuse to run, than not to run, no matter what.
A Mile Is A LONG Way
"How many laps do I have to go?" was pretty much the question every kid asked and then asked repeatedly as the weeks wore on. Gradually, the effort seemed to lessen with each passing week and each charm earned for each mile run. But, the initial shock of realizing how long a mile actually is, never ceases to amaze me.
Lesson learned: No one seems to think about how long a mile is, until they're doing it on foot! But, as we seasoned runners know and, what these kids will hopefully come to understand, it's putting those miles together day after day, month after month and year after year that makes it all worth it—charm or not.