Olympic Hopeful Encourages Kids To Take A 'Second Recess'
The 501(c)3 children's running nonprofit 2nd Recess has continued to grow under the stewardship of Olympic hopeful Natasha LaBeaud Anzures.
Heading out the door? Read this article on the new Outside+ app available now on iOS devices for members! Download the app.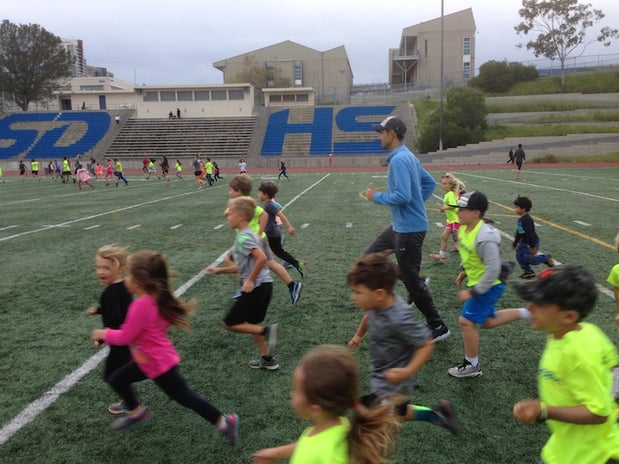 Meet Olympic Hopeful And 2nd Recess Co-Founder Natasha LaBeaud Anzures
Thirty-one children between the ages of 4 and 13 gathered in a semi-circle during a warm San Diego evening in late June. Standing in front of the kids was Natasha LaBeaud Anzures and husband Marco, the co-founders of the children's running program 2nd Recess. Three volunteers stood nearby, watching as the coaches explained the nature of the day's practice.
As the group dispersed into age-based workout groups, some parents stuck around, setting up lawn chairs to watch the hour-long practice, while others wandered off to join a running group congregating nearby. Before long, the children were jogging around trees in San Diego's downtown Balboa Park neighborhood, talking and laughing as they stuck with their groups and followed the coaches' instructions.
This is 2nd Recess, the 501(c)3 nonprofit running group that the Anzures team developed especially for kids in 2011. "I'd had the idea when I was in high school," Natasha said. "I was talking to [Marco] and we were in transition, figuring out what our next steps were. He was like, 'Okay, let's just do it!'" The couple moved to San Diego from Flagstaff, Ariz. that same year, where they'd been training with the Olympic Development Group. They teamed up with the San Diego Track Club to launch 2nd Recess and, six years later, have established the program as a nonprofit with a curriculum available nationwide and three training locations in the San Diego area, one each in the Balboa Park, Clairemont and Chula Vista neighborhoods.
Related: Running Moms Who Give Back
Natasha is an Olympic hopeful who reached the Olympic standard for the women's marathon last year. Earlier this year, she set the Canadian national record during the USATF 15K Championship in Jacksonville, Fla., with a time of 54:47.0. Her personal best for a 10K road race was set near her home in San Diego during the 2013 Scripps Ranch Old Pros 4th of July 10K. Looking forward, she aspires to compete for Canada during the 2020 Summer Olympics.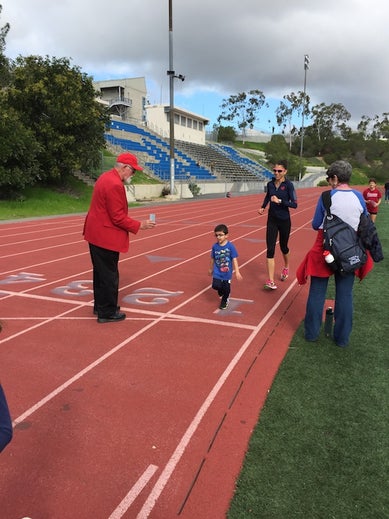 Natasha's athletic achievements are rooted in the same values for exercise and healthy living that she teaches at 2nd Recess—and that she felt as a kid. She began running at age 7, when her elementary school's annual jog-a-thon inspired her competitive nature. "I was the odd kid that was doing laps at recess to prepare for it, because that was really a goal that resonated with me," Natasha said. "I was able to accomplish that goal, and it didn't stop after that. The Olympic rings have always been a goal."
If the 2nd Recess kids are aware of Natasha's Olympic pursuits, they don't act any differently because of them. The younger children are eager to tell Natasha about their family vacation plans at the start of practice and act ecstatic when it's their turn to pick an exercise for the "Pick Your Poison" circuit workout. Basically, they act like kids. Natasha works well with them, appearing eager to hear their stories and distract the squabbles that arise as the more spirited within the group work to expel their extra energy. During this hour-long practice, she always seemed to remember that, not too long ago, she was just like them: an energetic kid that loved to move and loved even more to test what her legs, feet and mind were capable of.
Comprising warmups and workouts that are tailored to two age groups, the hour-long practice concludes with a healthy snack and a discussion that relates the 2nd Recess mission to that day's exercises. As the volunteers prepared to disperse raisins as that day's healthy snack, Marco collected the group at his feet to discuss themes. "What does it mean to be inspired?" he asked the kids. He nodded at the San Diego Track Club practice that was winding down on the other side of the park, wondering aloud if the adult runners inspired the children and smiling at the chorus of yeses that followed. Marco and Natasha concluded the practice with a review of 2nd Recess' "three P's" (patience, positivity and perseverance) and how the group had addressed each.
The coaches' healthy snack offerings and reinforcement of positive athleticism both connect to another of Natasha's projects. In addition to training for the Olympics and running 2nd Recess, Natasha is also currently finishing a dissertation for her Ph.D., for which she has studied public health with an emphasis on childhood obesity. "My research is studying the differences between food deserts and familial eating habits," Natasha explained. "We have a healthy snack at the end of each practice because we want kids to start asking questions and learning, 'Why is it important to put healthy things into my body?' This is a very basic overview level: they usually only learn carbohydrates, healthy fats and proteins–that's what the basics are. Even that amount of knowledge is a lot more than I've found that most families know."
Healthy eating is one thing, but making sure children exercise regularly can be difficult for parents–especially considering the temptations of modern technology. "We're definitely seeing the effects of kids sitting around too much, not getting outside, not getting those safe places to run," Natasha said. "The nice thing about running is that it's so simple: it's just one foot in front of the other. Families can really do it together. We have families in the program that have taken some of the aspects, like today's 'Pick Your Poison,' which is essentially circuit work. They incorporate that into their own family workouts, where everybody gets to do a lap on the track, then they do pushups, or whatever they choose."
Though 2nd Recess practices occur once each week year-round, Natasha and Marco lay groundwork during the practices that they hope will inspire kids and their families to become more active overall. Natasha is quick to advise that, though runners of all ages and fitness levels enroll in races, running doesn't have to be expensive–or cost much money at all. "There are very few expenses that are incurred with running," Natasha said. "It's important to look up local events and take time to research, ask the right questions and feel free to be directed to different things you can do together. There are very simple ways to make working out for the entire family fun."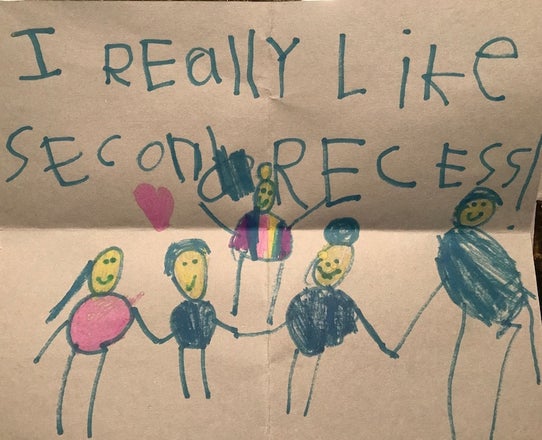 2nd Recess is a reminder that, whether running is an activity enjoyed by an entire family or a passion that develops in one young runner, it's a form of exercise that's accessible to people of all backgrounds. By encouraging children to start exercising at a young age, the program introduces the ideas of patience, positivity and perseverance that can prepare children for future pursuits in athletics and beyond. "You can run anywhere," Natasha said. "You can be on the beach, on the grass, on the roads…you can go anywhere."
Related:
20 Women Who Are Changing The Sport Of Running (And The World)
Inspiration Awards: Chaire Diaz-Ortiz