Why Philadelphia Is The Perfect City For Runners
One New Yorker gets a wake up call about the wonders of running in Philadelphia.
Heading out the door? Read this article on the new Outside+ app available now on iOS devices for members! Download the app.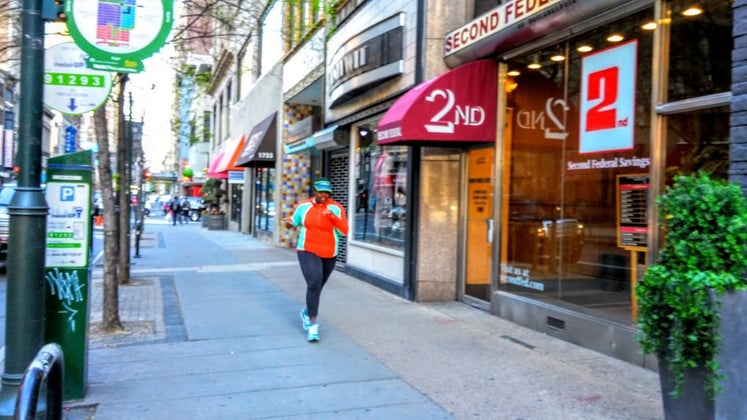 I'm a die-hard New Yorker. Although I've lived in a bunch of different places, New York will always be my number one, my bae, my boo. That said, I just spent an incredible weekend doing a bunch of things running and job related and I just want to say that I may also be in love with Philly, because well, running.
Philadelphia and I have an embittered relationship. Okay, well it's actually not that bad but here's the story: The first time I ever visited this storied city was in the mid 1980s during the historic garbage strike. There was a smell everywhere and folks weren't too happy. That was the only impression I got of the city, besides a faint recollection of whizzing by the Liberty Bell and something about Rocky. Every time I had the opportunity to travel to Philadelphia, I would decline because of the memory of reeking garbage. In my adulthood however, I've taken some steps to rectify this situation, and to replace the memory with good ones. So this post is about love. Loving Philadelphia.
This past weekend I was in town for an excellent conference, enjoying the goodies at Reading Terminal Market (can we say Old City Coffee and Spataro's?!) and speaking at the Not Your Average Runner retreat put on by Jill Angie, author of the eponymously titled book. Even though I spent my first morning at the hotel gym—btw, the Westin knows how to do it! They even have running clothes. I brought my own, but you never know, right?—I got a good vibe from the get-go.
The second morning, I met up with Susanne, a new friend and she took me on a beautiful run on the Schuykill River Trail, where there were lots of people out biking and running, enjoying the gorgeous views and spectacular weather. We had great conversation, talking about our running histories, inspiration and future race plans.
The third morning was retribution. I went out for just a few miles on Broad Street to claim the amazing feeling that should have been mine a few years ago when I did the Broad Street Run under much different conditions (sinus infection, a good friend's memorial service and deposition at a lawyer's office all in the same weekend). Mission accomplished!
So Philly, my new friend, thank you for the friendship and the food, the coffee, and of course, the running. I will be back!