Why A Six Pack Doesn't Always Mean Strong Abs
Say what?!? Find out why having a six pack won't make you any faster.
Heading out the door? Read this article on the new Outside+ app available now on iOS devices for members! Download the app.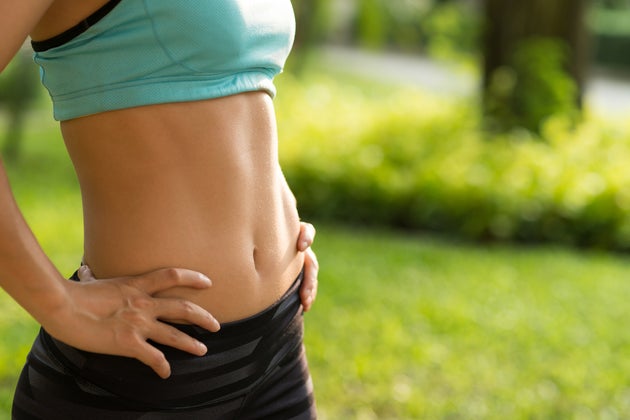 People might think that having a solid "six pack" is part of being a "strong" runner or athlete. Although some runners can and do develop six packs naturally through training and diet, striving specifically for six-pack abs has no immediate effect on your running.
Does this mean core work is a waste of time?
No. As runners, a strong core is essential because it helps to improve both posture and speed. According to Sports Orthopedic Physical Therapist Julianne Cappadona, PT, DPT, CSCS, "Your core is like the foundation of a house." She explains that it comprises three muscles: the rectus abdominis, the external and internal obliques and the transverse abdominis. These muscles, according to Cappadona, "help to maintain a more neutral alignment of the spine and trunk, around which the limbs can move." It is paramount that all the muscles in the group are trained together for maximum results, Cappadona explains.  The rectus abdominis is the muscle that begins at the pubic bone and ends at the sternum. The transverse abdominis (TA) is very important; it is the deepest layer within all of the abdominal muscles. It goes horizontally across the abdomen and is activated anytime you move your limbs. This muscle helps to hold in your chest cavity. With a strong transverse abdominis, there's more stability between the upper and lower body. Cappadona explains that as runners, our core is vital for what we do; it helps to stabilize and prevent injury. However, training for one isn't the "best strategy" for runners.
Related: Why You Should Just Stop Doing Crunches
So why won't a six pack make you any faster?
While we all agree that a six pack looks great (and we all would love to have them), Cappadona explains that the six pack itself does not benefit your running. According to experts at GMB Fitness, a website dedicated to helping everyday athletes reach their fitness goals, "Six-pack abs by themselves are not real indicators of anything except for low body fat levels." The rectus abdominis is the muscle that allows for the six pack to appear. However, it does not provide enough stability to help maintain your body's neutral alignment on its own. In fact, the transverse abdominis is what runners should work to strengthen. Cappadona states, "TA stabilization can reduce the risk of injuries all the way down the chain. Without trunk stability, the movement of your limbs can be heavily impacted." By strengthening the TA, you're more likely to prevent injuries in your hip, lower back and groin.
Which forms of strength training are important?
At Hopkinton Physical Therapy, Cappadona explains how their core exercises start and progress. The exercise begins with someone lying flat and breathing while maintaining core stabilization. To increase difficulty, they add movement of the arms and legs. The next step is moving into different positions, such as planks or a standing closed-chain exercise, where your legs and arms remain stationary while you move through core and other body exercises. The slower the progression is performed, the more difficult it is; however, the slower, the more effective.
Another popular core stabilization exercise that can benefit running performance is the "bridge" exercise. It begins with someone lying on the floor, knees bent, feet flat to the floor. Then the runner slowly pushes her hips straight up, while keeping her shoulders flat on the floor. You should create a straight line between the knees and the hips while performing this exercise.
Related: 5 Favorite Core Moves For Runners