What It Is Like To Lead A Half Marathon Pace Group
Two pacers share what it is like on race day to lead runners to their goal.
Heading out the door? Read this article on the new Outside+ app available now on iOS devices for members! Download the app.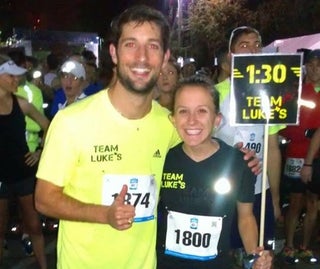 *Courtesy of RunHaven
Pace-group leaders are the unsung heroes of the running world. They keep us age-groupers locked onto our target pace with laser-like accuracy, act as our own personal tour guides by pointing out upcoming hills and water stops, chat with us and keep us company while we run — all while holding a stick with a sign on it. 
What are these running legends really like? To find out, RunHaven interviewed Elizabeth Eder Northern and Logan Sherman, two members of Team Luke's — the in-house running team of Luke's Locker, a Texas-based group of running stores.
RunHaven: How did you become pace-group leaders?
Logan: [As one of the sponsors of the 2013 Allstate Half Marathon], Luke's Locker was looking for pace leaders.
Liz: Someone who could do it comfortably.
Logan: The 1:30 pace was open.
RunHaven: Did you get any special training to be a pace leader?
Liz: No! [laughing] Not at all. 
Logan: No, just extra watches.
Liz: [For that first time], I had three watches with me. I was so nervous! I borrowed an extra one from a friend. I had one in my hand and two on my wrist. And Logan had the stick with the sign.
RunHaven: So how many watches did you have, Logan?
Logan: I had one. But it wasn't even a GPS watch.
Liz: It was just a regular wristwatch! He was living life on the edge.
Logan: I trusted Liz. She knew what she was doing.
RunHaven: I was in your pace group at the Allstate Half Marathon in 2013. How did you approach the pacing for that race?
Liz: We knew what pace overall was supposed to be, and then you look at the course. It was downhill [after Mile 5], and we knew we could pick it up after that. So we could go easy at the start. There is some theory to it.
Logan: [We didn't plan for even pace for each mile.] Especially with a hilly course and we knew we can make up for some of it on the backend. We didn't want to drain people in the beginning by going faster than we had to.
LN: [The Allstate Half Marathon] is a fast course. We knew we didn't have to go out too fast. We went over 7-minute/mile pace for the first mile and a half. And then we started inching faster. We let the fast runners get out of the way. And then we got into our groove — got everybody comfortable and acquainted. You know, "OK, we're all going to do this all together." It was fun.
RunHaven: Do you have any advice for someone who wants to become a pace-group leader?
Liz: You want to pick a pace that you know you can do any day and talk comfortably.  Part of it is that you want to be able to encourage your group the whole time you're running. Get them gels if they need a gel. Get them water if they need some water. [laughs] We're an all-inclusive service.
Logan: [laughs] A one-stop shop. My advice to a pace group leader is to talk to the people in your group and try to get them to relax. Tell your runners, " This is my plan according to what the course looks like," so that they know what the plan is and that they're going to be fine.
Liz: It's not about you. It's about everyone else in the group. Observe how everyone in your group is doing.
Logan: Obviously make sure you're fit enough to do it. You don't want to drop out in the middle of the race!
RunHaven: Do you enjoy being a pace group leader?
Logan: Without a doubt! It's fun. You're celebrating other people. You're running for someone else.
Liz: Exactly. It's a fun experience. It makes running the race more of a team mentality for me. I felt like I was part of a cohort, "OK, 1:30'ers… We got this! We started together, and we're finishing together!"
Logan: It's rewarding. When you're done with it, you just feel like you've just helped somebody accomplish something that they've been training for months to do.
RunHaven: What's the most difficult thing about being a pace leader?
Logan: I think it's just the nervousness about holding the pace. You never want to sabotage someone else's race. You don't want to hurt their chance at getting the time that they want.
Liz: There are some race jitters. We all have that adrenaline rush at the beginning. So you can't go out too fast. You have to be in control. Oh, and holding the stick. It's not easy when it's windy. 
Logan: She kept making me hold the pace sign.
Liz: I did. He has much stronger arms than I do. [laughs] I had all the watches!
Elizabeth Eder Northern won the women's San Antonio Marathon in 2012. She broke the women's record and won the Fort Worth Cowtown Marathon in 2013. She won the Cowtown 10K and Half Marathon in 2014. Elizabeth has qualified to participate in the 2016 Olympics Trials in February.
Logan Sherman is the only athlete to have won all five distances in the Fort Worth Cowtown series of races. He also holds the course records for the Cowtown 5K, 10K, the half marathon, and the ultramarathon. He has won multiple half marathons, including
t
he inaugural Dallas Half Marathon.
More from RunHaven:
Cha Ching! Are Expensive Shoes Better? Maybe Not
Becoming A Morning Person
Get Ready For These Halloween Races
Marathon Organizers Give Heartbroken Family The Best Present
How We Envision Heaven For Runners