What I Learned While Training For And Racing A 100K
This runner took away a lot of knowledge from her latest ultramarathon.
Heading out the door? Read this article on the new Outside+ app available now on iOS devices for members! Download the app.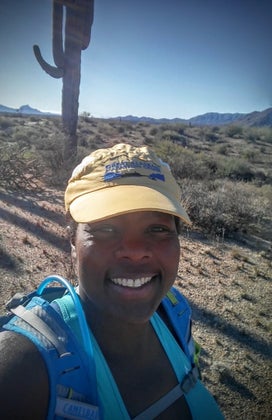 Two weeks ago I flew down to Arizona to participate in the Javelina Jundred 100K put on by Race Director Jamil Coury of Aravaipa Running. It would be a unique way of celebrating my 40th birthday. I don't like regular parties with DJs and sweaty people, but I do like TRAIL RUNNING PARTIES with DJs and sweaty people!
I have not yet even begun to process the entire experience; it was so varied, soul-searching, physically and mentally difficult, AND phenomenal. My actual race report will be up on my blog soon, but I wanted to pass on some things I learned in my training and during the race.
You must train.
And you must train hard and long. 100K is, for me, an enormous distance to cover—there are tons of people who do multiple 100-milers and even some crazier folks who do 200-mile races but this was HUGE for me.
I spent most of my weekends over the summer and in the early fall doing long runs and races to train my body to not only be able to do distance, but to even CRAVE it. I did the Tortoise and the Hare Hourly Ultra in Canton, Georgia, the Catamount 25K in Stowe Vermont, the Finger Lakes Fifties 50K in Hector NY, the Montour 12 Hour Run in Danville, Pennsylvania, and the Georgia Jewel 35-Miler in Dalton, Georgia. This was in addition to countless miles spent on my own both on pavement and on the trails.
I knew that in order for me to be able to finish my epic journey, I would have to do run lots of miles consistently to get the body accustomed to being used and abused for hours on end.
It worked!
You must eat.
Even when the demons of nausea are chasing you round and round in the middle of the night.
And I'm not talking gels. If you are going to do ultra distances, you'll need to learn to eat real food on the trail, sometimes while running. During the Javelina Jundred, I ate everything from jalapeño chips to pizza to ramen, all high in sodium and in carbohydrates. This race took place in the desert, so it was especially important to maintain my electrolyte and sodium levels since it was difficult to tell if I was actually sweating in the extremely dry air. Turned out to be true, especially after I had a cup of broth followed by a cup of ramen noodles. I was a new person after that and was able to go on to finish the last 20 miles.
RELATED: Check Out This Insane Ultra Aid Station
You must drink.
I was so nauseous on the third loop that I literally couldn't put anything past my lips. I didn't even want to move my arms too much for fear that I would need to projectile vomit on a saguaro cactus, which is probably illegal. It was very difficult to sip both my electrolyte drink (Tailwind) and plain water unless it was freezing cold. Thank goodness they had ice and dried ginger at the aid-stations!
Hydrating is extremely important, especially in the desert. Even before the race started, my lips were chapped and my skin was cracking, so I had to up my intake of water to almost 4 times over what I usually drink on a non-racing day.
Hydrating worked too. Let's just say I didn't experience the cola-colored urine that lots of ultrarunners get after a long, hot training run/race.
RELATED: Trail Race Aid Station Tips From Two Top Ultramarathoners
You must love running.
I mean, you must REALLY LOVE RUNNING. And you must love it so much that you are willing to spend an entire day doing it, like I did. Actually this event took me nearly 26 hours to compete, and I loved it. I LOVED IT.
You must love even the bad parts of running, because without them you wouldn't be able to really appreciate the amazing parts. You must have grit, perseverance, and resilience to complete this type of event. People who do ultras are crazy in love with the sport for many reasons, and each person brings an intensity, work ethic and joy that I think are unmatched anywhere else.
You must be crazy and certifiably so.
Because WHO in their right mind runs/hikes/crawls 62 miles in the desert through the night?
I do.