You Can Fuel On The Trail Like A Pro
See how one of the best ultramarathoners fuels up while running for hours on the trail.
Heading out the door? Read this article on the new Outside+ app available now on iOS devices for members! Download the app.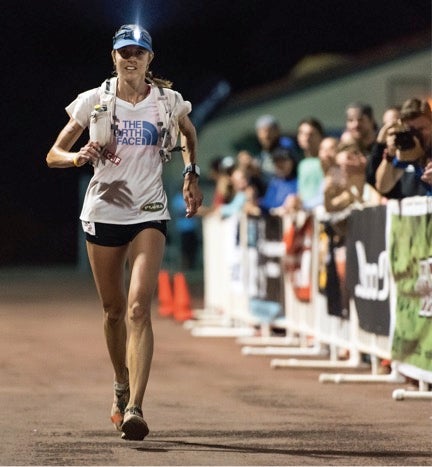 Stephanie Howe is both an accomplished ultrarunner and a doctoral candidate in nutrition and exercise physiology at Oregon State University. After winning Western States in 2014, the Clif Bar–and The North Face–sponsored athlete came in third after a difficult race this year.
What fuel do you use?
Howe usually consumes Clif Shot Energy Gels in vanilla or raspberry, which don't have caffeine, and then switches to strawberry or mocha for a caffeine boost. She always saves an espresso gel for the end of the race for that extra push to the finish. On training days, she also uses Clif Organic Energy Food (made from vegetable and fruit purée), and enjoys either the pizza Margherita or sweet potato–salt flavor, depending on the day.
Why only gels on race day?
"Really simple carbohydrates requires little to no digestion," Howe says. She explains that the current trend for more natural and whole foods is great when it's not race day. From a scientific standpoint, you want easily digested carbs when you're exerting yourself 100 percent, because "blood flow is going to muscles not the stomach."
When do you fuel?
When she began racing ultras, Howe consumed two gels per hour and her "performance was decent," but then she upped it to three and feels much better—especially afterward. She usually sticks only with water for drinking, but when a math miscalculation at Western States put her behind her intended fueling schedule, she found herself battling nausea and low energy 40 miles into the race; she turned to Sprite and ginger ale from aid stations.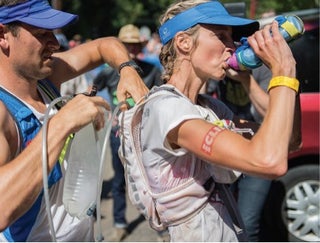 Do you normally use aid stations?
Howe has a fueling plan and considers anything from a station as a supplement to her usual fare. That said, she acknowledges that race-day effort makes fueling tough. "Everything sounds terrible. You're hungry but you can't eat!" However, it's important to have something to prevent yourself from bonking. "Big gaps in fueling cause changes in blood flow," she explains, and that makes you feel worse.
How do you decide what to eat mid-race?
Howe's philosophy: "If something looks good, you probably should take it." Cravings can be your body's way of telling you what it needs. For example, Howe might have some potato chips if she gets the high sign from her taste buds—she figures her body must need the carbs, salt and fat.
What else do you eat on runs?
For courses that involve more hiking, Howe likes to eat bars like Clif Bar Blueberry Crisp and Nuts & Seeds. She's also been known to enjoy a few peanut M&Ms, a cup of chicken broth or potatoes dipped in salt.
Read More About Fueling On The Run:
6 Ways To Carry Fuel On Long Runs
How To Fuel Long Runs With Read Food