7 Tips To Help You Manage And Prevent Shin Splints
Shin splints are a common running ailment, but we can help you ban this pesky injury for good.
Heading out the door? Read this article on the new Outside+ app available now on iOS devices for members! Download the app.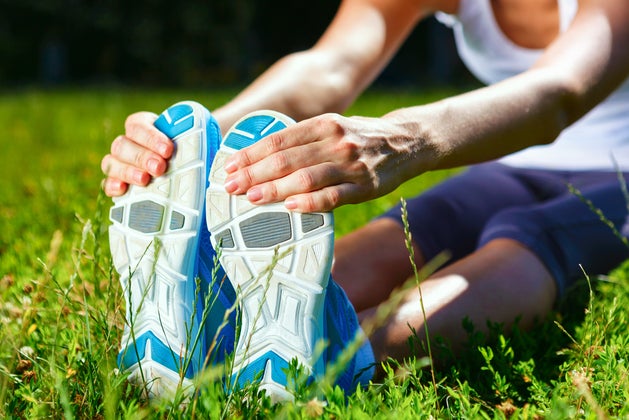 Spring is an exciting time of year for running. Warm weather and better training conditions makes any runner excited to add miles to their day. However increasing mileage and intensity too fast can lead to a dreaded affliction- shin splints. Also known as medial tibial stress syndrome, shin splints are a troublesome and persistent injury that is the result of an escalation of activity. How do you treat this issue and, better yet, keep it from reoccurring? Try these tips.
Rest And Ice
This is the last thing most runners want to hear, but a little bit of time off can be the most beneficial treatment for shin splints. Plan for some down time, ice the shin, and take ibuprofen to reduce inflammation. When returning to running, increase mileage slowly. If time off sounds unpalatable, remember that shin splints can turn into stress fractures if left untreated. A week off now is better than 4-6 weeks of injury rest.
Consider Cross-Training
While nothing can replace our beloved running, there are many exercises that will keep you strong and fit while shin pain subsides. Try a spin class or a ride on a stationery bike. Head to the pool for a lap swim. If you really miss running, you can mimic your training plan by aqua jogging, except without the impact.
Get Fitted For Running Shoes
Improper footwear is often the source of shin splints. Immediately replace running shoes that are old and worn out. If you pronate while running, which is rolling inward upon impact, it is essential to be in a stability shoe. Professionals at your local running store will be able to analyze your gait and fit you in the proper shoe.
Stretch And Roll
Tight muscles will only increase pain felt during running. Grab a foam roller and focus on calf muscles. Try adding calf raises to your routine. Imbalances can often times lead to pain on one leg. Use these exercises to determine if one side is weaker than the other. Adding a dynamic warm up routine before running can increase range of motion, making runners less susceptible to injury.
Stabilize That Shin
Wrapping up shins with a bandage or applying KT Tape pre-run can help keep them secure and stabilized during runs. Compression socks and sleeves can either be worn during a run or after to promote recovery.
Vary Your Running Surfaces
Cambered roads and other hard surfaces create more stress on your legs. While recovering from shin splints, plan for runs on soft surfaces, like gentle trails or grass.
Stop Overstriding
Understanding the way you run can help prevent shin splints. Overstriders tend to land heel first, with their foot way ahead of the rest of their body. A way to fix this running form issue is to measure your cadence. Count every foot strike with your left leg for a minute. Ideal cadence is between 170-180. If you fall below this, try to increase your cadence by 5-10% to reduce risk of injury.