The Type of Running You Should Be Doing If You Hate Road Running
If the road and the treadmill are boring you, try this different type of workout.
Heading out the door? Read this article on the new Outside+ app available now on iOS devices for members! Download the app.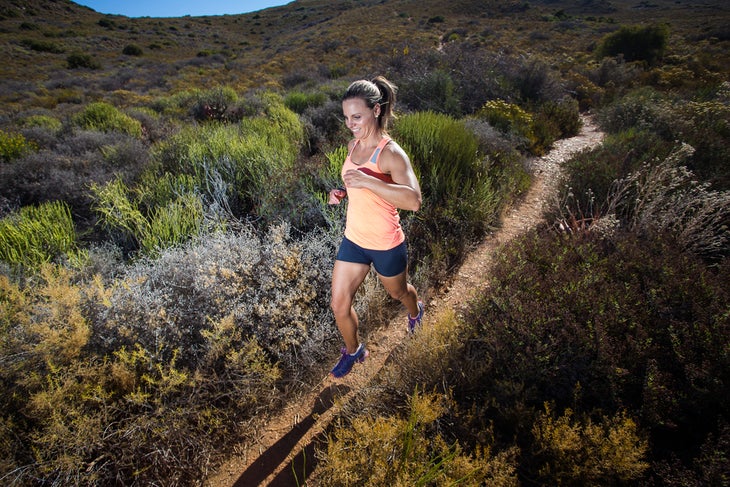 *Courtesy of POPSUGAR Fitness
If you've ever thought of running as a necessary — but incredibly boring — evil, chances are your experience with the sport involves long never-ending roads or soul-killing stints on the treadmill. It doesn't have to be this way, however. Trail running may just be the answer for your bored runner's feet. Take it from amateur trail runner and student Yasemin Uyar, who won the 20k portion of Runfire Cappadocia, a tough trail race in the deserts of Turkey that I also (somewhat foolishly) participated in over the Summer as a guest of the organizers. The race crosses over miles of hot, high land, taking you up rocky hills, foilage-dense valleys, and confusing dirt trails — basically, a pretty tough course.
Yasemin, who lives in New York City, had just started running a few months before the race, but she still was a fountain of advice for anyone who wants to start a routine. She made it through the arduous race skillfully, nabbing a trophy for being the first female to cross the finish line (a huge feat, considering many of the participants didn't make it to the end!). With those newly minted accolades, she's bound to know a few secrets any beginner trail runner could take into consideration. Check out her reasons to choose the trail over the open road.
It's not boring: After picking up running in the streets of NYC, Yasemin found pounding the pavement was too repetitive. Trail running, on the other hand, "has a puzzle aspect to it," Yasemin explained. "You have to find your path; you're not running on a well-defined road." Yaesmin recommends running without music so you can run safely, be more aware of your surroundings, and go at your own pace rather than the beat of your playlist.
It can be better for your body: Asphalt can be tough on your knees, but running on dirt trails can help you feel more cushioned and supported. Just be sure and supplement your running routine with moves that help strengthen ankles and joints to help prevent injuries.
You'll be happier: There's something about running in nature that helps you decompress and release stress. "You see different views and you get to enjoy them while you're running. . . . I realize i'm a much happier person and a much more athletic person when I'm [trail running]," Yasemin said. Take her advice, and trade your boring treadmill or sidewalk routine for a scenic trail. Check out more trail-running tips here.
Related Articles
9 Surprising Ways to Burn More Calories
So What Does Eating Low-Carb Even Mean?
3 Ways Breakfast Can Help You Lose Weight
Study: People Who Eat More of These Foods Lose the Most Weight
The Workout You Need to Do If You Want to Be a Faster Runner