One Lesson That Helped Me Run A 23-Minute Marathon PR
This could help you if you're chasing a personal best.
Heading out the door? Read this article on the new Outside+ app available now on iOS devices for members! Download the app.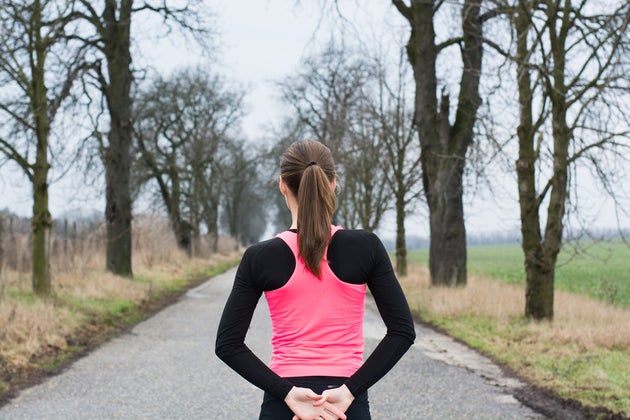 I started chasing a Boston Qualifying time in 2003. Back then the only running I'd ever done was suicides during basketball practice in high school. So naturally when I decided to start running, I set the marathon as my first goal. I had heard talk of the Boston Marathon and it was only an hour drive from where I lived at the time, so I figured it was a good option. Then I learned you had to qualify to be able to run.
I signed up for a qualifying race, trained, ran the race and walked the last mile thanks to my foot blowing up with plantar fasciitis. I fell short of a BQ by ten minutes. So began my quest for a BQ that took me through eight marathons in eleven years, my times getting slower with each attempt. Finally I crossed the line of the Sugarloaf Marathon in 2014 in a time of 3:25 and nabbed my BQ.
In all of my marathons prior to 2014, I would start slow for the first three miles, usually 30-60 seconds slower than my goal pace. Then when I hit that 5K mark, I'd speed it up a lot. I felt good, so why not? I would start to run a pace that was often 10-15 seconds faster than my goal marathon pace, thinking "Maybe I'm in better shape than I thought? Maybe I can blow my goal out of the water?!"
Related: Why Your First Mile Is The Most Important
I would happily run along for 13 miles, feeling pleased at my faster-than-expected pace. Then somewhere after mile 16, I would fall apart. From there the race was a slow, painful slog to the finish. My pace would slow to goal pace, then 10 seconds slower than goal pace, then 30 seconds slower and then I'd walk for a bit. Pretty soon I was nowhere near goal pace. The dream of a BQ would run out of reach.
There was a clear difference with the way I approached pacing my 2014 marathon. I started slow, as I had in the past, but instead letting the pace get away from me in the middle miles, I ran right at my goal pace or slightly slower until I reached the halfway mark. During that time I had to constantly tell myself to "rein it in", "run smart", and not try to "bank time." I didn't get carried away with the thought of running faster than what I had trained for. I stuck to the plan.
I kept running goal pace until around mile 16. With 10 miles to go I let my body flow with a pace that felt good and that pace happened to be much faster than my anticipated race pace. Miles 16-20 were my fastest miles of the marathon, my third fastest mile split was mile 25 and my final mile was 46 seconds faster than my first mile. I ended up negative splitting the marathon, running the second half of the race was six minutes faster than the first 13.1.
I ran my plan. I knew what my body was capable of and I didn't get carried away with the "What if I can run faster?" thought that had been my demise in so many marathons before. This plan brought me across the line with a 23-minute PR.
Related: How To Negative Split A Run