What Running Taught Me About Taking More Risks
One runner realized she could take more chances with her running and in life.
Heading out the door? Read this article on the new Outside+ app available now on iOS devices for members! Download the app.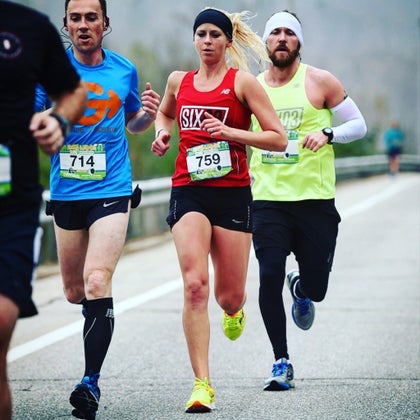 I think my running often mirrors how I show up in life. I like the simple equation that if I train at X pace and run Y miles, then I will run Z in the race. I've always trained like that. And I live like that too: work hard, do the right thing and what you've been working towards will come to you. But that's not always true. On race day you don't always get the outcome you "should." And what you are working towards in life doesn't always "come to you." Sometimes you have to go out there and get it. Sometimes you have to ditch the rules, take a risk and fight for what you want.
I ran a half marathon two weeks ago and instead of setting a time goal, I decided to run an aggressive race. I left my GPS watch at home. I didn't want to know my pace. I didn't want to try to project ahead to my finish time. I just wanted to run to my maximum potential, one mile at a time.
I don't usually run aggressively. I run hard, but I always like to start slow and finish fast. I like to follow the "running rules" stating this method is the best way to run. But sometimes it's not. I decided if I wanted to give myself a chance at achieving what I hoped to, then I had to take a risk. I would have to go out harder than I normally feel comfortable with. It was a calculated risk. I had the fitness and the training to be able to make a move like that, but it was certainly outside my comfort zone.
Instead of chasing times, I chased the runners around me. Instead of "running my own race," which is what I've always done, I stayed with groups of runners, matching their pace, while trying to be pulled along by their energy. It was a new way of racing for me. I almost always find myself alone in no-man's land between different pace groups. There were fleeting doubts that came and went throughout the race: "Should you be doing this?" "What if you negative split the race?" "What if you hit the wall?" I shot back at my own doubts: "But what if it works?" "What if I have more in me that I never give?" "What if I give myself a chance?"
And it did work. I didn't crash and burn and curl up in ball by the side of the road, like my irrational doubts would have me believe. I crossed the line and walked away with more confidence than any other race I have ever run. I took a risk. I gave myself a chance and it payed off in a big way.
There are places in my life where I'm holding back: where I have more to give, but I'm afraid I'll fail. So I stay inside my comfort zone. But now, now that I've risked something small in a race, I feel that much more confident to take a bigger risk in life. Running can do that. Running can make us live bigger than we ever thought possible. Running can help us give ourselves a chance.
More From Run Far Girl
5 Simple Habits To Be A Better Runner
3 Reasons To Log Your Runs In A Training Journal