Running In Circles Can Take You Further Than You Think
Sometimes running in circles can get you further than you could imagine.
Heading out the door? Read this article on the new Outside+ app available now on iOS devices for members! Download the app.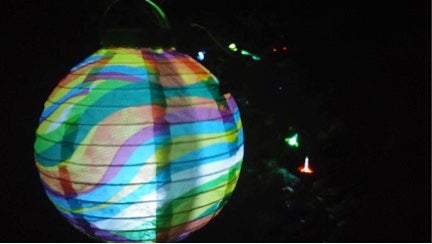 Considering upping your mileage to the next distance? Moving from a 5k up to a 10K? Or a 13.1 to 26.2? Any visions of running an ultramarathon pop up in your dreams?
Have you been intrigued by your friend's stories of being out in the woods for hours and hours, having found themselves and the beauty of coalescing with nature, while seriously doubting the reasons for their existence?
Welcome! You have entered the wonderful world of people who are always asking: What else can my body do? How much longer or farther can I go?
Your long-awaited answer has come: TIMED RACES.
What is a timed race?
It is a race in which the goal is to run as many loops of a particular course in a set time. Most race directors (RDs) will design a course from as little to a half mile around to 5 or 10 miles for participants to run in either 3, 6, 12 or 24 hours.
I've done four of these types of races: New Jersey Trail Series' Running With The Devil in New Jersey (twice), Tortoise and The Hare Midsummer Night's Dream Hourly Ultra in Georgia, and the Montour 12 Hour Endurance Run in Pennsylvania. Each event had its own unique challenges (like going up and down a mountain in the middle of July, for example), but the big question is at the forefront of many is: "Why would anyone want to literally run in circles for hours and hours?
I'll tell you why I do it:
It's mentally challenging. Engaging in mentally challenging activities is a great way to encourage creativity in one's mind. For some, it can be a great way to meditate and quiet/focus the mind, while re-energizing it. It doesn't make much sense until you're out there (I actually get lots of work done on these kinds of runs: lesson planning, music-arranging, blogpost brainstorming…).
OR, I don't have have to think too much. Once you know the course, it's autopilot from there. You can focus on things like: Why am I doing this? How many more loops can I do? Did they move the aid station?
You can stop, rest, and even take a NAP for a few hours. In many 12 -24 hour races, you can set up a tent with your comfiest sleeping bag, your food, your drinks, your 12 year old son…
You become instant amigos with the other folks doing the same crazy thing. I made a bunch of friends during my last two timed events. We commiserated with each other but we also celebrated each other's achievements. What loop are you on? Twenty. Wow, I'd better get my butt in gear! You are doing it!  How many are you going for today? Seventy-five. Wow! GET IT!
It's a really long party. In fact, it's almost like a 12- to 24-hour long RUNNING RAVE, where there's drinking (Heed, Nuun and Tailwind, of course), lots of food (chips, gummi bears, pickles and candy corn!), music (from the DJ who might be falling asleep at 4 a.m. in the morning while you're still trudging along doing one more loop), and pill-popping (salt tabs, folks. SALT TABS).
You push yourself each time to do JUST ONE MORE LOOP—before you rest, before you pee, before you take a nap, before you stop at that one AMAZING aid station that even has gluten-free options! You enter into a zone in which it is totally acceptable to ignore things like foot discomfort and blisters, and the nasty smell emanating from your running clothes.
By the end of a few hours, you may just have pushed yourself into a new distance. Two of my friends did exactly this over the summer. One managed to do 26.25 miles over the course of the night during the Midsummer Night's Hourly Ultra after only ever having run 6 miles at any one time, and the other ran his first mileage over 50K and ended up with a 55 mile total! There were also people who were trying their legs out in their first half-marathon, and others who finish close to 100 miles that night/day!
Intrigued? Here are some great timed-races for the uninitiated to ultra-veterans:
Tortoise and the Hare: Midsummer Night's Hourly Ultra
New Jersey Trail Series: Running With The Devil, Three Days at the Fair, One Day
Chase the Moon 12 Hour Race
Merrill's Mile in Blue Ridge, GA
Montour 12/24 Hour Endurance Run
Want More? Check Out Fat Girl Running's Intro Post On Women's Running:
Guide To Becoming A Trail Runner