Accepting The Reality Of A DNF
A DNF can be difficult to overcome, especially after runners have spent weeks or months preparing for race day.
Heading out the door? Read this article on the new Outside+ app available now on iOS devices for members! Download the app.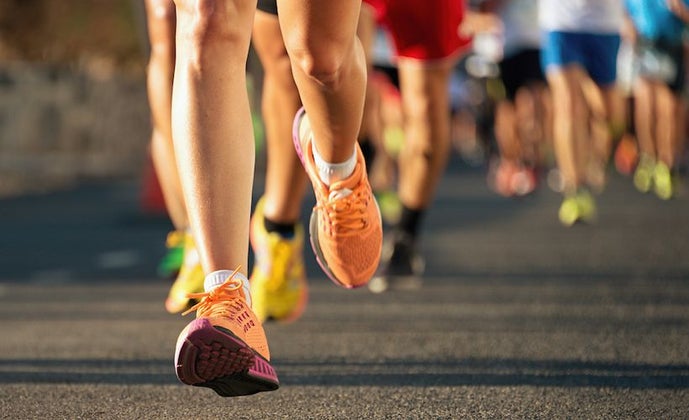 Surviving The DNF
"Did Not Finish" (DNF) is perhaps the ickiest, most feared phrase in racing. The DNF is the dreaded end result where the race goes off-course for you, for any number of reasons. If you missed the official time cutoff, walked off the course, had a day-ending injury or were pulled for whatever reason by race officials, this is considered a DNF.
The first step is to distinguish between a DNF and a DNS (Did Not Start). In the case of a DNF, you showed up to the race. That alone is a huge accomplishment. Think of all the training and dedication and hours that you put into showing up and putting yourself in the game on race day. That being said, I am not saying that a DNF is better than a DNS. There are circumstances where racers should absolutely not race, should not start and should not show up—but I am saying that if you put in the training and you are able to start in a healthy, trained body in a race that you have every right to show up and run, that is something good—something that should be celebrated.
Furthermore, I am not saying that you failed if you get a DNS, either. If you have the chance to make it to the start, you are a) lucky you made it (some people would give anything to be there!); and b) you should be proud of yourself for doing so. After all, if something like 3,300 people register for any given marathon and approximately 2,500 show up on race day, that means that 800 people did not make it to the start, for whatever reason. However, you were one of the ones who made it well-trained, healthy (or healthy enough) and injury free (or mostly injury free). That alone is a big accomplishment. (Side note: Showing up and "trying" a race is a bad idea. You should aim to be trained and ready for the race of your capability and level before you attempt a race. In these circumstances, a DNS may be preferred over a DNF.)
Next, it's a good idea to distinguish between what you can control on race day and what you cannot. In my first Ironman triathlon, I had an acquaintance who was a fast racer, and he finished in 14 hours and change. (To me, that is super fast, but he was more like an 11- or 12-hour guy). What happened? Well, he had not one…not two…but four flat tires on the bike course, which cost him more than two hours on the course. He had three tubes on him (kudos for being that prepared), but he had to wait for assistance for the fourth, which took a massive chunk of time. Guess what? If I'd had even one flat tire in that first Ironman, that would have likely been a DNF for me. I finished my first Ironman with only 16 minutes to spare. I'm a pretty quick tube changer, but I don't know if I could have done it perfectly in 16 minutes and not have a pinched flat later. So that would have been something out of my control. I mean, sure I could train harder and get faster and be like my friend so that I could have a cushion of hours instead of minutes. (We can always get better, I know). But you get my drift. If you showed up on race day in the best version of yourself and were "ready" to race, and then you had a mechanical problem, or a crash, or the weather was out of control and unforeseeably crazy, or something worse—you can't beat yourself up over that. Focus on what you can control, instead. If an unforeseen event knocked you out, then breathe. What could you have done about that? Nothing.
Next, you should grieve your loss. I believe wholeheartedly in taking time to go through the emotions of what just happened. Give yourself time to be mad, cry, throw things, toss your running shoes down a mountain—a DNF is a complete loss, so acknowledge it as one. Missing out on hearing the words "You are an Ironman" or receiving your finisher's medal at your first race, with your whole family there to support you—that is a loss, and you have the right to be sad and mourn. Give yourself some time to do that. I hate when I am in the middle of a personal or running crisis and I hear the phrase, "It could be worse." Of course it can always be worse! That doesn't mean that you aren't in pain. In the moment, the truth and reality of a DNF hurts and it stings. I spent the last 2.2 miles of the 2015 Ironman Lake Placid course walking the marathon and literally weeping. I really didn't think I was going to make the race cutoff—it was so close, I was in so much pain and my Garmin had died, so I wasn't sure what kind of time I had left. I cannot imagine the sadness and anger I would have felt missing that cutoff after working so hard in my training and on race day. So, grieve. Have your time to experience your anger or sadness, and after you have sufficiently done these things, only then can you figure how to move on.
Finally, it helps to spend time evaluating what actually happened on race day. What story is your DNF story? What are the lessons to be learned? What do you want next, if anything?
I encourage my athletes to always write a race report, even if it's just for themselves. The emotions, the facts and everything in between should be included, so they can really analyze what went wrong and what went right, where they would change things if they could. Race day may have included curve balls that caused or contributed to your DNF. Race day may have presented physical, emotional or gear challenges that you weren't prepared to handle. It could be that, on that day, you just weren't prepared for that particular type of race or distance. (Note: it doesn't mean that you won't ever be.) Accept the truth of the race and then forgive whatever may have happened and prepare to let it go. Be kind to yourself. It won't be instant, but it's part of the process.
One thing is certain: regardless of the why behind your DNF, it does not define you as a person. The race was one event in your life. The race sucked—but you do not suck. The race was incomplete, but you are not incomplete. The race was a failure, but you are not a failure. A finish line is not who you are. Many of us, especially the card-carrying racing diehards, have so much of the running world as part of our identity. I must pause many days and breathe to remember that I do races, but I am not races—and there's a difference. I am a runner—a person who does the sport. I must remind myself that running, while it is a huge part of what I do, it is not all I am. I must remind myself why I run. I'm a mom. A recovering drinker and recovering lawyer. A wife. A friend. A coach. A grocery shopper. A laundry folder. A type-A introverted high-strung people-pleaser who gets her feelings easily hurt. I am many, many things. "Runner" and "triathlete" is just a tiny sliver of it all.
And you are many wonderful things, too.
If the DNF wounds are new, just grieve and come back to this part later. But here's the final truth: You will survive and move on from the DNF. There is always another race, but there is only one life. You missed out on the finish of a single, albeit important, race. It does not define you or your life or your purpose; it was one day that ended in a way you didn't want it to.
But you, the perfectly imperfect and strong and fantastic you, are still here, still fighting and still here to dream another dream, and live another day. You can pick your goals and you can try again. You can return with a vengeance. Or you can sell your shoes and take up another adventure entirely.
In closing, after giving yourself some time, ask yourself, What does running add to my life? Make a list and really study it and evaluate. Then set your goals for the future. Figure out what's important going forward—as a runner, triathlete or neither—and draw strength and hope and focus from what is important to you. Either way, with or without races, YOU are amazing. That's my story and I'm sticking to it.
Meredith Atwood (@SwimBikeMom) is a weekly contributor to Women's Running. She is a four-time IRONMAN triathlete, recovering attorney, motivational speaker and author of Triathlon for the Every Woman. She is also the host of the hit podcast The Same 24 Hours, a show which interviews interesting people who make the best of the 24 hours in each day. Meredith has two books coming out in 2019. Read more at SwimBikeMom.com. 
Related:
To Start Or Not To Start A Race?
Just Keep Moving Forward: Drawing The Suck Line