5 New York City Marathon Tips You Haven't Heard Yet
After running the New York City Marathon last year, one runner shares pieces of advice she wishes people had told her before the start line.
Heading out the door? Read this article on the new Outside+ app available now on iOS devices for members! Download the app.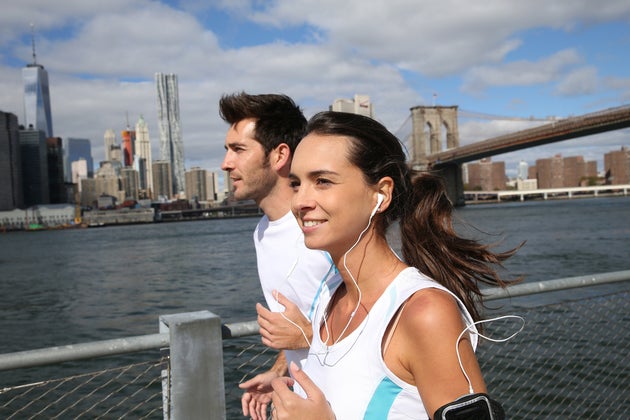 Massive marathons like the one held in New York City each November leave room for massive mistakes to be made. Sometimes the race itself is the easy part, since navigating through a city of 8.5 million people, coupled with 50,000 marathon participants from all over the globe, can be somewhat daunting.
Although I have run seven marathons over the past 10 years, I ran New York City for the first time last November. Mistakes were definitely made, but other choices proved beneficial.
New York City Marathon Tips
Overall it was an amazing experience but I wish someone had told me to…
LIE
Take it easy. No one is messing with race results or corral placement; I'm offering you some help in finding your family after you cross the glorious finish line. The family meeting corrals are in alphabetical order starting with 'Z.' I'm not sure who is responsible for this, but my last name begins with a 'B,' and I was literally crying when I saw the alphabet in reverse order, meaning I would have to walk so much farther than I already had.
After you cross the finish line, they march you around a ridiculously long way to even get to the family meeting section so be prepared to walk!
Tip: No matter what your last name is, meet your family in the 'Z' corral post-race.
WAIT
By the time I finally met up with my husband I was shivering and dreaming about the bacon cheeseburger and beer I intended on having after a hot shower. The problem was our hotel was a 20-minute cab ride away. Obviously there were tons of closed streets and no cabs anywhere since it's marathon day in New York City.
Seeing a pedicab cycle by like an angel, we immediately descended upon him and practically begged him for a ride. He played Frank Sinatra music, congratulated me on finishing the marathon and then hit us with a $120.00 fare for the 19-minute ride from Central Park on 61st, to our hotel on 54th and 6th.
Tip: Wait for a cab, try Uber, walk or have other arrangements unless you want to drop that kind of coin.
HAVE PATIENCE
Since the NYRR club has been putting on this show since 1970, they know how it works and how much time it takes to get to the Athlete's Village. Trust your bus or ferry time! I got on the bus out to the village very early and then waited for hours when I could have had breakfast at my hotel instead of huddled under a tree. Luckily for me it was a good weather day but I still spent way too much time sitting and thinking about the next several hours, which is not good for anyone's mental game.
GET CROWD SUPPORT
Forget what you have heard about the nastiness of the New Yorker and trust in your fellow humans. First of all, most people surrounding the marathon course are not from New York. Also, a marathon brings out the best in people, and the crowd is there to help you push to the finish.
In most races I stay in my head and don't really pay much attention to the crowd. However, this is a crowd not to be ignored! Scan the crowds as much as possible, look at the signs, read T-shirts and banners and smile big! Take all the energy from the crowd as you possibly can because they want to give it to you and become a part of what you're accomplishing.
ASK
Most hotel check-out times will be before you cross the finish line of the marathon. No one wants to get into a car or on a train or plane with the nastiness of 26.2 miles still on them. A lot of hotels are willing to work with you when it comes to a late check out so you can at least take a hot shower.
I don't think any runner needs the advice of taking a hot shower post-marathon, but you do need a place to take it before basking in all your finisher glory.
Plan ahead, keep your head and have a great race!