An Introvert's Guide To Running With A Group
If you need an extra dose of motivation in the form of a running group but tend to be an introvert, here's how you can make it work.
Heading out the door? Read this article on the new Outside+ app available now on iOS devices for members! Download the app.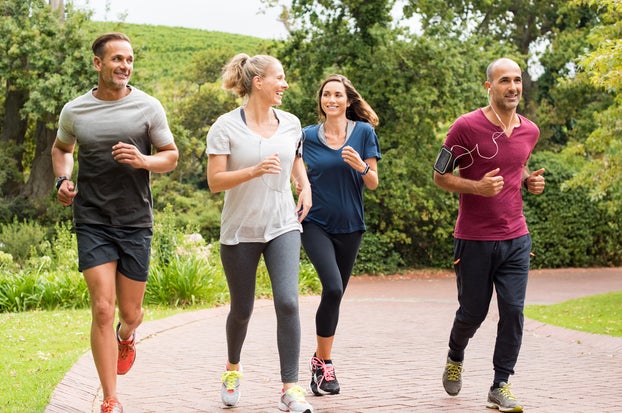 Introvert's Guide
Running is often thought of as a solo sport, and to introverts that sounds like pure bliss. As an introvert myself—the kind who makes plans, gets excited that I am finally being social and then 30 minutes before usually cancels—logging miles with only the sound of my favorite tunes is my favorite thing about running.
After running my first 5K race and deciding to go for a half marathon, I knew that I would need the added support of a running group to tackle the 10 extra miles that was required to reach the finish line.
The introvert in me had to be put aside in order to reach my goals—and actually, being less of an introvert was indirectly one of my goals—and I learned a lot from the experience. I have trained with a few groups since, until I trained solo for a marathon, and want to share some tips for fellow introverts who are looking to join a group for that extra boost.
Choose The Right Coach
The coach sets the tone for the dynamic of the group, so finding one that you mesh with is key. This may mean that you need to try out a few different coaches, just as you would a doctor or a hairdresser. Make sure their coaching philosophy is right for you—are they a cheerleader or a drill sergeant?—and don't be afraid to ask them to introduce you to a few runners they think will match your pace and personality.
Related: 20 Situations Where You Need A Running Coach
Start Slow
Just as you would work slowly to build a proper base, you shouldn't rush into making immediate running buddies as an introvert. During the first few group runs, start with the goal of chatting with a few runners during stretches and warmup if you don't feel comfortable doing it as you log miles. As you get to know people and build relationships, you can start to feel more comfortable the whole training run.
Keep It Positive
Don't be afraid to cheer your fellow runners on! Notice someone kicking butt during a speed workout? Let them know! Impressed with someone's form? Tell them! Not only is that a great icebreaker, but you will help make someone's day and maybe even get you a few pointers if you are struggling with one of their strengths.
Related: What You Say Matters—How To Cheer For Runners Like A Pro
Stick With It
During the first few group runs, it may be hard to convince yourself to go, especially if it is an early morning workout and your bed is oh so comfortable. You may need to force yourself out of your comfort zone to keep attending, but the more it becomes part of your routine—and the more you get to know your fellow running buddies—the more you will find yourself looking forward to it.
Related:
8 Irrational Fears Of Joining A Running Group
The 11 Scariest Parts About Joining A Running Group