Getting Ready For The Boston Marathon With An Injury
With just a few weeks left until the Boston Marathon, Alison Désir shares how she is preparing despite an overuse injury.
Heading out the door? Read this article on the new Outside+ app available now on iOS devices for members! Download the app.
In three weeks, I'll be running the Boston Marathon. I repeat, IN THREE WEEKS, I'LL BE RUNNING THE BOSTON MARATHON. WHAT?!
I can't believe it myself. The closer the date gets, the more I flip out a little inside. Months ago, the Boston Marathon was just a plan but now that it is literally around the corner I'm starting to get pretty nervous, particularly because I've been suffering from an injury since returning from my run to Washington, D.C. I didn't have trouble easily accepting the injury because I have a clear sense of what brought it on—I ran more than I ever thought possible—and suffered an overuse injury. However, knowing why I'm injured doesn't make the fact of being injured suck any less. As I see all of my friends and counterparts training for spring marathons, I struggle to remind myself that this too shall pass. The one good thing is that I am discovering a lot about my body's weaknesses that I can, thankfully, improve upon in the future.
I remember the first time I faced a running injury was when I was training for my first marathon. I had signed up with Team in Training to raise funds for the Leukemia and Lymphoma Society and, in exchange, I received marathon training. Lucky for me, Coach Conlon of Finish Line Physical Therapy was the head coach at the time and recognized something special in me. I will never forget one night when he pulled me aside and told me that I was a talented runner and that, if I kept at it, I would have a very promising future. At the time, I was deep in my depression and training for the marathon was my lifeline; my coach's validation of the commitment that I had made to endurance training was a hugely important moment for me! So, when I suffered my injury—a pulled hamstring after an 18-mile training run—I was devastated at the possibility that everything that I had worked for would be for nothing. Coach assured me that would not be the case.
I made my way to Finish Line Physical Therapy and after three weeks of rest and physical therapy, I was able to complete my first marathon in a time of 4:34.
Five years and many races later, I once again find myself at Finish Line Physical Therapy to take care of my overuse injury caused by a classic case of weak glutes and hamstrings. Thanks to physical therapy, my knee pain has gone from a '10' to a far more bearable 'four' and I have been given the okay to run/walk the Boston Marathon (so long as I keep up my physical therapy and at home exercises).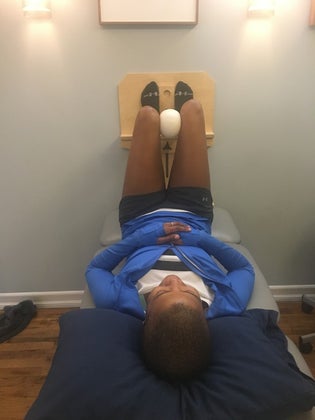 Run/walking the Boston Marathon was not my original plan, of course, but I think that the world has a way of grounding you and slowing you down—in this case both figuratively and literally—when you need it. My physical therapist has assured me that the key to my recovery will be shortening my stride, working on my cadence, and tucking my pelvis along with strength and mobility exercises. I am hoping for a run 4min walk 1 min plan but no matter how I get it done, it will be a privilege to do so in honor of the 50th anniversary of Kathrine Switzer's historic marathon race.
Congratulations to everyone else training for the Boston Marathon and I look forward to seeing you there!
PS: If you see me struggling along the course, please scream my name and give me a little boost. Thanks in advance.