These 3 Myths About Running While Pregnant Simply Aren't True
A mother runner who's expecting her second child this summer explains three of the most common myths about running through pregnancy.
Heading out the door? Read this article on the new Outside+ app available now on iOS devices for members! Download the app.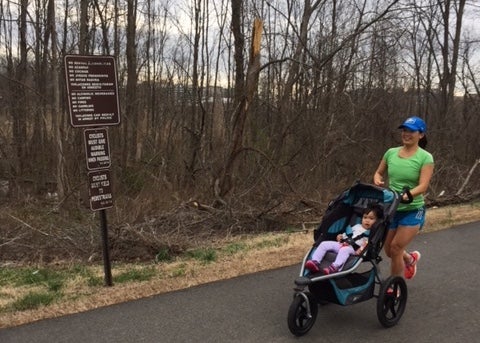 Morning sickness, nausea and overall fatigue during pregnancy can be easy excuses to not lace up your running shoes and get out the door. Who wants to run with a bowling ball attached to their belly and a bladder that only lasts for 2 miles? It's a real strugglefest, ladies, but running is great for your developing baby and you. Read on to learn why three of the most prominent myths about running while pregnant are simply not true.
I'm so tired…and morning sickness doesn't help my motivation to run.
Running and exercise may help decrease the common symptoms that most pregnant women experience during the first trimester. The lightheadedness, nausea and lack of appetite that you're moaning through? Part of this is because blood volume increases by as much as 40 percent during pregnancy, causing an increase in blood flow. Running serves as the perfect antidote–it enhances a mother's ability to deal with the increase in blood volume and oxygen delivery, thus decreasing the nausea and dizziness most women experience. So lace up those running shoes and run the nausea away!
But people tell me I shouldn't run because it's bad for the baby.
Yes, and just 40 years ago, people thought women couldn't physically run a marathon! In the 1890s, common belief held that women were too fragile and frail to even ride a bicycle! Fast forward to today: Serena Williams won the Australian Open while pregnant and Alysia Montano competed in the USA Track and Field Championships while five months pregnant with her second child!
When I was pregnant with my first child, a relative told me that my uterus would fall out if I continued to run. When it was clear that I believed my uterus would stay intact, she declared that I would likely suffer from urinary incontinence postpartum because running would make my bladder muscles looser. The combination of my love for running and a very firm confirmation from my OBGYN assured me that running while pregnant would not only be good for my sanity, it's highly recommended for pregnant women's physically changing bodies, and can even help with delivery.
Emotionally, running helps manage stress and increases endorphins. Physical benefits may be even better–doctors report that it prepares women for the physical trials of labor. Running during pregnancy can moderate your weight gain, help with postpartum weight loss and increase your metabolism. Although some fear that running may harm a growing baby (and trust me, they will verbalize this fear as they stare at your expanding belly and running shoes), the American Pregnancy Association confirms that "exercise does not increase the risk of miscarriage in a normal, low-risk pregnancy."
In fact, running while pregnant may actually decrease your baby's heart rate. Studies have found that a fit baby may be more resilient during labor, tolerating the stress of contractions better than babies of mothers who stop exercising during pregnancy.
If I haven't run before, I shouldn't start when I'm pregnant.
Even if you don't exercise regularly or haven't run in a while, now is the time to adopt an exercise regimen. The Mayo Clinic recommends that pregnant women exercise for at least 30 minutes a day, five days a week. Be sure to speak with your doctor before starting a workout routine when pregnant to make sure you start in a healthy way and ramp up your exercise intensity gradually.
Other tips:
First and foremost, speak with your doctors and listen to your body throughout pregnancy. Every body is different, and every pregnancy is different.
Make an effort to wear good running shoes. Hint: If you get them in bright and snazzy colors, motivation to run increases exponentially. Make sure they fit you and your foot type correctly, as you don't need any new pains during pregnancy.
Doctors recommend that the best way to determine whether a running pace is in the 'safe' zone is to use the talk-test method, meaning you should be able to carry on a light conversation while exercising. Take off that heart rate monitor–you're likely to overanalyze those numbers, anyway–and talk to yourself or your running partner to gauge which pace is healthiest for you and your baby.
During the later months of pregnancy, when your joints or hips may be feeling some aches and running just isn't happening, keep up the exercise with long walks, lap swimming or yoga.
It's important to stay healthy on other fronts, as well. Hydration is especially important during pregnancy, and strength training will help prevent running-related injuries and get your body ready for labor.
Find what motivates you: whether it's running with friends, getting in your Fitbit steps, being an active role model for your kids or even running to the Beyonce song that makes you feel like Wonder Woman!
Finally, enjoy the journey of pregnancy–it's a long nine months, but staying healthy for yourself and your baby should be your number one priority.
Mindy Ko Forsyth is mom to a 17-month-old rambunctious daughter who loves stroller runs and her second is due in August. She lives in Arlington, Va. with her family and will run the Cherry Blossom 10-Miler, the George Washington Parkway Classic 10-Miler and the National Women's Half Marathon in April. The thing she misses most about running while not pregnant is being able to keep up with her husband!
Related:
15 Thoughts Of A Pregnant Runner From 4 To 40 Weeks
Tips For Running For Two During Pregnancy—Because You Can