You Can Reflect On A Bad Race And Still Feel Good About It
Fat Girl Running reflects on her race weekend and shares how to find the good in any race.
Heading out the door? Read this article on the new Outside+ app available now on iOS devices for members! Download the app.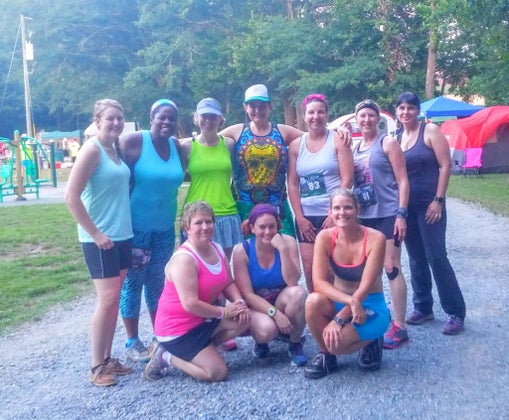 I'm writing this on a Monday, which I find is always a good day to sit back and reflect on a weekend of running. Sometimes after a race or a big event, it's an opportunity to figure out what went well and what didn't. This past weekend I participated in Tortoise and the Hare Racing's Midsummer Night's Dream Hourly Ultra in Canton, Ga., an event that I wrote about a few months ago here on Women's Running.
This was an excellently executed timed race in which you run for your allotted time, trying to run as many laps as you can around a set loop; this loop was 1.2 miles long. The race took place at Boling Park, located about an hour northwest of Atlanta.
Last year, I managed to eke out about 32 miles (with generous periods of rest and sleep). I kept moving with short breaks for nutrition and hydration and felt great until the last 4 loops. This year, I knew in my heart that my race would be over first at 12 hours, then at 6 hours. I had signed up for the 24-hour extravaganza with a bunch of friends and this was supposed to have been a huge running party.
And a party it was. My two groups of friends reached new PRs, both in distance and time. It was tough-going for all; the heat and humidity took its toll on everyone, including those who managed to beast their way through the unfavorable conditions.
This would not be my day. In addition to packing my child up for sleep-away camp, writing a book, having work meetings, and fulfilling sponsorship and ambassadorship obligations, I started on little sleep, physical exhaustion, and a generally overwhelmed state-of-being.
I'd also started having some random weird knee pain the morning of the race, in addition to having had some tightness in my left glute and hamstring (weird, because I had been doing yoga stretches religiously for the weeks leading up to the event).
About 10 miles in, my left leg started freezing up, albeit not painfully. I moved slowly, running only the lengths of the course that were flat and unencumbered. I stopped to stretch a number of times, and decided that I would drop down to the 12-hour option. Maybe I could still get my 50K in, even though it would be uncomfortable and painful. As an ultrarunner, I'm used to both things—discomfort and pain—and my plan was to just deal with them and keep moving.
Unfortunately, as the half marathon came and went, my spirit, energy and focus came and went too. Now, I was just hoping I could get a marathon done with a long break. The pain and stiffness in my leg were becoming unbearable, and the incredible fatigue from life and training had begun to take its toll on me mentally and physically.
I made it to 16 miles in a few hours—I stopped, wondering if I would have any energy to continue after a break. After some ibuprofen, some rest and a bowl of fruit, I struggled to complete two more loops power-hiking with a friend. My hip began to feel tight too, so I made the final decision to stop after 18 miles and call it a day (even thought it was three o'clock in the morning).
As I reflect on this experience, I'm extraordinarily grateful to have been able to participate, even if it was very limited. I was thankful for other things too:
I ran and walked 18 miles on hurting and stiff legs. I don't know that I would be able to or even want to do that if I were not a part of the running community.
The chance to witness my best running buddies achieve their own personal bests: I got to welcome a few newbies into the world of ultrarunning, and watch them overcome physical pain and exhaustion (and chafing, and blistering, and other nastiness…).
I got to spend some precious time with my son who hates tent camping but had to come with me anyway, and so made the best out of it. How one creates a little man-cave in a backpacking tent, I will never know, but he managed to do it.
I had the opportunity to support a local race director:.There's nothing better than uplifting those in the community with your dollars and your participation, especially when they offer a top-notch product that serves the community in a wonderful way.
I also got to meet people in real life who had been inspired to run and/or try ultras because they had heard about me on social media. This was incredible and way cool.
I got a cool t-shirt.
I didn't stick around for a medal (a really gorgeous one at that) because I didn't feel like I deserved one, particularly since I had relegated this run to a training run. However, as I said, I don't regret having done the event in the slightest. After a run like this, there's always something to learn, to reflect upon, to do better and to appreciate even when things don't as planned. There will always be opportunities to participate in other events; some may go as planned and others might not—and that's okay. This is part of our learning, progress and growth as human beings. I'm so happy to be able to witness this both in myself and in my community of running friends.