How To Trust A New Training Plan
Our Marathon Maniac learns a lesson in physiology and philosophy when she puts her trust in a new training plan.
Heading out the door? Read this article on the new Outside+ app available now on iOS devices for members! Download the app.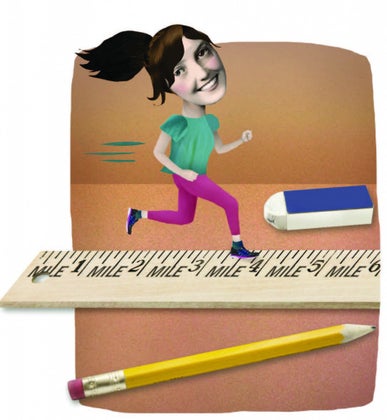 Starting a new training cycle always feels a little bit like the first day of school. What outfit will I wear for my very first run? Did I pack everything in my bag that I need for the workout? What if it's too hard? Is it possible I've forgotten how to run? There's always a lot of hope, plenty of enthusiasm and a dash of anxiety. Who knows what the season will bring?
After successfully completing my first marathon following back surgery in October, I felt ready to tackle a new training plan with hopes of improving my speed. For that previous marathon, I'd focused solely on completing my miles at an easy pace and putting as little pressure on my body and mind as possible. This time around, my goals are a little bigger. I plan to get in quality workouts while still respecting the fact that my body can only handle three runs per week. That means every workout has a purpose and a fast(er) pace! Well, crap.
I stared at "Workout: Day 1" in my shiny new training plan and thought: No way. I'm supposed to run at what pace for how long? Even though the plan was based on my past racing times, on paper, it seemed impossible. My brain quickly produced 100 reasons why I shouldn't even attempt this speed work: My legs will fall off. My heart will explode. Speed work caused the Great Recession. All valid reasons, but I figured, I might as well try.
With sweat pouring down my face at a rate that can only be described as insulting, I pushed myself to my goal pace over and over again. Each time an interval ended, I thought: I can't do that again. But when my watch beeped and it was time to go, I said to myself: Well, I'll try just one more. Before I knew it, the speed work was done—all six minutes of it. And just like I finished each interval that first day, I've now made it through all of my workouts for the past six weeks.
Even though that first day of school feels impossible, it's always summer again before you know it. The same goes for training plans. It seems unthinkable sometimes, and you find yourself doubting if you can pass one more test or complete one more run. Then, you do it anyway. When my next marathon rolls around, I may or may not have the race I'm hoping for, but I'll be stronger both physically and mentally. I think I'll give myself an "A" for effort.
Three Sticking (With Your Plan) Points
1. Find a training plan that suits your lifestyle. When you are choosing your schedule, be realistic about the amount of time you can commit to running, regardless of the reason.
2. Take each workout as it comes. Don't psych yourself out by looking at Week 9 if you're only on Week 1.
3. Find a training partner (or two) who will do your tough workouts with you, even if they have a different pace or goal. Misery loves company.