Don't Ruin Your Race Before It Even Starts!
Instead of worrying about factors you can't control— like the weather— focus on the positive before a race.
Heading out the door? Read this article on the new Outside+ app available now on iOS devices for members! Download the app.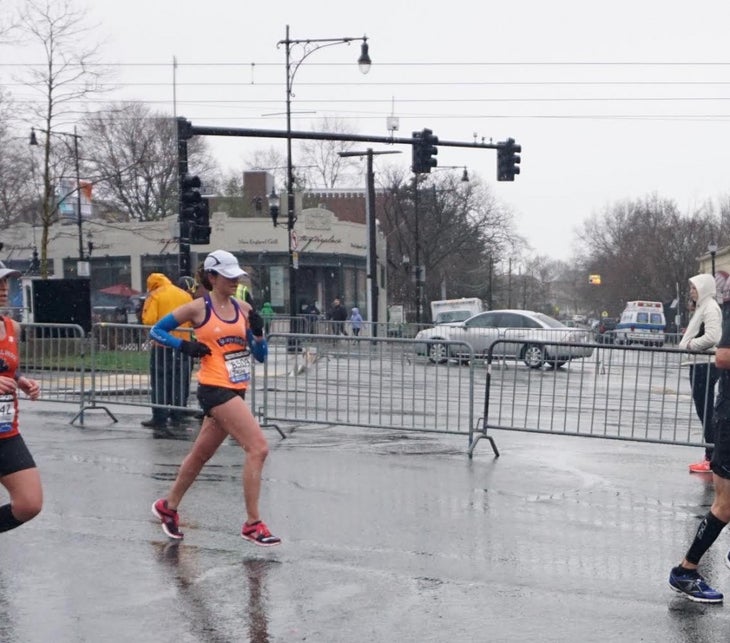 Last week I had the opportunity to run the Boston Marathon for my very first time. I have never experienced anything like this race before. It was beyond incredible and I hope to be back over and over again. In the months leading up to the race I did the training, felt confident in my abilities after all of the hard work and was more than excited to run my dream race.
When I opened up the weather report three days before the race, every nerve in my entire body came together to form a knot in my stomach— an extremely huge knot. The forecast for race day called for rain and a headwind of 20-30 mph for the runners. I will run in snow, rain, heat and almost everything else that Mother Nature throws at me but running in the wind is the opposite of my favorite.
We were out to dinner when I first opened up the forecast. I started talking obsessively about the predicted weather to my friend next to me. I went off on how nervous I was about the wind, how it was going to eat me alive and how there was no possible way I was going to be able to run 26.2 miles in a headwind.
My friend across the table, who has run 29 marathons herself, stopped me as soon as she heard what I was talking about.
She told me bluntly, "Don't ruin your race before it even starts."
I was a little bit bugged at the time, because let's be honest, venting about things feels rather nice once in a while. But she was 100% right about her theory. Why worry about the things you can't control? Why talk about them? Why obsess about them? Why refresh the weather forecast every 20 minutes? The more you worry, the more it will negatively affect your attitude towards the race and yourself. If we are focusing on the bad, then we will most surely lower our chances for success.
Related: Being A Resilient Runner
This little advice from my friend saved my race. After I thought about what she said for a minute, I decided to stop worrying about the weather. I tried to minimize any and all talking about it, because talking and worrying wouldn't do any good. The morning of the race, I did make sure to check out the forecast so that I could dress accordingly and know what was in store for me in terms of pacing. Besides the one check, I focused on the things I could control leading up to the race, like remaining positive, proper carb loading, hydrating, and doing everything on my Boston bucket list. I was able to enjoy the entire weekend rather than focusing on something so silly as the wind and stressing out about it.
I'm going to remember this little tidbit for life stuff too. Why ruin an experience/trial/situation before you even get to it by worrying? Worrying definitely does not help you control the things you can't control. Worrying will keep you too occupied to think about the really good things in life. Do the training, control the things you can and let go of the stuff you can't. Go into your next race with as much positivity as possible and set yourself up for success.
Related: Things That Only Runners Understand
P.S.— I am kind of glad it was so windy during the Boston Marathon last Monday because from now on any marathon that I do will feel like a breeze— pun intended!
P.P.S.— You can read my full Boston Marathon recap HERE!!!