I Did Whatever Random Workouts I Wanted To Do For A Week
One runner describes what happened when she traded one week of her normal training plan for seven days of unstructured workouts.
Heading out the door? Read this article on the new Outside+ app available now on iOS devices for members! Download the app.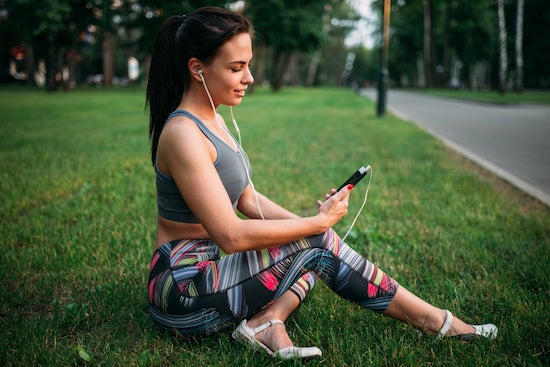 The Beauty Of Unstructured Workouts
Every once in a while, it's good to give your mind a break and do whatever you want for workouts—even when you're training for a big goal (maybe especially during that time). I tried it for one week and was surprised at what I ended up doing.
I have a coach, a huge goal and daily workouts I typically check off mindlessly every day. Some cause more anguish than others, but I dutifully watch as the data strip in my TrainingPeaks log goes from yellow to green as I swim, bike and run my way through another week. But somewhere in my fourth month and third year of training, I wanted to do what I wanted—not what was dictated to me by my coach via a training app. So I did.
Related: Stay In Shape When You Aren't Training For A Race
Day 1: Rest Day
Obviously this was what my mind and body needed. I didn't do anything special like get a mani/pedi or spend the day at the spa; I just didn't train and found I had an enormous amount of time to run errands, read articles and listen to podcasts–and I only had to take one shower.
Day 2: Orangetheory With Friends
This may not seem special to most, but I live 40 minutes from the nearest Orangetheory and need to basically take an entire morning to drive there, take the class and drive home. I also usually do all of my training solo and, being in a room filled with like-minded people, two of whom I'm friends with, was like heaven. Plus, there was a lot of running involved.
Day 3: Run And Swim…Without A Watch
I obviously love doing all the activities I normally do; but to move through them without a pace or time parameter is an entirely different experience.
Day 4: Yoga
Again, it's something I've always wanted to do but usually don't have time for. Now I could (at least for one day). Although I was far less flexible than most people in the class, the kind instructor reminded me it was "because you do other things that bring you joy." Absolutely.
Day 5: Open Water Swim With My Kids And Dog
There is nothing like sharing your love for a sport with family. Obviously this was not a "serious" workout, but I enjoyed watching my kids and pet as they enjoyed the sport I do almost every day without them.
Day 6: Volunteered At A Race
I will admit it was hard being on the sidelines and I had to force my legs to stay still. But how inspiring it was to watch runners in what I know can be a brutal battle of will and strength! Every runner should stand on the other side of a water station at least once.
Day 7: Long Solo Bike Ride
I had no planned route or time and simply went where I felt like going. I made turns down roads I have never traveled and returned home when I got tired. Imagine that!
What I Learned
Although I was craving my normal routine after a week of unstructured workouts, I learned that:
I need to take more breaks during hard training cycles.
I lost zero physical fitness and improved my mental strength.
Sometimes workouts should be pure fun.
Sharing my passion for my sport with others is something I need to do a lot more often!
Related:
Ways That Runners Can "Survive" Rest Days
4 Smart Ways To Break A Running Plateau