How I Knew My Training Plan Was Failing Me
No two runners are the same, which is why one plan won't work for everyone. Eat Pray Run DC shares when it's time to find a new one.
Heading out the door? Read this article on the new Outside+ app available now on iOS devices for members! Download the app.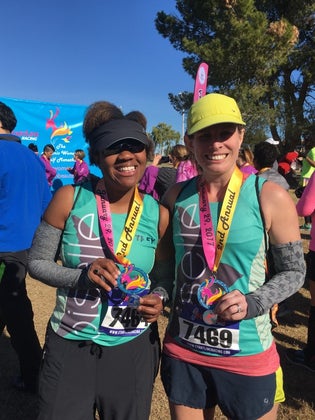 A couple weeks ago, I wrote about how being honest during your training is so important. It made me think about how I knew my previous training plan was failing me, or more accurately, how I was failing my training plan.
A couple of years ago, I decided to train using the Run Less, Run Faster (RLRF) Marathon Training Plan. The crux of the plan is that you run three times a week and each run is hard—there's a tempo run, a long run and speed work. I liked the plan while I was doing it, but while I ran a PR in my subsequent race, I knew I could've done better.
I chose to not repeat training with RLRF, because I found that while I liked the three-day schedule, I missed easy runs and I wanted to be able to actually increase my mileage (which doesn't happen with RLRF). Also, I felt like with my tendency to on occasion skip a run (if I'm being honest), this plan wasn't the best plan for that. When you are only running three times a week, if you skip a run, that's really not tenable.
Let me stop really quickly and say that I have a lot of runner friends who have had great success on RLRF. This is not a criticism of the plan, but rather a realization that it was not the best plan for me to find success.
When I look back at my training during those days, I was running very low mileage. Even though I didn't decide to start training using a high mileage plan until awhile later, I think I instinctively knew that I needed to be running higher mileage. I had to be honest with myself and realize that if I wanted different (read: better) results during training and racing, I needed to do something different. Since I'd always run pretty low mileage, it wasn't difficult to decide to switch it up and find a training plan that actually matched up with my goals—and also my abilities.
If you are stagnating in your training and in your racing, you might want to take a hard look at your training plan and evaluate if it might be time to switch up your plan to try something different. Not only has my running grown in leaps and bounds (and lots of PRs!), but by reading and learning about a different training philosophy, I've learned more about running in general and become more passionate about this hobby of ours.