7 Tips For Beginners To Navigate The Gym With Confidence
If you've mainly stuck to outdoor workouts, here is a complete guide from a pro on how to feel comfortable—and be polite!—in the gym.
Heading out the door? Read this article on the new Outside+ app available now on iOS devices for members! Download the app.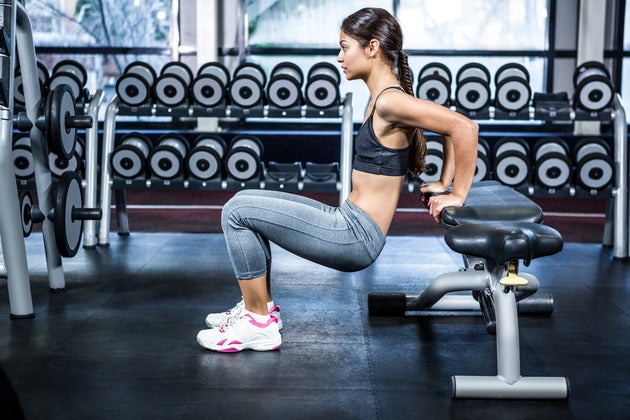 As someone who practically grew up in one, this is everything a beginner needs to know on how to navigate the space with confidence.
Fake It Until You Make It
It's a gym not the White House—and you won't be tackled by secret service agents if you say or do something "wrong." Relax and act like you've been there before.
Pro Tip: Essentials to pack in your gym bag include a sweat towel, shower towel and toiletries, shower shoes (a.k.a. flip flops), a water bottle and your workout shoes. You typically do not want to wear your running/athletic shoes into the gym, especially in the winter months when you can track dirt, salt and debris onto the gym floor or cardio machines.
Do Your Homework
Most facilities will have websites detailing the layout, what to expect in the locker room, a list of fitness classes and what the culture of the club is like. Be sure to take some time to figure out the basics before you go.
Pro Tip: Go to the front desk at the gym and ask if they offer a discount or even complimentary classes and personal training sessions for new members. Sometimes the club will not mention this online, but will offer these options to potential new members looking to sign-up that day.
No One Is Looking At You…Seriously
Trust me, as a fitness instructor and personal trainer for over 15 years, people are way too concerned with themselves to look at you. Don't mind the mirrors and just focus on what you are there to do. If you take a fitness class, show up early, ask questions, follow the instructor and get lost in the flow, not your reflection.
Pro Tip: The more classes you take, the more comfortable you will become and realize that most people are just as self conscious as you are. Everyone started somewhere and today is your day!
Safety First
Take the time to slow down and figure out your plan, especially if your plan calls for lifting weights—you want to know what you're doing before you begin. Always start out with a weight you think is too light and move up from there. Never sacrifice form for added weight and, when in doubt, ask for help.
With cardio machines be sure to read the instructions before you begin. If you're using the treadmill, always start with your feet straddling the belt and wait for it to start moving, then begin walking (or running) on it.
Pro Tip: Some clubs have time limits on popular cardio machines so make sure you know the rules. Also, if you're using a weight machine and someone asks to "work in" it means they want to do their sets in between yours. Say yes.
Clean Up
Don't be that person. Re-rack your weights, clean off all cardio machines and mats and practice you know, basic human etiquette while in an enclosed area teaming with sweat and germs. Please.
Pro Tip: I have seen people clean weights and equipment before using it. You don't have to go overboard but again, know what the club policy is for wiping down used equipment and then do it. You may want to bring your own yoga mat to fitness classes. The ones used in classes sometimes are really overused. Ew.
Cover Up
Some clubs have wardrobe policies so know them before you break out your Mariah Carey fishnets and heels and climb onto the elliptical. No jeans. Nope, not even the ones that stretch.
Pro Tip: In the locker room please use a towel to cover yourself when you can. When getting dressed, do it quickly and don't walk around naked or clip your toenails in the sink. I really wish I didn't have to add in that last part but…
Ask Questions
When in doubt, just ask. Most gym members are happy to help and their should be a staff person within shouting distance most of the time. There is nothing to be embarrassed about and, the fact that you're in the gym working out means you have taken the first step at becoming a pro.