9 Ways To Fartlek
Some ideas to add a little fun and speed back into your workouts.
Heading out the door? Read this article on the new Outside+ app available now on iOS devices for members! Download the app.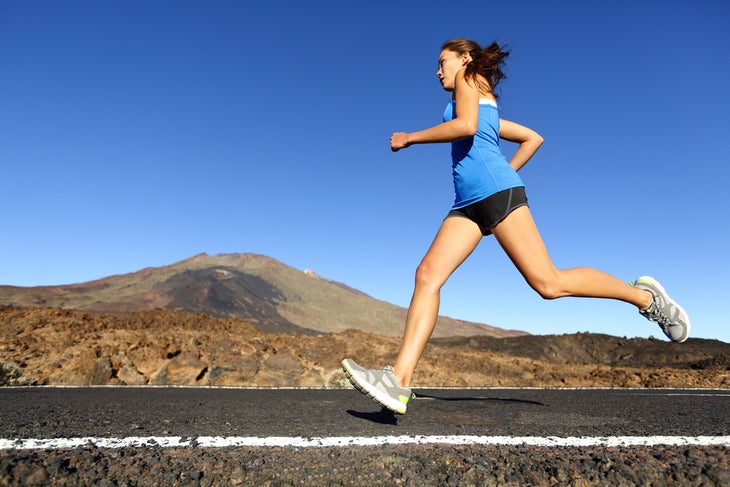 *Courtesy of Triathlete.com
If you're getting bored with your predictable track sessions, it's time you mixed it up with a fartlek workout—a creative, less-structured form of interval training. Fartlek, which means "speed play" in Swedish, involves varying the intensity to teach your body to recover quickly, no matter what level you're at. The following workouts can all be done in 60 minutes or less, including a 10-minute easy warm-up.
Stoplights: Think of this workout in three speeds—hard (red), moderate (yellow), easy (green). Run 30 sec hard, 90 easy, 60 moderate, 60 easy, 90 hard, 3 min easy. Repeat three or four times.
Give me five: From zero to five minutes, run at a comfortable, normal pace. At the five-minute mark, increase your speed for one minute. Drop back to normal speed until the 10-minute mark. Do this on the 5, 10, 15, 20, 25, etc.
For the dogs: Coach Kristen Hislop has her Albany, N.Y., athletes do a fartlek in a local park with plenty of dogs. "They use passing the dogs as a flag to speed up or recover," she says. "The smaller the dog, the faster they have to go!"
Related: Breaking Down Speedwork
From the heart: If you train with a heart rate monitor, you can bounce between your various zones, including Zone 2/easy, Zone 3/tempo and Zone 4/hard. Do 20 minutes as: 3 easy, 5 tempo, 2 hard, 5 tempo, 2 hard, 3 easy. Follow that with 15 minutes as: 5 easy, 2 tempo, 1 hard, 2 tempo, 5 easy.
Mailboxes: Base your harder intervals on mailboxes. Make it random: Run hard for two mailboxes, recover for three, run hard for three, recover for two. Can also be done with streetlamps.
Treadmill hills: Walk "uphill" at a 6 percent incline for three minutes. Run at a 4 percent incline/6 mph for two minutes, then a 2 percent incline/6.5 mph for one minute, then a 1 percent incline/7 mph for 30 seconds. Recover with three minutes' walking at zero percent. Every round, increase speed by 0.2 mph for every interval. (Adjust for ability level.)
Tour guide: Do a fartlek guided by a coach: Download a "runcast" from Energyfitnesscoaching.com. Coaches Rob and Kelly Wissolik lead you through either a 40- or 45-minute workout via your iPod.
Pushup break: When preparing for sprint triathlons, coach Tim Edwards does fartleks on a fitness course with steep hills. Replicate with or without a course: Stop every two to five minutes and do a round of pushups, situps, squats or short hill repeats throughout your run.
Pyramid: 1 min hard, 1 min easy, 2 hard, 2 easy, 3 hard, 3 easy, 2 hard, 2 easy, 1 hard, 1 easy (18 minutes total). The shorter the interval, the faster the pace.\