9 Marathon Training Mishaps That I Didn't Post On Social Media
It's all about trial and error with some, and honesty with yourself for the others.
Heading out the door? Read this article on the new Outside+ app available now on iOS devices for members! Download the app.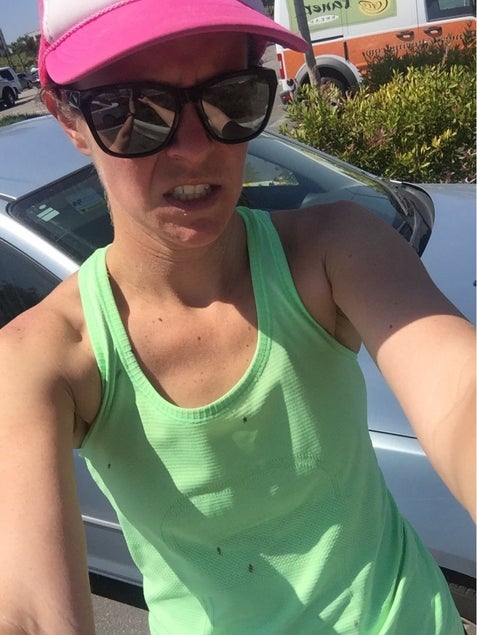 I wrote about the ugly side of marathon training earlier this month, which was partly inspired by a crash-and-burn week I had and partly inspired by several friends who expressed frustrations with their own training. I was surprised and humbled by people's responses on social media (ironically), sharing their woes on Instagram, Twitter and Facebook in the spirit of "keeping it real." With less than 20 days until my second marathon, and with the goal of keeping it funny but real, here are nine things that definitely happened while I was training that I did not rush to post under #bostontraining on Instagram [insert angry face emoji]:
1. As mentioned in my previous article, I definitely ditched the speed portion of a 10-miler a few weeks back. It was still a great, easy run, but I wasn't feeling it that day, so I just didn't do it. It was a mental blow for me—I felt like an inadequate runner—but I definitely did not have the energy to do 5K-paced intervals that morning.
2. For every run more than around 10 miles, I have to add an extra 10-20 minutes to let my stomach settle after I've done. One morning I was running late and didn't get to take that time before heading to a doctor's appointment, so I embarrassingly apologized for having to rush out in the middle of a busy office to use the restroom. Colitis ain't no thing most days, but on long mileage days, it needs some extra love.
Related: Running With A Stupid Autoimmune Disease
3. I cry on 80 percent of my runs. Sometimes for a few minutes, sometimes just for a quick burst of waterworks. I pack a lot of feels behind each run, and the fact that this is Boston only makes that more real, raw and close to my heart.
4. I totally blew up on my 20-miler and did circles for the last mile to avoid running up the hill to my car. I was tired, frustrated and frantically texted a coach friend to calm myself down. Thankfully, he's been a tremendous grace during this training and reminded me that I had this "episode" before my first marathon, so it's not indicative of race day and just part of the game. Deep breaths. (For those that didn't believe me, yes, I did get crapped on by a bird during this run, as shown above.)
Related: 5 Ways To Deal With Mental Demons
5. My knee totally locked up during the final mile of my last half marathon. I did PR, and as my boyfriend said, "I've never seen you so pumped to cross a finish line!" but I was using all my power to finish strong on a downhill, and my knee was not really having it. My hamstrings needed some work, and I'm already feeling an improvement after a few weeks of giving them some more attention.
6. When I'm on a final interval of a workout, I pretend it's Boylston Street every time and create a montage of running scenes in my head to make it through, backed usually by Rachel Platten's "Fight Song." Because chills.
7. I eat extremely boring foods, and seeing Instagram #foodporn posts of too many veggies make me feel sick. One of the more difficult parts of training for my first and second marathons has been a) realizing that what worked after 5 miles does not always work after 12 miles and b) I am never going to be the person who can eat "colorful" meals, and that's fine. Because my stomach is so sensitive to the jostling of running, I have found that I need to, and prefer to, stick to meals that others find extremely bland. This means most nights are chicken or turkey and, after several weeks of slowly trying to get the right veggies in there, also carrots, peppers, tomatoes and other things that don't wreck my insides.
Related: The Best Meals For Before And After Long Runs
8. I get really creative with avoiding any mid-run pauses or stops. I spent a lot of time wondering why I got mid-run stomach cramps when everything seemed to be working properly with my fuel, breathing, fitness, etc. I finally realized that it was only really happening in a big way when I stopped during a run for whatever reason—waiting for a light, a friend, stretching, etc. So when the mileage hits double digits, I do everything I can (safely) do to avoid pausing at all. This is probably a main reason I run most of my runs alone as well.
9. A tweet from Dan England totally put my mind in check and at ease last week. It was simple: "@caitpilk always remember how fortunate you are to do that." I've always tried to run with gratitude, but I got so wrapped up last week in all the negative pressure I was placing on myself that this single tweet made me pause, think and remember that he's totally right. As is everyone who ever gets to race in Boston, I am fortunate to have a healthy body to get me there, a marathon time that makes me worthy to step to the line in Hopkinton, the financial means to make the trip and the passion to make this race the best possible experience for me and for all my friends and family who are coming to join me in Copley Square.