6 Things To Think About Before Running 26.2 Without Training
Heading out the door? Read this article on the new Outside+ app available now on iOS devices for members! Download the app.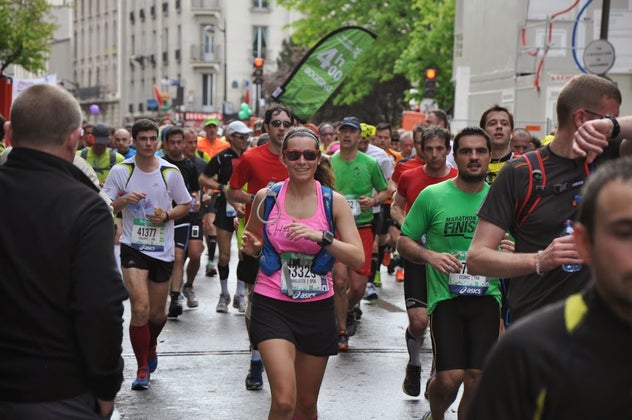 A couple of weeks ago I was offered a last-minute bib for the Stockholm Marathon.
I toyed with the idea of running, knowing that it would be an incredible story and a great medal, but ultimately decided that it wasn't the right decision.
I pride myself (and my blog) on working hard for my marathon goals, always training for specific races with certain time goal. I felt like it would be hypocritical (and stupid) of me to turn up to a start line so massively underprepared, and may underplay the work I believe is needed to run a marathon.
Should you run a marathon without training?
Respect the marathon distance.
Twenty six point two miles is a long way. Have you ever checked the car odometer as you drive along? You can drive a long way!
As well as your body needing to be physically ready to complete the miles, don't underestimate how
much your mind comes into play when dealing with the distance. The 12­-18 weeks of ­marathon training not only prepares your body, but also helps builds confidence and increase mental strength that will help you achieve your goal on race day.
Not knowing for sure whether you can actually finish the race is not a good mindset to have at the start line.
Muscle Memory
Run a lot in the past, but haven't run for awhile? The good news is that muscle memory does exist, and the adaptations made in your body when you were training hard can be retained, making it easier to return to fitness. This could come in handy if you have only a short time to train for the marathon, but have run a number of marathons (or a greater distance) before.
Long-term Running Goals
If you're working towards something specific in the near or distant future, you could jeopardize your training and race by running an unplanned marathon. I'm training for the New York City Marathon in November, and didn't want an unplanned race to risk a healthy, strong training cycle for this year's goal race. You've got to make the decision on which race is more important to you and why.
Injuries
Running a marathon can exacerbate any slight niggle that you may have going into the race. If you've been working for months to get to the start line, then often you're prepared to push through some pain, whatever the consequences, just to get to the finish. However, if you've been rehabbing an injury that just isn't quite healed yet or are putting yourself at risk of a new or recurring injury by running the race, then it's probably sensible not to put that bib on!
Don't race it.
Running and racing can be very different things. If you were going to run a marathon with little preparation, it should definitely not be your goal to run a PR! Running slowly, and gently build up your speed—or you can take things easy and enjoy the course. The goal is to get to the finish line in one piece! You could even use the marathon as a long training run, slowing down or walking once you hit your allotted distance for the day.
Fitness Levels
You might not be specifically trained to run a marathon, but perhaps you've been building up your distances anyway, or you just have a high mileage training schedule, I would say that if it won't be a huge shock to your body to run 26 plus miles, then go for it. However, if the furthest you've run recently is a 5-miler around your local park, then it's probably wise to stay at the sidelines.
Ultimately, it's up to you to weigh the pros and cons of running. No one can run the race for you—they can just help aid in the recovery, afterwards!