4 Common Problems For Runners (And How To Handle 'Em!)
Don't let these common ailments slow you down. Prevent them before they become an issue.
Heading out the door? Read this article on the new Outside+ app available now on iOS devices for members! Download the app.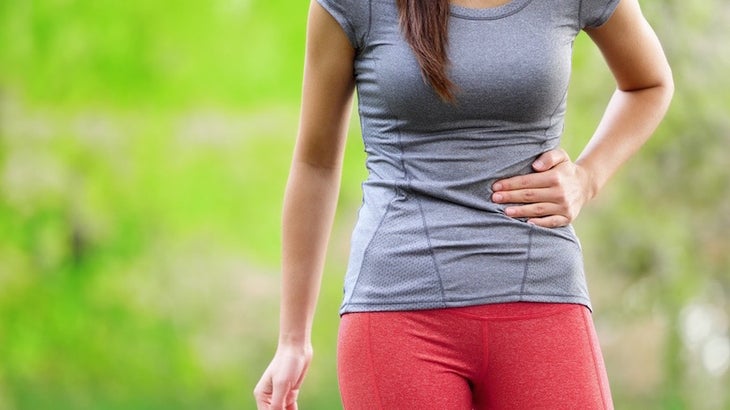 *Courtesy of Competitor.com
Upset Stomach
Running, more so than other endurance sports, causes a lot of internal intestinal jarring. Over the course of 5, 10, or 20 miles, that shake-up in your stomach area can affect digestion and may even cause you to run for the nearest bathroom. Also, when you're running, blood goes to working muscles and away from the stomach, which can throw everything around your center of gravity for a loop. To keep your stomach stable when running, make sure you're well hydrated and give yourself 2-4 hours before a run to ensure that your last meal has been digested. A good trick if you're feeling nauseous while running—pop a small peppermint! They're easy to carry and will help settle your stomach.
Related: Prevent Pesky Joint Pain
Blisters
Runners' feet undergo a lot of duress over the course of a training cycle, and blisters are a common occurrence after long runs or races, the first run in a new pair of shoes, or runs in wet conditions. Blisters are bubbles that develop on the skin due to friction between your foot and the shoe, and they can range from annoying to excruciating. A little self-treatment can go a long way in providing relief. If you have a fresh friction blister, let it breathe for a bit before sterilizing a needle by holding it over an open flame for 30 seconds. Once the needle is sterilized, use it to pierce the blister, draining the fluid from inside the bubble. After draining the blister, sterilize the area around it with hydrogen peroxide, and take measures to prevent friction to the blistered area until it heals, such as covering with a blister pad. Prevent blisters before they happen by wearing synthetic moisture-wicking socks, along with properly fitting running shoes.
Chafing
Ever get in the shower after running in the rain and experience a burning sensation as soon as the water hits certain areas of your skin? You've likely chafed them, meaning the skin around your armpits, inner thighs, waist, chest, or even lower has been rubbed raw due to friction from ill-fitting or wet clothes. The most common culprits are shirts, underwear, running shorts, heart rate monitors, hydration belts, and sports bras for women. Deeper levels of skin are exposed when an area becomes chafed and are painful when touched. To prevent chafing, wear well-fitted, moisture-wicking apparel that will keep you dry in wet conditions or when you sweat. Also, lube up before a run with an antichafing stick or cream to help reduce friction. Avoid Vaseline as it will stain your clothes.
Related: How To Handle A Rainy Race Situation
Black Toenails
Sometimes your nail color is not by choice. Discoloration of a toenail, usually the big one, after a long run, race, or period of prolonged heavy training is fairly common among runners. A blood blister forms under the nail from excessive pressure, causing it to turn color. A black toenail is usually not painful and should be left alone until it eventually falls off and grows back on its own. If the affected toenail is painful, however, the blister needs to be drained so that pressure on the nail can be relieved. To minimize risk of infection, this procedure is best performed by a doctor or nurse. Usually caused by tight-fitting footwear, black toenails can be avoided by giving your toes ample room in the front of your running shoe, an area known as the toe box.