10 Tips That Will Make You a Faster Runner
Slow and steady not cutting it for you anymore? Here are 10 simple ways to increase your running speed.
Heading out the door? Read this article on the new Outside+ app available now on iOS devices for members! Download the app.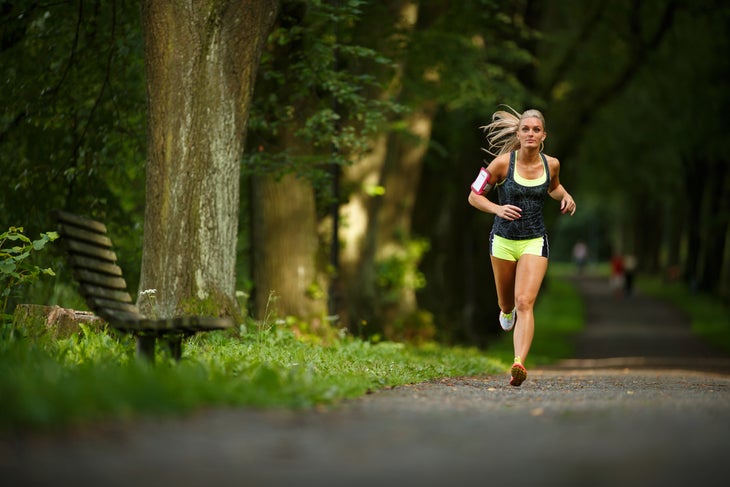 *Courtesy of POPSUGAR Fitness
Slow and steady not cutting it for you anymore? If you want to run faster, here are 10 simple ways to increase your running speed.
Fuel up: Eating the right prerun foods is important to prevent feeling sluggish during your run. Go for foods that won't cause cramps: choose a small snack of simple carbs with a little bit of protein if you're eating right before a run (read more on how to choose a pre-workout snack here). And drink a cup of coffee about a half hour before you go for a run; studies have shown that caffeine helps you run faster and longer.
Intervals: Short sprinting bursts are great for making you a better runner all around. Up your pace and stamina with this treadmill interval workout to incorporate into your running routine.
Tempo runs: Tempo runs are similar to high-intensity intervals, but with this strategy, you don't sprint as fast as you can. Instead, you hold at a fast (but not toofast) pace for a longer time period, like 10 minutes, before slowing down. This helps your muscles get past your lactate threshold, which will help you improve your endurance and speed. Remember that to be effective, your tempo run should challenge your body: you should be able to answer short questions but unable to hold a conversation. Try doing a tempo run every seven to 10 days; read more about how to start tempo running here.
Hills: There's no reason you should stay on flat land. In fact, there are many reasons why you shouldn't. Running up hills helps make your leg muscles stronger while also increasing your speed and endurance. Whether you run on the treadmill or outside, the next time you start your workout, make sure an incline is part of your route. This treadmill incline workout that mimics rolling hills.
Postrun sprints: Adding short sprinting strides at the end of a long run can keep your body primed for speed, says trainer Ben Hwa. This is because doing strides after a long run will teach your body how to run fast even when your legs are tired. Ben recommends doing four to eight strides of 70 to 100 meters; aim for 80 percent effort on each stride.
Negative splits: This strategy is a simple way to make every run a good run, especially on race day. To incorporate a negative split into your next run, just make sure you're running at a good, steady pace and increase your speed for the second half of your run. Here's a quicker-at-the-end treadmill plan to follow.
Stretches: You may not think of postrun stretching as important for your pace goals, but those few minutes you spend cooling down can really help your speed. Stretching makes you more flexible, which can improve your stride and range of motion. Do these postrun stretches after your workout to become a faster runner.
Short strides: Shorter strides can make you a more efficient, and therefore speedier, runner, says trainer Jennifer Pattee. Focus on keeping your strides regular and short to increase your running efficiency.
Midfoot strike: Focusing on landing on the middle of your foot — rather than your heels or toes — can also help you avoid injuries and discomfort that will slow you down, Jennifer adds. Aim for striking with a flat foot for a strong, confident strike.
Drills: Adding a few running drills to your warmup routine will help improve your running form and speed, Ben says. Do a few minutes of high knees, skipping, and backward running before a run to train your body to operate properly.
Related Links:
This Boston Marathon Finisher Got the Best Surprise Ever
6 Healthy Bedtime Rituals That Will Make Tomorrow Awesome
10 Sustainable Tips to Keep Weight Off For Good
How to Detox For Spring (and Still Have a Social Life)
Low Weights, High Reps: Feel the Burn With These Arm Exercises