Whole Roasted Cauliflower with Fresh Pomegranate Tahini Sauce
This delicious and healthy recipe could be your dinner or side dish tonight.
Heading out the door? Read this article on the new Outside+ app available now on iOS devices for members! Download the app.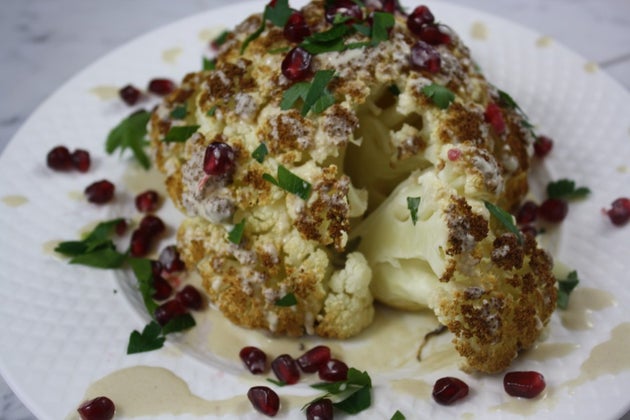 If you follow me on Instagram, you probably noticed that I had been living with Kara Goucher in the months leading up to the Olympic Trials Marathon. After dealing with injuries for the past couple of years, Kara finally had a long streak of healthy running and was fitter than ever. She raced really well and came in fourth place, missing the team by just one spot!
While I was living with Kara, we put some of our favorite recipes "in the vault." But now that I'm back in New York (for now), I am back to creating recipes. It usually starts with me asking, "What do I have in my fridge?" or "What can I come up with without going to the store?" I'm the laziest athlete you will ever meet, at least when it comes to food shopping! But if you have a well-stocked pantry, you will most likely have everything you need to make my recipes. No fancy ingredients here.
I had a head of cauliflower and for some reason I could not think of anything to do with it. Then I noticed I had a pomegranate and it hit me—Whole Roasted Cauliflower with Fresh Pomegranate Tahini Sauce and Parsley. An easy classic that I have made on Thanksgiving, as well as a number of times at Kara's house. I love how simple it is to make and how beautiful it is to look at. It is like a piece of food art.
When cooking for athletes I am always looking at food as a means to boost training and recovery. Tahini paste is loaded with calcium for building strong bones and avoiding injuries. I like adding the pomegranate seeds for extra crunch and brightness, but if you don't have any, try adding nuts for that same bite!
A small disclaimer: This dish is so addicting. It is bright, colorful, lemony, crunchy, salty, tangy and all that good stuff. No need for a fancy occasion to make this dish, but you certainly will impress your guests.
Whole Roasted Cauliflower with Fresh Pomegranate Tahini Sauce
1 head cauliflower
1/4 cup tahini paste
1/4 fresh lemon juice
1/4 water
1/2 teaspoon salt
1/2 teaspoon garlic powder
1/4 cup pomegranate seeds
1/4 cup chopped parsley
Directions
Preheat oven to 350 degrees. Leaving cauliflower whole, cut the bottom leaves off and place it on a baking tray lined with parchment. Cook between for 60 to 75 minutes until golden brown and tender. Cooking time may vary based on size of cauliflower.
Meanwhile in a separate bowl whisk together tahini paste, lemon juice, water, salt and garlic powder until combined evenly.
Once cauliflower is cooked, drizzle tahini sauce over the cauliflower. Sprinkle pomegranate seeds and parsley on top. Place extra sauce on the side or save for later—it makes for a great salad dressing.
Related: Repair Your Muscles With Chocolate Protein Mug Cake