Which Type Of "Eater" Are You?
Want to change the way you eat? Understanding what motivates you is the first step—and there are six types of motivators.
Heading out the door? Read this article on the new Outside+ app available now on iOS devices for members! Download the app.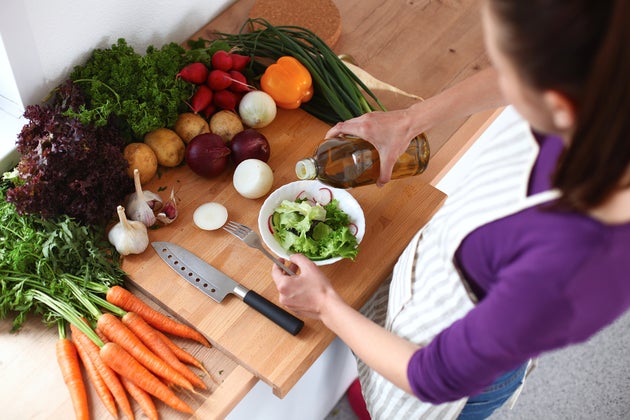 Some of us eat when we are stressed. Some eat the same meals everyday to keep a routine. Some just love the taste of food. There are more styles of eating than you would think, and Brad Lamm, Expert Interventionist and Founder of Breathe Life Healing Center, the nation's premier program for Binge Eating Disorder, educates clients on these types because, as he says, "one size does not fit all."
Lamm stresses that knowledge is power and, should you be looking to change the way you eat, you need to find a solution that goes deeper than your diet to be satisfied.
The first step is being able to identify what type of eater you are. Lamm breaks down the six types he has identified:
Emotional Eater:
"For emotional eaters, food is closely linked to how you feel. Duh, right? It's easy to claim "I'm an emotional eater" (and many do) but tougher to let the truth sink in and evoke a response in the form of action. Happy? You celebrate with food. Sad? Same thing. The problem here is that emotional eating never solves your problem. It just creates another one, with food."
Habitual Eater: 
"The habitual eater likes routine and structure, and like the old Hoover we grew up with in mom's closet, you'll inhale the food until the Hoover will no longer Maneuver. It's easy for you to establish good eating habits but what derails you- and many of us- are time constraints and responsibilities. This type of eater will often indulge in bad food under the 'just this once' excuse. Soon 'just this once' becomes apart of your daily routine."
External Eater: 
"We eat with our eyes, which is a bummer for you as external cues to eat are all around us. Many of us overeat because we are triggered by these external cues: cupcakes in the display window, food advertising, and people or places that push food at us (even within our own home or office). All of this adds to our desire to overeat. Some of us—the external eaters—are more vulnerable than others."
Critical Eater: 
"An 'all or nothing' eater, the critical eater possesses a lot of valuable knowledge about nutrition and health and is either ON THE RAILS or OFF. The problem is that you tend to be obsessive about diets and eating. You may have lots of self-imposed rules and regulations about what you eat.  Rather than living to eat, you eat to live. You don't particularly enjoy eating, but you use food to purely fuel your body."
Sensual Eater: 
"The sensual eater appreciates food and relishes every bite. You're a  bit of a thrill seeker, always on the lookout for meals more complex and intriguing than your last. This usually means you don't hold back. You love and appreciate food to the point that you wouldn't dare turn away a good brown butter sauce to go with your chicken."
Energy Eater: 
"The energy eater does something most people do not—they listen to their hunger and feed it as necessary. But if you compensate your hunger by eating more fast acting carbohydrates—bread, crackers, granola bars—you could be consuming far more calories you need while increasing your insulin production, which will in turn cause more hunger."
Once he explained the type of eaters, we went over a few common questions received.
WR: Which type of eating style is the most common? 
BL: Many will have a primary and a rising. Me? I'm an Emotional Eater with an Energy in spots. Most will relate to the Emotional first though, I think as they digest the other styles they will find one or two that best self-identify their baselines on eating.
WR: Is there any way to be able to see what style you are? 
BL: One good way is to look at the last month and simply run through a mental day trip through the calendar to identify your own eating style's over the time span. You'll find yourself there once you look, I promise.
WR: Can you change styles once you know which you are?
BL: Yes, once you identify why you eat you can begin to change how you eat. That's the beauty of information and well, we're constantly changing and evolving as human beings so why not create more self awareness around something as fundamental as food! The need to feed is so far beyond calories in 2015 that self-soothing comes in these six styles that are aspirational too. Find one you desire to be and work to train yourself in that direction.
For even more on our relationship with food and how it affects weight loss, check out Lamm's book on Amazon.