What To Expect When Weaning Off Of Sugar
Here are some tips and tricks to wean off of sugar straight from a dietician.
Heading out the door? Read this article on the new Outside+ app available now on iOS devices for members! Download the app.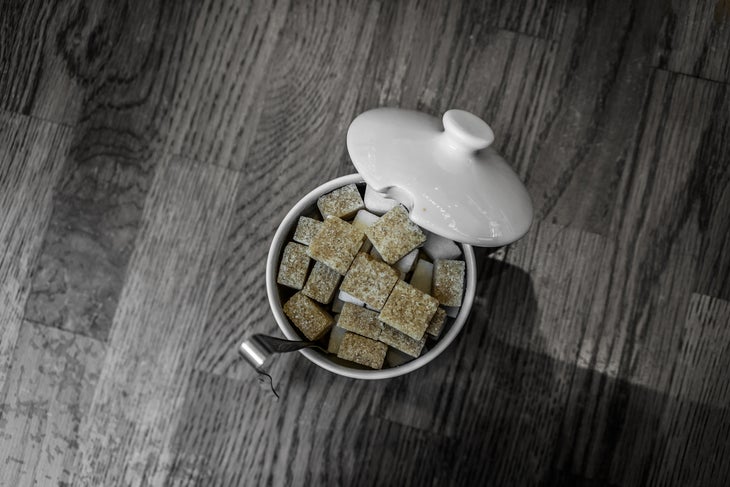 When it comes to what we eat, it seems like more and more questionable ingredients are making their way into the grocery store. A lot of that comes in the form of artificial sugars.
If you've ever thought about reducing sugars in your diet, now may not be such a bad time. "Overloading on sugar can lead to unwanted pounds, health issues, and inconsistent energy levels, all of which can affect your running performance," explains Alexandra Miller, RD, Corporate Dietitian at Medifast. "That's why experts recommend limiting sugar intake."
Miller points us to the 2015 Dietary Guidelines for Americans, which recommends limiting added sugars to less than or equal to 10 percent of your daily calories. "For a 2,000 calorie diet, that equates to 200 or less calories per day," Miller clarifies. "Added sugars are sugars and syrups that are added to foods or beverages when they are processed or prepared."
Naturally occurring sugars found in fruit and milk, provide energy, essential vitamins, minerals and fiber. Miller notes that these are nothing to be afraid of.
When reducing your sugar intake, you need to work slowly and gradually. Everyone responds differently to these dietary changes, but Miller notes some that may affect you. "As your body adjusts, you may experience headaches, fatigue and/or irritability," she explains. "This is a normal reaction to the body adjusting to the change in diet. Fortunately, this is temporary."
You can drink extra water and get plenty of sleep. Making these changes during your training period—versus close to a race—will help should you experience any symptoms.
If you're looking to reduce your sugar intake, you need to know where to find it and how much to aim for. Here are a few simple tips straight from Miller:
Read the ingredient label to identify added sugars. Look for ingredients containing syrup, sugar, -ose (such as dextrose, maltose, sucrose) as the suffix, honey, maltodextrin, nectar and juice. Avoid foods and beverages that list an added sugar as one of the first few ingredients as the ingredients are listed in order of prevalence.
Know where added sugars are often found. The major sources of added sugars for Americans are:

Soda, energy drinks and sports drinks
Candy
Cakes, cookies, pie, donuts and other baked goods
Fruit drinks, such as fruit punch
Dairy desserts, like ice cream
While those sources may seem obvious, added sugars are also hidden in condiments (such as barbeque or teriyaki sauce), tomato products (ketchup, canned tomato soup), salad dressings, bread and yogurt.
Should you be looking for alternatives, adding fruits to your foods can help, along with molasses or berry jams.
"As a runner, remember that wholesome forms of carbohydrate help fuel muscles and promote good health. While it is certainly good to cut down on sugar, especially added sugars, don't be afraid to nourish yourself with fruits, vegetables, low-fat dairy and whole-grain foods, food groups that are often a source of carbohydrate as well as vitamins, minerals, fiber and phytochemicals," advises Miller. "Include lean protein and healthy fats in addition to carbohydrates from the aforementioned food groups, and you've got a balanced diet that will keep your body properly fueled and functioning at its best."
RELATED STORIES:
How To Kill Your Sugar Addiction Before It Kills You
Easy Swaps To Eliminate Artificial Sugars