Just Keep Moving Forward: Overcoming Our Excuses
We've all made excuses to avoid running—setting the right goals and prioritizing our lives will help these excuses disappear.
Heading out the door? Read this article on the new Outside+ app available now on iOS devices for members! Download the app.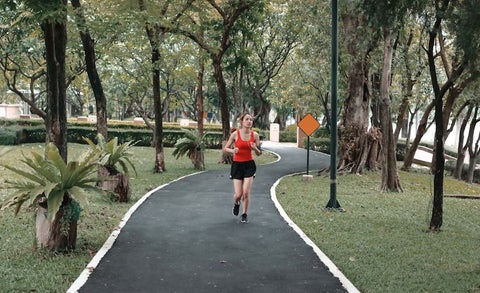 It's easy to slap a label of "lazy" or "slacker" on ourselves when we don't accomplish a set goal. Even if the goal is as simple as: Wake up early. Workout before work. Go to work.
We hit the snooze button, roll over and when we finally wake, our first thought is: Wow, I suck.
I interviewed Lauren Zander in a podcast last year, and she mentioned that goals are promises we make to ourselves. And when we fail to achieve or even attempt a goal that we've set, we are breaking a promise. Ever since, I have seen my goals in a different light.
I've learned, beyond all else, that it's important to make and keep promises to myself—and here's how you can too.
Set the Right Goals
First, let's make sure we are setting meaningful, achievable and desirable goals. Should we be signing up for a big marathon just because everyone else is doing it? If running a marathon means a lot to you, you like to train, and you have the ability to handle the time and stress it might take, then sure. But if you're just signing up because you're experiencing some "FOMO" (Fear of Missing Out), that's not the best reasoning.
If we pick the right goals for ourselves, we are much more likely to succeed. And with these more realistic goals, we are able to actually keep our promises—not just stubbornly, but with a sense of joy and commitment.
Fear Not
Many times we find ourselves living in a state of fear—fear of success, fear of failure, fear of the unknown. When we are afraid, we experience several reactions that could lead to excuses. Fight or flight. Eat or shop. Pick the poison that soothes your fear the best.
We chump out our long run, creating a myriad of excuses why the run didn't go as planned, when the real issue has nothing to do with running at all. The real issue is that we are afraid of failing, afraid of falling and afraid that someone might shame us for our pace if it is less than ideal.
Putting into perspective that our running goals are not life or death is the first step to overcoming fear. And recognizing that we get to run and we are not required to run is a big part of that.
Priorities
Once we know we have set the right goals for the right reasons and we are working toward kicking unreasonable fears in the face, the next step is to prioritize our running goals while still holding ourselves accountable for other responsibilities—a simple list should do the trick. Using this list and the "Suck Line" method will help ensure that we are focusing on the things that really matter to us.
Will we still make excuses? Of course. But if we are in the driver's seat, we are limitless in our abilities to achieve our goals—and keep the excuses to a minimum.
Meredith Atwood (@SwimBikeMom) is a weekly contributor to Women's Running. She is a four-time IRONMAN triathlete, recovering attorney, motivational speaker and author of Triathlon for the Every Woman.  She is also the host of the hit podcast, The Same 24 Hours, a show which interviews interesting people who make the best of the 24 hours in each day. Meredith has two books coming out in the Spring and Fall of 2019. Read more at: SwimBikeMom.com. 
Related:
Just Keep Moving Forward: Drawing The Suck Line
Just Keep Moving Forward: My First Run As A Mom Of Two