5 Ways Runners Can Ditch Self-Comparison on Social Media
These expert-approved techniques can also help you have a better relationship with running—and yourself.
Heading out the door? Read this article on the new Outside+ app available now on iOS devices for members! Download the app.
Are you in a self-comparison slump? We all know better, but it's honestly very hard to avoid comparing our lives to others. And social media, especially when it's one of our main forms of interaction during a global pandemic, has done a decent job at dialing those insecurities up. 
And runners are certainly not immune to the running-related accounts we follow, as many post perfect, 'gram-worthy run photos. 
A recent study conducted by researchers at the University of British Columbia surveyed how people use Facebook, Twitter, and Instagram and the impacts to their well-being. What they found was that the more people compared themselves to others the less happy they felt. Derrick Wirtz, the lead author of the study, speculates that simply viewing someone's accomplishment or positivity on social media lends itself easily to comparison without the mood-boosting benefit of actually interacting with that person, as you would if you were sharing life updates in the form of a conversation. 
"Passive use, scrolling through others' posts and updates, involves little person-to-person reciprocal interaction while providing ample opportunity for upward comparison," he says. 
The study also found that while people are more likely to turn to social media when they are lonely, time spent on those platforms only increased their sense of loneliness. 
5 Ways to Avoid Comparing Yourself to Others on Social Media
During the holiday season, when people feel more pressured to pose and share their experiences and goals, it's important to check in with your mental health. We spoke with Lindsay Kite, co-author of the new book More Than a Body: Your Body is an Instrument, Not an Ornament, on the best ways to avoid comparing yourself to others on social media this holiday season. 
1. Practice compassion instead of self-comparison.
It cannot be emphasized enough how hard it is to disassociate yourself from what other people post on their social accounts. While one woman might be sharing her running photo because she was truly proud of her effort, another might be feeling a sting from a number of different angles (comparing body image, physical abilities, the lack of time they have to train, and so on). 
The first step in getting over this kind of self-comparison trap is noticing that you are in it. "Next, turn up your compassion," says Kite, "not only for yourself and your complicated humanness and imperfection, but also for those you're comparing yourself to." We all know from our own social media behaviors that what gets posted is not the full story.
"Especially this year, let's give ourselves and everyone else a break. It has been a long, difficult year and the holidays are a great time to practice kindness and compassion for ourselves and everyone else," says Kite. 
This applies if you are comparing yourself and feel like you're coming out on top, too. "Even if you are comparing yourself to someone who you feel better than in whatever way, you still come up short because you will feel less unity with other women, more loneliness, and more self-consciousness," says Kite.  
It really all boils down to one philosophy: "The antidote to comparison is compassion," she says.
2. Unfollow or mute accounts that cause you distress.
According to a survey conducted by The Ohio State University Wexner Medical Center, 20 percent of respondents chose to take a break from the stresses of social media this year. "Even though you can't control what happens on social media, it's important to recognize how it may affect you and take steps to limit your exposure," says Ken Yeager, director of the Stress, Trauma, and Resilience Program at OSU. 
One way to take control of your social media experience is to unfollow or mute accounts that cause you stress (even if you wish that runner the best and still support her goals). 
"Think of it as self-protection or self-care as you curate your own social media world to be more friendly to your body image and your self-perception," says Kite. She adds that this doesn't mean those accounts are bad or wrong, just that they aren't serving you. "Be sure to include accounts that help you expand that focus on what brings meaning and value to your life and others." 
3. Pay attention to comments you leave on other accounts. 
As a takeaway from his study, Wirtz recommends using social media as a way to directly interact with people, rather than passively scrolling. But it's important to be mindful of what you're commenting on others' posts. 
"If you find yourself leaving lots of comments about people's appearance, recognize that those comments are a good reflection of what you value in yourself and others," says Kite. "If you value more than beauty, put in a little effort to show that in how you compliment and engage with people." 
4. Be intentional about what you are posting about yourself.
"As you curate your media world and also your social media presence, watch out for content that is body-centric–meaning the main focus is on the appearance of bodies. In a world that consistently objectifies women's bodies, we learn to use that same perspective on ourselves, and image-based apps magnify that," says Kite. 
There's no shame in posting a photo of yourself out on a run, but definitely think about why you're taking time out of your training and out of your day to do so (and what kind of modifications you make through filtering and cropping). "If you're posting purely because you like the way you look or you're seeking validation for how you look, consider skipping that post and seeking fulfillment through another aspect of your dynamic life," she says. 
According to Kite, going for an Instagram-inspired run could also be affecting your performance. "When women are thinking about how their bodies look as they exercise, they perform worse," she says. Studies suggest that girls who self-objectify perform worse athletically than those who don't (unsurprisingly, that also translates to greater mental health risks like body shame, disordered eating, and depression). And research shows the same negative effects for intellectual tests. 
"The goal for women who are passionate about a practice like running should be to get the focus entirely off how you or anyone else looks in the act of running. Running isn't intended to be beautiful." Of course, that can be hard when we've been conditioned our whole lives to present ourselves a certain way. For some people, it may take a behavioral or mental health expert to really rewire that way of thinking (and there's nothing wrong with that).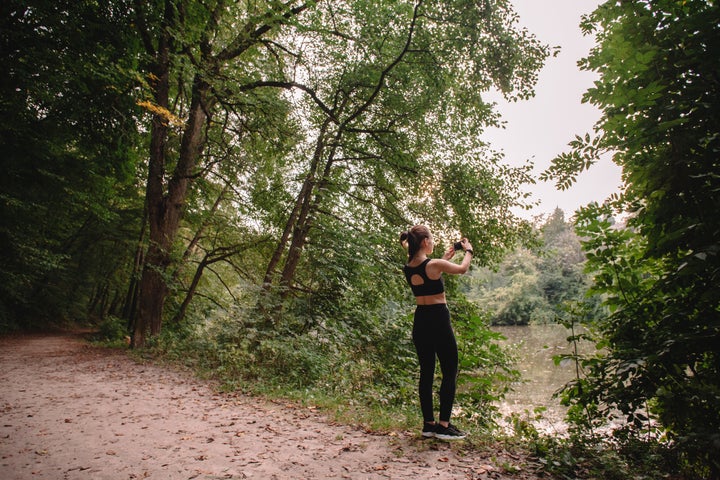 5. Turn the camera around, or put it away.
Reflecting on your training is an important part of the process of improving. For many runners, Instagram has become the space to do that. Instead of posting a selfie as a way of publicly reflecting on your training (and in the process self-objectifying and letting in the feeling of comparison), consider some of these alternatives. 
"Objectification reduces our health and fitness to something that exists outside of ourselves in sometimes arbitrary numbers and measurements like weight, calories burned, or dress size, as opposed to more personal, internal factors like how you feel as you move and how your strength and stamina improves," says Kite.
One tactic to try is one of mindfulness. "As you move throughout your day, whether running or on a Zoom call or walking down the street, shift your focus on to your physical senses instead of your mental picture of yourself. This will help you keep your perspective on how you feel and what you are doing rather than how other people might be perceiving you. What are you hearing? How do your feet feel against the ground? Are you taking deep breaths? What are you grateful for in your wonderful body?"
Kite also suggests filming or photographing what you see on your run, rather than photographing yourself. "That will help shift your perception to looking from the inside out, as opposed to the outside in," she says. 
According to another pandemic-related survey, 13 percent of Americans have started meditating and 9 percent have started journaling as a way to cope with stress this year. Those are also great options to express your running in a healthier way than through social media. You could use Kite's mantra "my body is an instrument, not an ornament" as you meditate before or after a run or use journaling to express how you feel after a workout. 
"By practicing prioritizing your own feelings and perceptions over how your body might be perceived, you re-train your brain and help yourself get into and stay in a flow state easier," says Kite. This will also help you put unhealthy comparisons behind you.