What Causes Those Lovely Black Toenails?
Your pretty piggies may need some extra TLC—here's how to figure out why you have temperamental toenails.
Heading out the door? Read this article on the new Outside+ app available now on iOS devices for members! Download the app.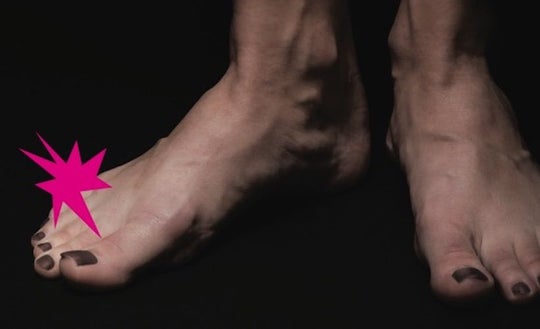 Toenail injuries are practically a rite of passage among distance runners. If you've ever had a black or blue toenail, you may have joked with your runner friends about your awesomely experienced runner feet—and then covered them up with nail polish. Though toenail pain and discoloration may seem like a mere inconvenience or aesthetic problem, it can have serious consequences if left untreated.
What causes black toenails?
Toenail pain and discoloration occur with repetitive trauma to the nail—either the front or top of it—causing blood to collect between the nail bed and plate. Along with appearing dark in color, injured toenails may also become thicker and more brittle, or they can loosen and fall off.
Related: 4 Tips For Keeping Your Toenails In Top Shape
Mary Ann Bender, a podiatrist who frequently treats runners in Oak Park, Ill., says one common cause of toenail trauma is poor-fitting shoes, and typically the longest toe gets the worst of it.
But even if your shoes fit great, you can still suffer. "Simply the act of running can cause the repetitive trauma of your toe hitting the inside top or front of your shoe," Bender says. Running downhill and/or for long distances and suddenly increasing mileage can add to the likelihood that a runner's toes get injured.
Why Your Toenails Need Your Attention
Aside from the obvious pain and unattractive appearance, gnarly toenails may not seem a major or urgent concern, but they can lead to a number of serious conditions if left untreated, says Bender. For one, the trauma to your nails leaves you prone to fungus, which is characterized by a discolored (often yellow) and dystrophic (thick and brittle with ridges) nail plate. This fungus can then spread to your other nails, regardless of whether you've injured them. Nail trauma also increases your likelihood of having an ingrown toenail, which puts you at risk for developing a bacterial infection.
Bender advises seeing a podiatrist or physician as soon as you notice signs of discoloration to determine whether you do have any fungus or bacterial infection–before it spreads. "If it is a fungal nail, it won't go away on its own, so it's critical to get it treated."
A podiatrist can also check your shoes to see if they are a proper fit for your foot and may be able to suggest modifications to limit trauma to your toenails. Sometimes, this could be as simple as tying your shoelaces differently or wearing different socks.
"The most important thing," Bender says, "is to address the problem right away so it doesn't become worse."
Related:
How To Prevent Black Toenails (Or Hide Them With Nail Polish)