10 Things To Know About Runners With Vitiligo
Allie Burdick is a runner with the autoimmune disease that causes patches of white on her skin. Here's what she wants you to know.
Heading out the door? Read this article on the new Outside+ app available now on iOS devices for members! Download the app.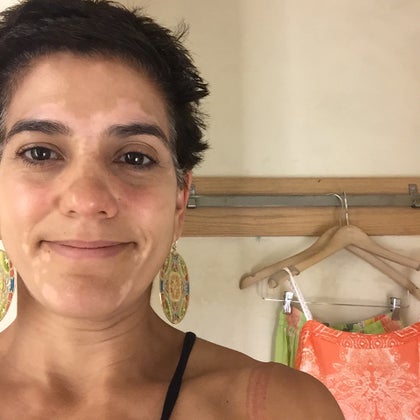 First of all, you should probably know what vitiligo actually is, before we get to the running part. I often refer to it as "Michael Jackson's disease" since the ultra famous and ultra eccentric pop star was one of the most famous people to suffer from this autoimmune disease.
Vitiligo (pronounced vit-ih-LIE-go) causes your pigment to attack itself for no apparent reason, leaving blotches of white skin in its wake. About one percent of the world's population has vitiligo, which is roughly 50 million people, and 2-5 million in the U.S.
I am one of those people and also happen to be an avid runner and triathlete. I was first diagnosed by my dermatologist in 2012, after I noticed some tiny white spots under my arms. My diagnosis was the beginning of a very long journey for me that continues to this day.
Although technically I'm white (I'm Cuban and Italian and have olive-colored skin), and this disease is seen mostly in black people or people with very dark skin, my white patches are still very obvious.
As a runner, I started becoming very self conscious of my patches of white since we runners tend to bare a lot of skin with our favorite pastime. I'm hoping this list not only helps others with vitiligo, but also helps those who do not have it understand what exactly it is and is not:
Vitiligo is not from sun damage or a skin peel or anything other than the anomaly of your pigment attacking itself. Skin cream will not help so please don't offer it as a "solution."
Vitiligo is different for everyone and patches of white vary in size and appearance. In the five years I've had it, I noticed it sometimes gets a little better and then worse with no known reason.
If you suspect you have vitiligo, see your dermatologist.
Treatments include steroid cream and laser light therapy with varying degrees of success. There is no cure.
Although vitiligo is not life threatening, if it's on your face like mine is, it can wreak havoc on your self esteem and emotions. If you have a friend or relative dealing with this, just try to listen and encourage them to connect with others who have it through social media sites like SpottingBeauty on Instagram. It helps just knowing you're not alone and you feel less like a freak.
Dermatologist recommended sunscreen like Elta MD is a must, as well as hats or visors whenever you're outside on the run!
Keep extra tubes of sunscreen and extra hats and visors everywhere—your car, purse, locker, gym bag—everywhere.
Be true to who you are. When my spots and patches became more noticeable, I considered not wearing tank tops or shorts on my runs. I quickly got over it but can still be self conscious at races or competing in triathlons when I don a bathing suit. I do what feels comfortable to me and so should you!
If you see someone staring, tell them what it is. The more people who know, the less stares there will be.
I'm not going to close with "you're beautiful no matter what" or something else that's basically just a cliche. I will say this: Deal with vitiligo in your own way and be okay with whatever that is.
If you have vitiligo and want to connect with me, tweet me @vitatrain4life with #vitiligorunner.