These Blondies Are Made With A Surprising Healthy Ingredient
You won't be able to eat just one of these. And that's entirely okay, since they are good for you!
Heading out the door? Read this article on the new Outside+ app available now on iOS devices for members! Download the app.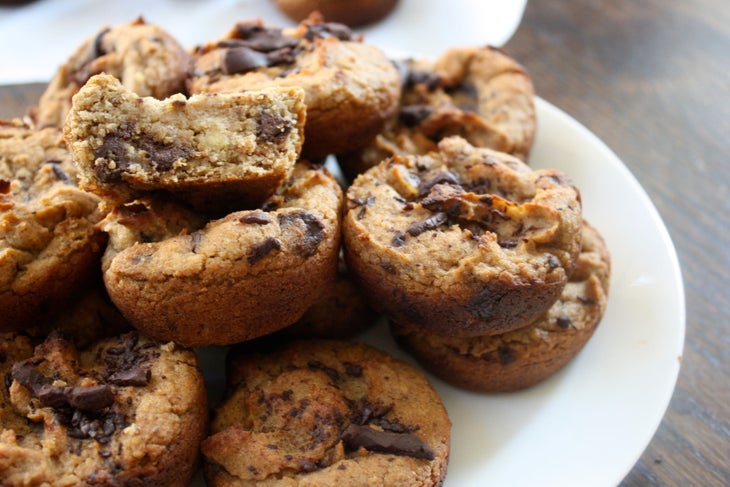 *Courtesy of Running On Veggies
Yes it's a dessert…and yes it has chickpeas in it! Embrace it. Love it. I made these blondies last November when Kara Goucher was coming into town to run the NYC Marathon. I told her I would recreate one of her favorites. Without even a thought, she went with blondies.
I came up with these after doing some research. So I can safely say don't be afraid of the garbanzos. You would never even know they are in there. It gives these little treats a great moist texture and a gooey creamy inside. Many people would refuse to eat them if they knew about the chickpeas. So I conveniently leave that ingredient out when people ask what's in them. I suggest you do the same. Or even better – maybe you SHOULD tell them. It could mean more for you! You can't not feel good eating these! They are packed with fiber and protein and still so delicious.
I chose to make them as little muffins because it allows them to cook more evenly. They may seem undercooked when you first take them out of the oven but once you let them cool you will see that they are just really soft muffins, not under-baked ones.
You can also easily freeze these. After making a big batch, wait at least an hour before taking them out of the pan to avoid broken muffins. Then freeze them on a tray. Once frozen, pop them into freezer bag or container and put them back in the freezer. They kind of taste great frozen but they are also so good when the chocolate is all melty. Your choice!
Flourless Fudgey Chickpea Blondies
Yields 24 muffins
2- 15 oz cans of chickpeas (around 4 cups)–rinsed very well
2 cups pitted dates (if hard, soak in hot water for 10 minutes)
1 cup almond milk (or water)
1/2 cup unsweetened apple sauce
1/2 cup almond butter (any nut butter works)
3 tablespoons flaxseeds mixed with 10 tablespoons water. Mixed and set aside for 5 minutes (chia seeds also work)
1 tablespoons vanilla extract
2 teaspoons baking powder
1 1/2 cup stevia sweetened chocolate chips
1. Preheat oven to 350 F.
2. In a food processor, add rinsed chickpeas, dates, almond milk, apple sauce, almond butter, flaxseeds mixed with water, vanilla extract and baking powder. Puree until smooth and creamy. It may take some time make sure to scrape down the edges. A blender can work but I suggest a food processor so you can get everything out of the machine easily.
2. Transfer your mixture to a bowl. Be sure there are no date or chickpea chunks! Fold in chocolate chips.
3. Spray 2 cupcake pans or use liners. Evenly distribute the batter into your cupcake pan but be sure to not overfill them or in the inside won't cook and the outside will burn. Optional: top with shaved chocolate or chocolate chips.
4. Bake for 35-40 minutes until golden brown. Be patient and let cool for at least 1 hour before trying to take them out of the pan. I like to line a tray with parchment, evenly distribute them on the tray and freeze them. Then you can put them in a container or plastic bag to freeze them.
More From Running On Veggies!
These Trail Mix Bars Will Be Your New Portable Breakfast
A Brownie Bite That Is Actually Good For You