These Are The Best Sports Nutrition Products For Women
One doctor—and endurance athlete—breaks down what women need to know about sports nutrition.
Heading out the door? Read this article on the new Outside+ app available now on iOS devices for members! Download the app.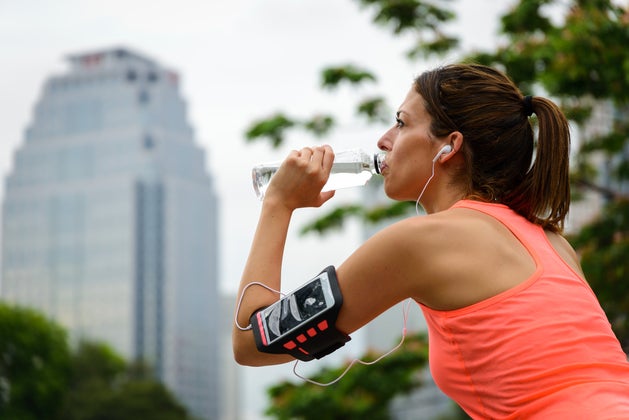 It is important to know that sports nutrition is not one-size-fits-all. There are a lot of factors to take into consideration, from sport to the amount of time you'll be active and more. Do you need to take into account your gender, too?
Do women have different sports nutrition than men?
Laura Borgelt, PharmD, a professor at the University of Colorado School of Pharmacy and an open water swimmer and endurance athlete herself, has the answer. "The general nutrition needs of men and women are surprisingly similar, but the amount of carbohydrates, electrolytes, minerals and vitamins can be different," she explains. For example, women usually have lower sweating rates than men, primarily because of smaller body mass and lower metabolic rate during physical activity."
And what about our menstrual cycles? Borgelt says that is has actually been suggested that greater water retention during the menstrual cycle—induced by estrogen—may have beneficial effects during exercise.
There are sports nutrition products marketed specifically to women, and Borgelt shares that though they often contain nutrients that are important for women on a daily basis, they may not be critical during workouts. "Overall, during racing, sports drink recommendations for men and women are similar in nutrient content," she adds. "However, the amount of nutrients may vary based on gender, sweat rates and environmental conditions, such as temperature and humidity."
With all of this information, Borgelt reveals that the most important things women can do for themselves to ensure hormonal balance while exercising are eating a healthy diet and getting proper amounts of sleep.
"If women are exercising more than one hour and not using sports drinks, they risk depleting themselves of necessary energy, electrolytes and vitamins to optimize their workout," Borgelt says. "It is possible to take many of these nutrients individually, such as vitamins and salt tablets, but many sports drinks have the energy, electrolytes and essential vitamins needed in one product so it is convenient and cost-effective."
For all of these reasons, Borgelt has some specific nutrition recommendations for women athletes. For fueling a workout, she recommends Maxim Sports Nutrition Hypotonic Sports Drink and Osmo Women's Hydration as they have the carbohydrate, electrolyte and essential vitamins in one formulation. While different in composition, these products seem to work very well for women. For recovery, Maxim Recovery Powder and Hammer Recoverite provide the combination of carbohydrates, protein and amino acids to quickly rebuild muscle fibers and replenish glycogen stores.
A key fact when understanding and purchasing sports nutrition products is to know that they are considered dietary supplements.
"This means they are not approved by the government for safety and effectiveness before they are marketed," Borgelt reports. "Manufacturers of sports nutrition products with recognized safety certifications such as NSF, BRC and/or HACCP can provide reassurance to women that the product is safe."
Read More: 
4 New Tips On Exercise And Nutrition
7 Fraudulent Foods Posting As Healthy Nutrition