Need Therapy? Go For A Run…With Your Therapist
Allie Burdick speaks with Sepideh Saremi, a Redondo Beach psychotherapist and runner, about her Run, Walk, Talk therapy program.
Heading out the door? Read this article on the new Outside+ app available now on iOS devices for members! Download the app.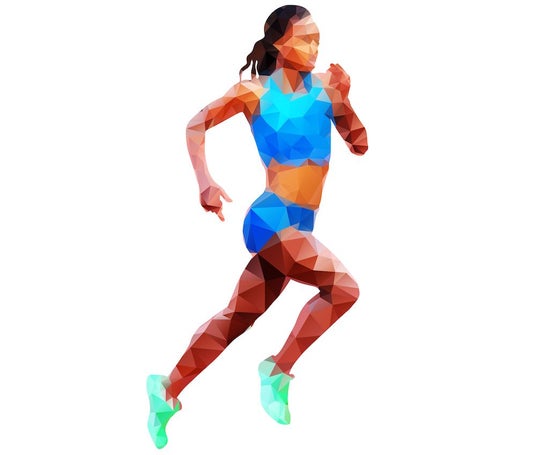 Running As Therapy
If my running friends had psychology degrees I would owe them thousands of dollars by now! The large and small problems I have worked though while running are countless and I have looked forward to many miles with a good friend simply because I needed to talk something though. Running provides the perfect opportunity to spill your guts while not having to look someone in the eye and the bonus is a good workout. Sepideh Saremi, 33, a Redondo Beach psychotherapist and runner, figured out how to combine the two.
Saremi offers her clients the option of running or walking with her as they talk. While many think her method of run therapy is odd, it doesn't seem strange to runners who already understand how beneficial this is. An article was written all about it in the Los Angeles Times and I spoke with her recently to dig a little deeper into how a session really works.
Related: I'm a Highly Functioning, Over-Achieving Runner With Depression
You actually occupy two interesting niches: moving therapy and treating overachievers. How did you come to realize the Type A population would especially benefit from run/walk therapy?
I identify with overachievers because I am one.
I was always a high achiever in school but I never played sports or got into fitness until I was in my twenties. I skipped my senior year of high school and went early to college but I became depressed. I went to therapy near the end of college and worked through a lot of my issues and, eventually, I came back to myself.
I realized that people who function at a really high level don't experience failure in the same way. It was hard to find a therapist to connect with because they didn't understand how I was wired (as a Type A) so when I went to grad school I wanted to become a therapist who could work with people like me.
For most of my life I was not fit, and actually a little overweight, so running intimidated me. I made a change when I was 25 and started running, applied to graduate school and got into UCLA, which was super stressful, so running helped a lot with that. In grad school I had to design a study and mine was about running as therapy for depression. I found all this research on how running has a whole host of mental benefits–evidence based practices–but it wasn't being implemented, so I decided I wanted to integrate running into mental health work.
I worked with a lot of trauma survivors and I provided therapy in Farsi [which Saremi speaks fluently] and noticed my clients did better when we were not in my office. My office building was very institutional in design and some of the men I was working with were torture survivors and the environment literally reminded them of places they had been interrogated. Walking with them helped in several ways. Since I had a lot of male clients, and culturally keeping eye contact with a woman was not appropriate or comfortable, coupled with the stigma of therapy in that specific cultural group, the office cinder block walls created a barrier and adding nature broke down that barrier.
After I left that job and went into private practice in Beverly Hills, I used to joke that my Beverly Hills practice dealt with the same issues–severe trauma, depression, drug abuse. The only difference was I didn't have to worry about anyone becoming homeless.
I added the running piece in 2014 and got pregnant around that time, so I did the walking part of Run, Walk, Talk. Some of my patients were psychotic or really depressed, so being outside the office was a huge help.
For entrepreneurs or overachievers, the thought of therapy in and of itself seems like something they should not need. If you add "merely" sitting in an office and paying someone to talk to you, they can't handle it. The Type A person can look at run/walk therapy as a way of getting two things done at once and it appeals to who they are, so they are more open to it.
What percentage of your clients run/walk with you?
It's pretty evenly dissected with about 25 percent exclusively in the office, 25 percent runners and 25 percent walkers. However, the proportion is changing since I moved to Redondo Beach, but I will  keep a smaller caseload on purpose.
How many miles a week do you log in sessions?
We mostly go for time and my standard therapy time is 50 minutes, so we meet at the path and run out for 20 minutes and then run back for 20 minutes, which usually equals four miles.
This is not about training, which is also helpful for overachievers. They forget that running belongs to them, not that they belong to running.
What about confidentiality?
Before we go anywhere, boundaries are set. We talk about what it would be like to run into someone they know and how we would handle it. A lot of my clients may not consider that possibility, so I think it's important to bring it up. The standard response would be  "I'm on a run, can't talk."
We also discuss beforehand what they are comfortable talking about and absolutely do not want to talk about outside. I'm very aware of who is around us so we will change our pace to stay alone. Being mindful of that is very important to cultivate.
What's next?
I love the idea of people thinking about their running relationship and using running to understand what is happening in our lives. How people talk to themselves on a run is usually the way they talk in real life.
Things don't have to be difficult to be great or good. In the gentleness we can find new and better ways of being effective, which is why I want to start a certification program for other therapists so this type of therapy is more widely available.
Related:
By The Numbers: Mental Health And Its Connection To Running
Real Talk About Mental Health Struggles And Running