When Spectators Become A Nuisance—And Tips On How Not To Be
Don't get us wrong–we love and appreciate race day spectators. But there are certain cheers and actions they can avoid to be even better.
Heading out the door? Read this article on the new Outside+ app available now on iOS devices for members! Download the app.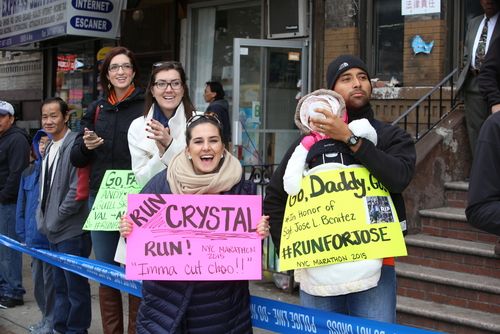 When Spectators Go Rogue
They are doing the best they can from the sidelines, but sometimes spectators get in the way of runners. From elites being "coached" by random bystanders to everyday runners having to run around (and sometimes into!) distracted cheerleaders, these are some cautionary tales for racers and spectators alike.
Perhaps the most famous incident occurred during the 2004 men's Olympic marathon in Athens. The Brazilian runner Vanderlei de Lima lost his sizable lead when he was tackled by Neil Horan, who was dressed as an Irish priest and had made something of an annoying habit out of interrupting sporting events. Mr. de Lima finished third.
Olympic medalist and marathon specialist Des Linden told The New York Times in May 2017 how a spectator tried to coach her from the sidelines during the 2012 Olympic trials, saying, "You have to be running faster if you're going to win." Des decided to laugh. "I was thinking to myself, 'I'm running really fast, and this is really hard.'"
Every Runner Has Their Spectator Story
Olympic medals are not at stake for most of us; just the same, we would prefer not to battle anyone but ourselves to the finish line. In my own more than 15 years of racing and running 50 races and triathlons, I have only had to deal with naughty spectators a handful of times.
From blowing cigarette smoke in my face to cars forcing themselves onto a closed course and several drunk students lining the course of the Boston Marathon telling me how much they wanted to do special things to my "athletic body," I've learned to just let it go. Still, here are some other horror-like stories from the roads:
"Manchester Road Race before the first turn, a kid jumped out right in front of me. I picked him up and ran with him like a football for a few steps before I could safely drop him off. Runners have a hard enough time not getting stomped on during that stage of the race… The kid and I would have been trampled if I didn't go for the scoop." –James G.
"What about furry spectators? I was hit by a dog during the Rock 'n' Roll Savannah Marathon in 2012. Thankfully, not as bad as when I was bit by one in 2015." –Dani HK.
"During the New Haven Road Race, sometime before eating gels was prevalent, some spectators shouted, 'She's cheating!' as I was downing a gel. I thought it was pretty funny that they would think a mid-pack runner would bother 'cheating'!" –Anne C.
Related: Why Runners Make The Absolute Best Spectators
Race spectators are usually a great group of people doing the best they can in a situation they may not know too much about. The crowds along the sidelines are very much appreciated by runners and are even considered a reason to run iconic races like the Boston and New York City marathons.
Many strangers have encouraged me along plenty of race courses, soaked me with hoses on hot days or given me food and drink when I needed it most. Even if they say the dreaded, "You're almost there!" when you can't see the finish line, I know they mean well and I can only hope they end up on the other side of the barricade someday.
4 Tips To Become A Better Spectator
Until then, here are four guidelines to help you own the sidelines and push the runners to the finish:
1. Prepare
Know the route and where you will set up camp. Notice if there will be road closures that may impact where you want to go and be sure to give yourself plenty of time to get there.
2. Talk To Your Kids
Just a brief chat about how hard the runners are working out there and where the kids can and cannot go should do it. Point out obvious barriers and literally show them where the runners will be and why it's important to not get in the way. Maybe even make a game out of getting high fives from the runners or playing a math game with bib numbers. Anything that will keep them alert and off the course will help you and everyone around you.
3. Runner Tracking
A lot of races now allow you to track your runner on your phone by simply downloading an app and punching in their bib number. Even if this feature is not available, figure out your runner's pace and work out approximately when they will pass your location. If you know within five to 10 minutes of when your runner is expected to pass, you will avoid craning your neck and body beyond the barriers every 30 seconds. You will also know if something may be wrong and can alert medical staff or race personnel.
4. Cheer–With The Right Words
If you don't know by now, you should never tell a runner "you're almost there" unless you're literally steps away from the finish line. Better cheers include: "You look strong!" "You are my hero!" "Nice pace!" Basically any positive word, funny sign or shout out by name (if it's on their bib, use it!) always helps someone racing.
Related:
Runners Offer Their Tips For Being The Best Spectator
14 Hilarious Spectator Signs To Make For Race Day