So You Think You'll Never Be A Runner
We don't mean to prove you wrong, but we think you can be.
Heading out the door? Read this article on the new Outside+ app available now on iOS devices for members! Download the app.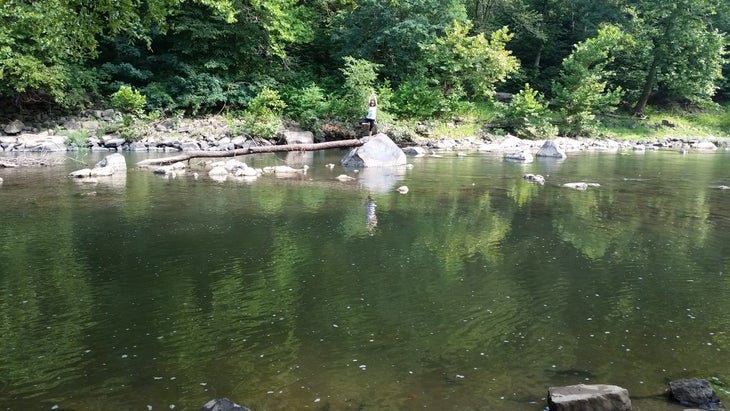 I'd love to be a runner. It's just that I hate running.
Oh wow? You run? I wish I could run, but I have bad knees.
Being a runner would be cool, but running is really hard for me.
I wish I ran but I don't because……
If you are a runner, chances are you have heard one or more of these statements before.
If you aren't a runner now, but secretly would actually LOVE to be one, then these thoughts are for you.
I get it. I truly do. At one point I hated running too, and by hated I mean despised it. The last thing on earth I would do is run for fun. Runners were insane to me—insane in the sincerest sense of the word. Who runs 26.2 miles for fun?
Deep down when I hated running, I wished I was a runner, but it was hard for me, and my body. It just wouldn't cooperate like I was sure other bodies did. These days I find myself wishing I was a yogi, but it is hard for me. Like the former hater-of-running that I was, I like to find an excuse as to why I'm just not good at it. No upper body strength, not bendy enough, not patient enough, etc.
Running requires you to show up. It begs you to push through those excuses, whether they are real, perceived or a flat-out lie you are telling yourself. It will always be hard in some form.
When my alarm goes off at 4:10 am, my first thought is not, "Hip hip hooray. It's a running day." Instead I think, "It's holy effing shhhhhhh— it's early!" Whoever said time moves faster when you are having fun lied. It moves faster when you have an o'dark thirty alarm set to go outside and run in ridiculous humidity or freezing cold. Sometimes I hit snooze, only to berate myself for that decision. Then I stumble out of bed to the bathroom where I get dressed in the dark, not because I'm not trying to wake my three little children, but because I do not want to be awake. I hate running. Okay no— I love running.
I'd love to tell you that once I am out of the house, it's all bliss filled miles where I think of nothing but rainbows and unicorns. While I do LOVE running, those thoughts are not what happens. Many days I wonder why my cursed legs won't move faster, or why I'm blessed with these large, I mean strong thighs that chafe at 5 am. I am curious as to why 3 miles feels like an eternity when I have completed 30 marathons. I tell myself I should quit. Those marathons were the glory days,. These are not.
I don't have any pain in my knees these days, but I do remember them hurting when I started. I would later learn that for many, it is part of the process. If you ramp up your mileage slowly over a couple of years, the tendons and ligaments in your body have time enough to develop and catch up to the cardiovascular fitness that will come faster. Did I say faster? I did. As it turns out it doesn't take as long as one may think to get a little better at this dreaded thing called running. In fact I'd argue that it's easier than learning a sport, or suffering through a 50 minute boot camp class when you have absolutely zero coordination. The gains are motivating. With that comes a bit of love.
Runners may love running, or they may just like it, but for many of us, at one point we all hated it.If you hate it, don't give up and throw in the towel. Show up.
It's likely going to be hard. It may be miserable. Many times you will want to quit, and some days you will certainly still hate it. If you give it time, as most things worth it require, you may find that it will make you smile, laugh, sing, feel happy and make you stronger overall—not just in running, but in life too.
If you give running a try, then I'll keep showing up for yoga. Deal?
Love,
A former run-hater turned mostly love-running-runner