Running Mantras Learned From Motherhood
Turns out the life lessons you learn as a mom can really apply to running.
Heading out the door? Read this article on the new Outside+ app available now on iOS devices for members! Download the app.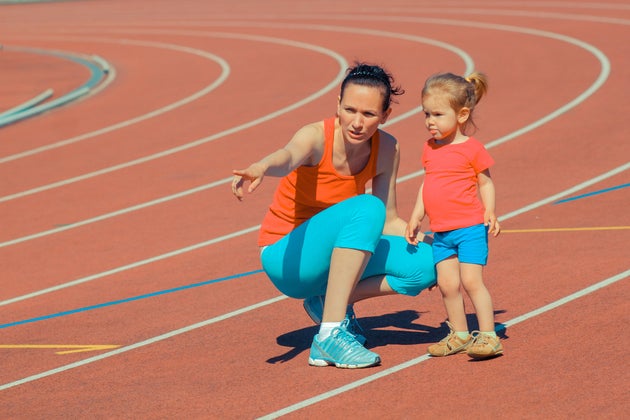 I've been a runner in some shape or form for almost 20 years. I've been a mother for a little over one. So you'd think I would have some nuggets of wisdom gleaned from running that could put motherhood in perspective. But the opposite has ended up being true; in the relatively short time since my first child was born, I've learned more lessons from this mom gig that apply to running than I have in all the years of lacing up my first pair of sneakers. Besides the importance of always having a snack on hand (kids and runners can get equally hangry), here's what I've learned—my new running mantras, if you will—straight from the front lines of motherhood.
Treat yo'self
Any mama knows that it is damn near impossible to take time for yourself when you have the constant needs of an ankle-biter to tend to. Keeping a small human alive is all-consuming, so it can feel selfish to focus on yourself for even five minutes. But any mama also knows that you can only survive like that for so long before you have a breakdown, which is why it's so key to allow for some you-time. After a long week at home with my son, I relish having an hour all to myself on the weekends to work out; I come back feeling refreshed and like a better mother and runner. So whenever I find myself debating if I should skip a run in favor of doing yet another chore, assignment or errand, I remember that running keeps me sane. That's the best thing I can do for me, my kiddo, and my health.
Related: 5 Reasons Moms Make The Best Running Partners
Sh*t happens
When you love running, you never want to skip a workout, miss a long run or change your training schedule in any way. And when one of those things happens, you may feel like a total failure. But sh*t happens.  If I didn't know it before kids, having one now has taught me that there are times when the best laid plans will get blown to pieces (I'm looking at you, hellacious, unending toddler virus). Now I have some perspective and I know that if I schedule the perfect weekend run and have to scrap it for some unforeseeable reason, all I can do is let it go and look forward to the next one. Or a scream into a pillow—turns out that alleviates stress from both toddlers and missing a run.
You do you
One of the most vicious cycles in motherhood is the temptation to constantly compare yourself to other moms. For me, my battle was obsessing over my horrible little sleeper and looking at fellow mothers who were somehow raising 12-hour-a-night angels. I read the books they recommended, tried the sleep training they swore by and stalked their Facebook pictures of their sleeping babies, hoping to catch a glimpse of their secret. Eventually I realized I needed to stop obsessing and just do what worked for me and my mini- insomniac. This was a really hard lesson to learn. I find it just as hard to stomach when it comes to running. From blogs to magazines to the aforementioned social media stalking, it's way too easy to measure yourself again someone else's progress, training plan or sweaty run-selfie. But the only way to reach your own goals is to do it your way; advice is great, but you're the only one who knows your body, schedule and what's going to work best for you. Now I follow tips when I need them, but plan my runs around my personal fitness level and goals (and how much sleep I've gotten). The only thing I do with those Facebook pics is hit "like."
Related: How Social Media Killed My Run